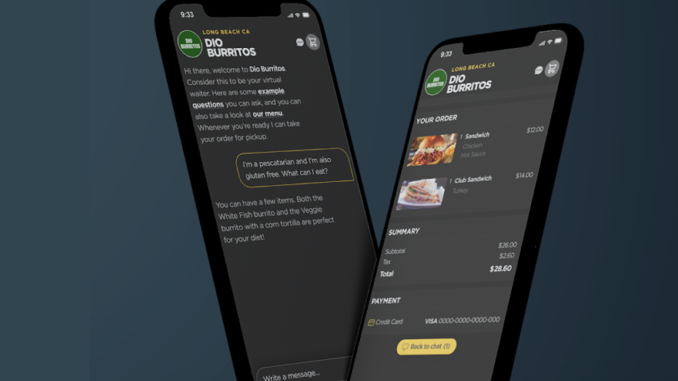 Vistry, a San Diego-based startup leading the way in Generative AI and restaurant automation, has announced the launch of its Conversational AI platform, along with its AI Customer Assistant chatbot. The chatbot assistant, called LumoChat, is designed to assist customers in completing their online ordering tasks across different channels such as web and mobile. The chatbot blends conversational and clickable interactions for a familiar, yet completely unique customer experience.
Vistry's CEO and Founder, Atif Kureishy, has experienced firsthand how enterprises have grown exponentially through AI and sees how the restaurant industry is ripe for AI's operational efficiency.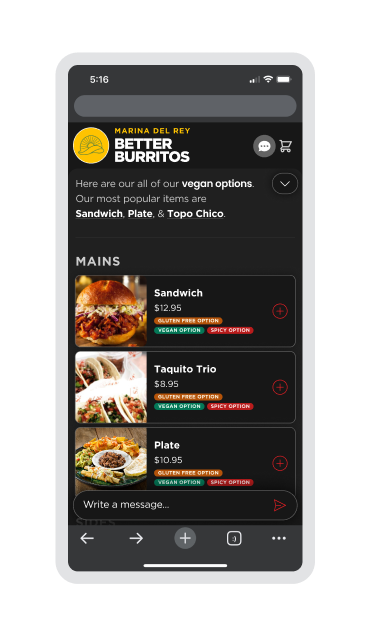 Over the past 3 years, Founders Kureishy and Gabriel Ibagon, have worked with several of the largest Quick Service and Fast Casual Restaurant brands in North America, deploying AI workloads in restaurants. The two founders bring decades of AI and technology experience working with Fortune 100 companies.
"Generative AI is reshaping the food service industry's guest and employee experience. Our platform stands at the center of this transformation, offering omni-channel capabilities and seamless integrations with existing digital platforms," said Kureishy. 
Introducing LumoChat (Lumo), the AI Customer Service Assistant — Leveraging ChatGPT-like technology, Lumo acts as a virtual concierge that personalizes customer experiences and increases online orders.  It allows customers to ask questions about the menu, order pickup and delivery, and resolve customer service issues in real-time.
Menu & location understanding

– Lumo excels in intelligent menu parsing and location services. Whether you're looking for vegan options or the closest outlet, it directs you seamlessly.

Cart building

– Harnessing advanced AI algorithms, Lumo constructs an optimized cart for you.

 

After describing food and ingredient preferences, Lumo's AI creates a personalized shopping cart that enhances your food commerce experience. From recommended pairings to promotional items, experience a cart tailored to your preferences.

Order checkout

– Lumo ensures a streamlined checkout process with features like auto-filled details and secure payment options. It's a checkout experience designed for speed and security.

Other support

– Lumo isn't just for orders; it's a comprehensive support tool. Whether you're curious about nutritional facts, current promotions, catering or special dietary accommodations, it provides instant, accurate information.
Vistry's Conversational AI platform integrates with modern online ordering platforms and point-of-sale systems, and is accessible via web, mobile and social channels. Within minutes, a restaurant can deploy an expert chatbot to their customer base – assisting customers and converting online sales.
Try Lumo's live demo and ask the AI Customer Assistant anything from menu allergens to what is the concept's most ordered menu item is. The platform demonstrates why conversational commerce is becoming the growth of the restaurant industry's future.
Based on the 2023 NRA's Restaurant State of the Restaurant Industry Report, restaurants state roughly three-quarters of all orders occur off premises (e.g., drive-thru, curbside, takeout-counter, ghost kitchens or delivery) AI is poised to help streamline restaurant operations and profitability via enhanced food commerce for off-premises ordering and customer service.  
Vistry is on a mission to revolutionize the connected restaurant experience with Generative AI, robust platform integrations, and multi-channel accessibility, including web, mobile, and social.  Kureishy recently discussed the future of Gen AI across edge and cloud at last month's Intel Innovation 2023 conference.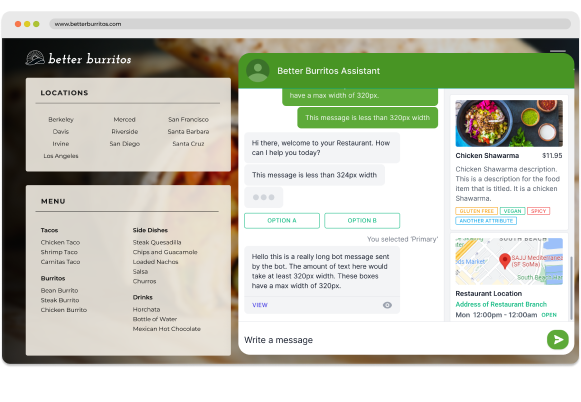 When customers access a restaurant's preferred digital channel, they can ask Lumo about menu items, allergens, ingredient listings, hours of operation, coupons and specials, sustainability practices, capacity for large parties, accommodations for small children and the like. Next, Lumo will quickly guide them through completing their order, similar to a concierge.
For example, a customer browsing an online menu wants dinner for a family of four but is working with a $75 budget. They turn to Lumo, requesting meal recommendations that fit within this budget. In moments, Lumo  provides a combination of appetizers, family style value meals, and a shared dessert, ensuring a delightful dining experience without exceeding the $75 constraint.
Does your company have news it would like to share with our readers? If so, we invite you to review our editorial guidelines and submit your press release for publishing consideration.