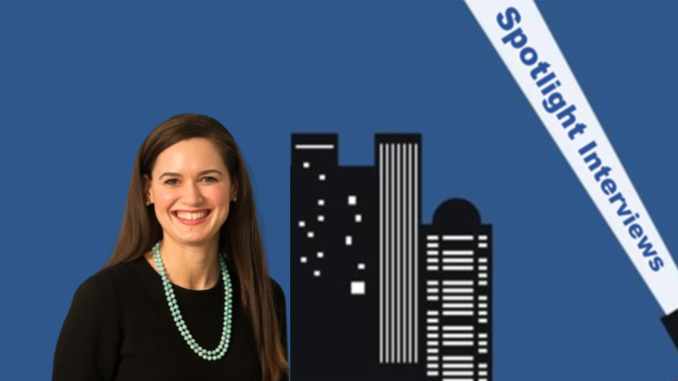 Lindsay Petrovic serves as vice president and head of product management for the restaurant technology business unit at NCR Voyix. There she manages all software, hardware and service offerings for NCR Voyix's restaurant customers. Lindsay and her team are focused on driving innovation and transformation across the product suite, which includes solutions for omnichannel ordering and payments, back-office management, data strategy and analytics, consumer engagement and kitchen management.
Lindsay began her career as a general manager for Hillstone Restaurant Group, where learned about running a restaurant business. After graduating from Cornell University with a dual MBA and master's degree in industrial and labor relations, she joined American Express, where she held leadership positions across product management, product marketing, growth marketing and corporate strategy. Eventually, she joined NCR Voyix, which allowed her to combine her passion for the restaurant industry with her technology experience. In this interview, she shares her perspective on some of the challenges restaurants face today, especially when it comes to driving increased efficiency in the drive-thru lane, and how restaurants can manage ever-changing customer expectations.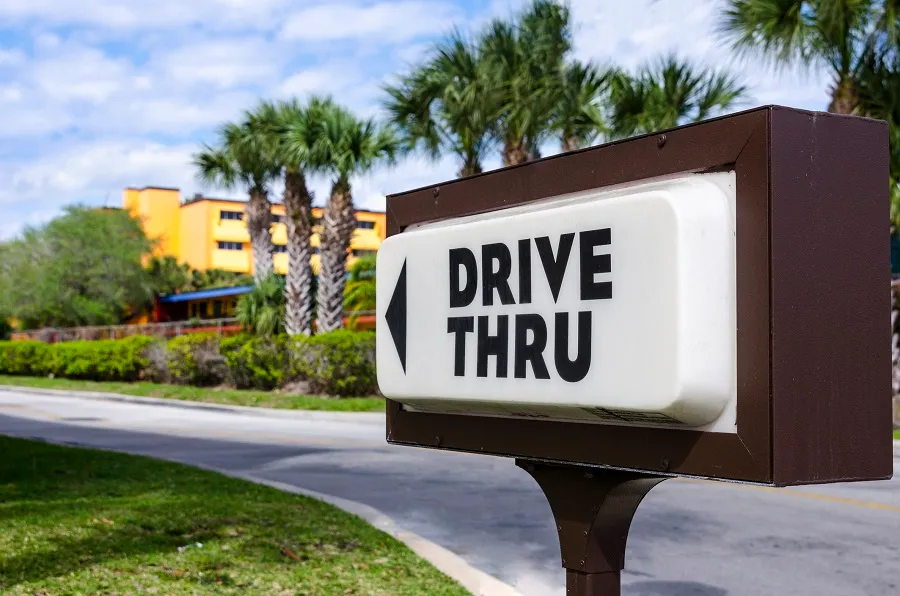 What, in your view, are the biggest drive-thru challenges restaurants are facing today?
With drive-thru usage continuing to climb post-pandemic, quick-service restaurants are still facing many challenges as they support customers with efficient and reliable service. One challenge that quick-service restaurants have been struggling to manage is maintaining snaking guest lines. Not only do these lines take forever to get through, but they often create gridlock on restaurant properties and surrounding roads – leaving customers frustrated and with no choice but to choose a safer, more efficient option.
Even for guests who choose to stay in line, drive-thru wait times have yet to decrease since the pandemic. In fact, 77% of respondents feel like the wait time situation is the same or worse than last year and 27% identified long wait times have gotten significantly worse and is the biggest issue they face with QSRs. Customers want fast and efficient service without the need to leave their cars but with wait times increasing, they are left with no choice.
Effective communication between guests and staff has also been lacking, as restaurants still face numerous reports of inaccurate orders – increasing from 13% in 2020 to 15% in 2021. Further, inaccurate orders took, on average, 71.06 seconds longer to receive than accurate orders. As these issues continue to worsen, QSRs must lean into smart technology.
How can restaurants keep up with changing customer expectations? Any examples you can share?
 Predicting customer trends and expectations can be difficult in today's fast-paced restaurant industry but focusing on enhancing the guest experience can help restaurants stay ahead of the curve.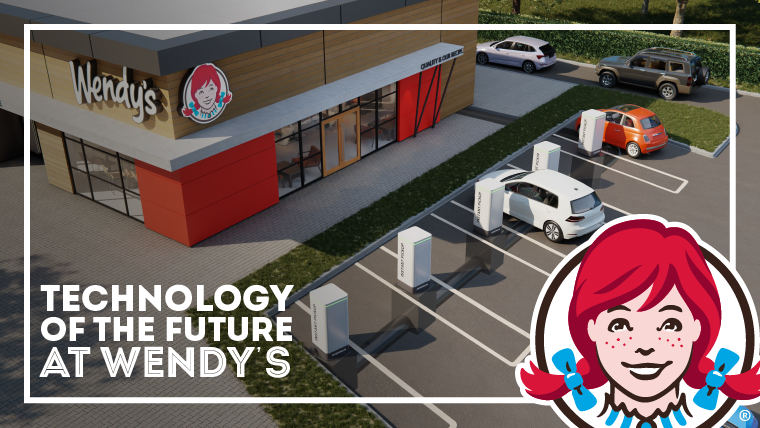 Leveraging AI and machine learning intelligence in the drive-thru can help increase customer satisfaction and streamline restaurant operations. With license plate recognition programs, restaurants are notified of guests' previous orders and can make personalized recommendations based on their preferences – increasing efficiency and the customer experience. Wendy's FreshAI, a new AI-powered automated drive-thru ordering system, gives quick answers to guest questions and provides accuracy on customized orders. The system allows employees to focus more on customer-facing experiences and spend less time behind the drive-thru voice box.
Restaurants can also implement geofencing and beacon technology which enables them to track loyal guests' location in relation to the restaurant's proximity. Chick-fil-A uses this innovative technology to reduce wait times – preparing customers' orders ahead of arrival, keeping food fresh and ready to enjoy.
If restaurants can count on enhanced drive-thru technology, keeping up with customer expectations won't be too difficult a task.
How can restaurants balance efficiency and customer experience in the drive-thru lane?
 Keeping speed and convenience at the forefront of drive-thru operations is key. By designating lanes for guests ordering in the drive-thru and guests who are picking up a mobile order, restaurants have already made their guests' lives easier. This designation will eliminate the gridlock of cars and release the frustration of customers who are stuck in line for 20 minutes, only to say, "Pick up order for Tim."
Many restaurants are also using line busting, enabling cars to move twice as fast as the traditional drive-thru method. Placing staff outside with handheld ordering tablets gives employees the ability to interact with guests face-to-face and offer clear communication. Rather than talking to a traditional speaker box, guests feel more understood as their order is shown and repeated back to them – leaving room for no errors and providing a more memorable experience.
How can restaurants leverage NCR Voyix solutions to improve drive-thru operations?
To increase restaurant's flexibility, efficiency, and ability to serve customers and sales, we also offer handheld point-of-sale systems to manage drive-thru lines. Handhelds are a great tool to increase a restaurant's speed of service – as they get orders in faster and fulfilled faster too. One of the best features of these devices is, while staff is moving around and collecting orders, all that data is stored in one central database that can be accessed from anywhere.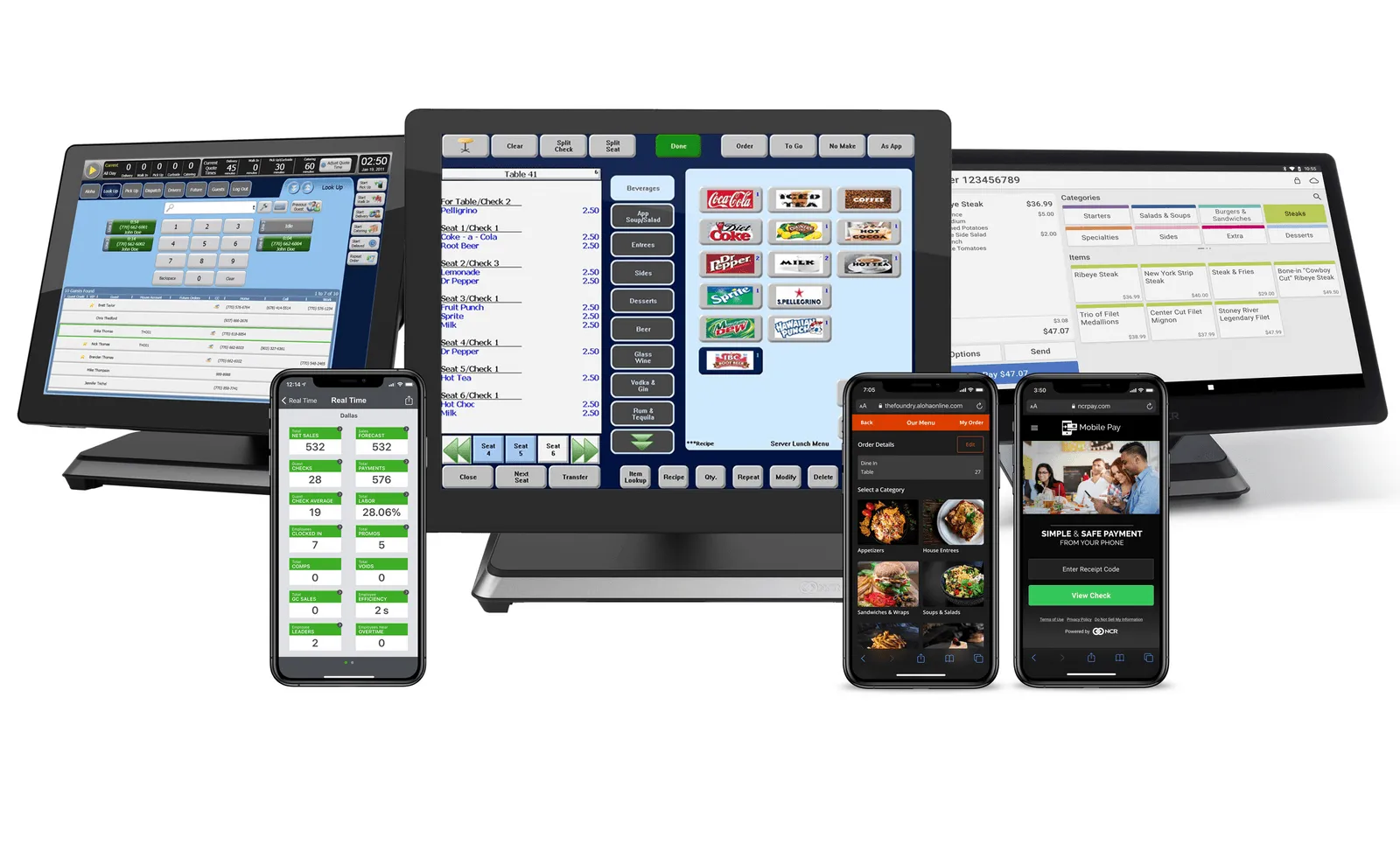 With our digital signage offering, restaurants can improve their drive-thru efficiency and communication between guests and employees. Digital signage reduces strain on staff and improves overall speed-of-service by making it easier to change menu items, create new offers and display real-time data to prevent order inaccuracy. This signage can also direct guests who have already placed their orders to a lane separate from those who are still deciding on what they want. With intelligent digital signage, restaurants can recognize their guests and serve up relevant content to drive throughput and increase average check size.
Other chains have aimed to streamline and elevate the drive-thru by assigning multiple employees to stand outside and take orders. Today, the NCR Voyix Aloha POS takes this a step further with conversational ordering technology to deliver a fast, accurate and friendly automated drive-thru experience. This complex functionality mimics how a customer verbally orders fast food or a combo meal and works across multiple drive-thru lanes for optimal efficiency. Beyond driving higher revenue and less human friction, conversational ordering technology supports restaurants amid a labor shortage.
What does the future of the drive-thru look like for small businesses and QSR restaurants?
As customer needs continue to change, restaurants are finding new ways to serve them faster and easier than ever before. In addition to adding drive-thru lanes and making it easier to pick up orders, restaurants have been investing in technology designed to make the experience flow smoothly, including digital menu boards and AI-enabled voice ordering. For example, McDonald's is testing a new conveyor belt feature in a specified order-ahead lane. When customers arrive on-premises, they will head to their designated lane, get their order confirmed at the pickup booth and pick up their order from a food and beverage conveyor belt – emphasizing the "quick" in quick-service.
Drive-thrus will continue to be a staple for quick-service restaurants. Leaning on innovative technology will help restaurants increase their speed of service, deliver convenient experiences and keep up with changing consumer demands.