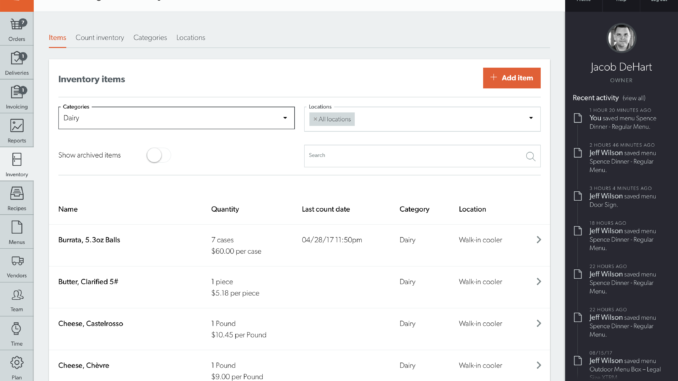 The competitive arena for cloud-based restaurant management platforms grew this week with the official launch of a new entrant. The company is called Porcini, after the gourmet mushroom. The co-founder is Jacob DeHart, who, among other startups, helped launch Threadless, the massive online marketplace for T-shirts and other merchandise featuring artist-submitted designs.
Porcini is designed to streamline back-of-house management for restaurants, bars, coffee shops and catering companies. The software is intended to be used by restaurant owners, managers and chefs, automating inventory costing, menu development and order tracking. As part of its product road map, Porcini will also be rolling out a way for restaurants to better keep track of employee hours.
The Porcini app syncs menus and recipes with inventory and supply-ordering systems. So far, about 20 businesses have trialed the Porcini solution. These include several Chicago restaurants, where the company is based.
The solution's current platform capabilities reportedly include the following:
Inventory Costing. Catalog and track inventory and costs, organize vendors, and manage purchase orders and deliveries without having to juggle spreadsheets. Customizable alerts help prevent low stock and missed ordering deadlines.
Recipe Book. Create and maintain recipes and instructions, all linked to inventory to show real-time food costs and profit margins.
Menu Development. Quickly generate great-looking menus that stay current with the kitchen. Version control keeps track of changes, and flexible Markdown formatting makes edits easy.
Reporting. Easily produce profit and loss reports, inventory lists, category totals, ingredient pricing history and more.
Notifications. Automatically send push notifications to alert management or staff to menu changes, ordering deadlines and other important information.