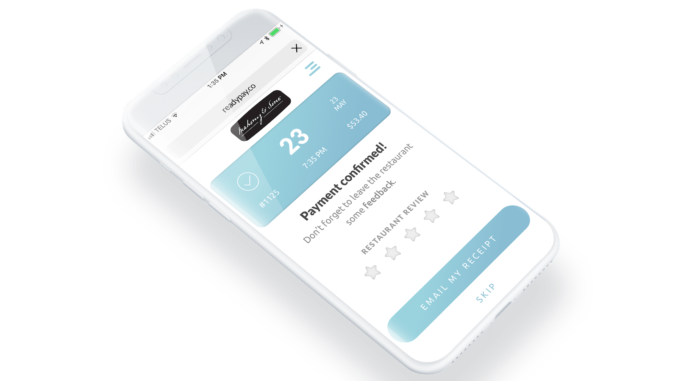 Vancouver-based Ready today announced the launch of their first-of-its-kind order-at-table product for restaurants at FSTEC in Orlando, Florida. Ready's technology enables restaurant guests to order and pay for their food and drinks from their smartphone with no app download or registration required. Ready's order-at-table product evolved from their existing pay-at-table solution for restaurants and order-in-seat product for stadiums.
Instead of using an app, guests scan or NFC tap a Ready QR code on their table with their phone, which directs them to the menu. The customer makes their selection through their mobile browser, and the order is either delivered directly to them or picked up at an express counter. When customers are ready to leave, they pay through the Ready platform without having to wait for a server. Ready is fully integrated with POS systems so all payments are automatically synched and closed
Ready has a built-in review function that allows guests to instantly rate the restaurant experience. Floor staff are notified immediately of negative feedback, providing opportunity for service recovery before the guest leaves the restaurant. Ready Instant Reviews can be integrated with existing feedback aggregation platforms to enable simple analysis and reporting.
For restaurants, Ready optimizes front and back of house staffing to reduce labor costs, process more orders in less time and provide a better overall customer experience. Restaurants implementing Ready are expected to see an increase in table turns without a negative impact on spend per seating. Launch partners Ceili's Irish Pubs, Mahoney and Sons, and Tap and Barrel Restaurants anticipate that Ready will reduce wait times and in turn create a better customer experience and increase sales.