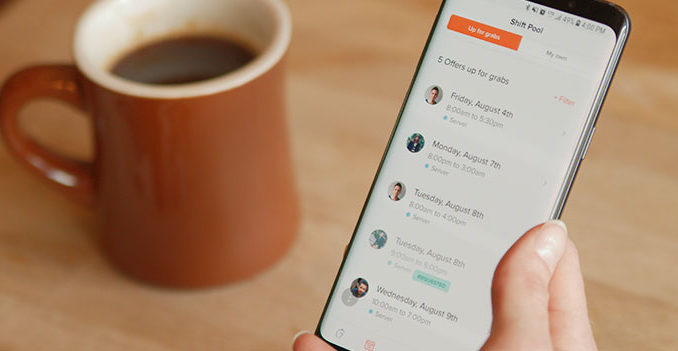 Managing restaurant staff efficiently and effectively, resulting in reduced labor costs. has always been one of the biggest challenges facing restaurant managers. A technology solution provider that has focused on addressing the challenges in labor management with an advanced technology platform for the restaurant industry is 7shifts. Founded in Saskatoon, Canada,  in 2014, the company's efforts have paid off.
In fact, according to a company spokesperson, 7shifts has scheduled nearly 100 million shifts for the 16 million restaurant workers in the US, and collectively saved restaurateurs over $200 million in labor costs. The rapidly growing platform is used by more than 250,000 restaurant professionals and 10,000 restaurants, including large, growing franchises such as Bareburger, Panera, Honeygrow, &pizza, and Smoke's Poutinerie.
7shifts is set to accelerate its growth further with the announcement that it has received a $10 million Series A funding round. The financing was led by Napier Park Financial Partners with participation from Teamworthy Ventures, existing investor, Relay Ventures. 7shifts received $1.2 million in seed-stage financing in May 2016.
7shifts bring more employee scheduling automation and labor compliance to restaurant chains by empowering restaurant operators and employees with easy-to-use software for managing such tasks as employee scheduling, team communication, and shift feedback. The company plans to use the funds to strengthen 7shifts' its position in scheduling automation and machine-learning technology for restaurants, while adding enterprise functionality and statewide labor compliance features.
The 7shifts platform is comprised of a number of interoperable labor management tools that work together with the goal of help restaurants create and maintain schedules from either a desktop or smartphone. The platform offers powerful tools for independent and multi-unit operators that help restaurant leaders gain better visibility into their businesses and ensure compliance with labor regulations.
The solution's predictive scheduling algorithm leverages machine learning to enable managers and operators to automatically create data-driven and labor-optimized schedules that exceed the accuracy and trustworthiness of manually generated schedules, while also adhering to state-wide labor regulations. By leveraging POS integrations for real-time data, 7shifts can reportedly project future sales with up to 95% accuracy given historical sales, seasonality, weather trends and other external factors, making it possible to accurately predict future labor needs and create optimized schedules.
7shifts is the restaurant employee scheduling solution used by over 250,000 restaurant pros across North America, Europe, the Middle East and Australia. 7shifts is used by growing multi-unit restaurant groups including Bareburger, Honeygrow, Smoke's Poutinerie, YogurtLand, Juice It Up!, and many others. More than a scheduling platform, 7shifts empowers