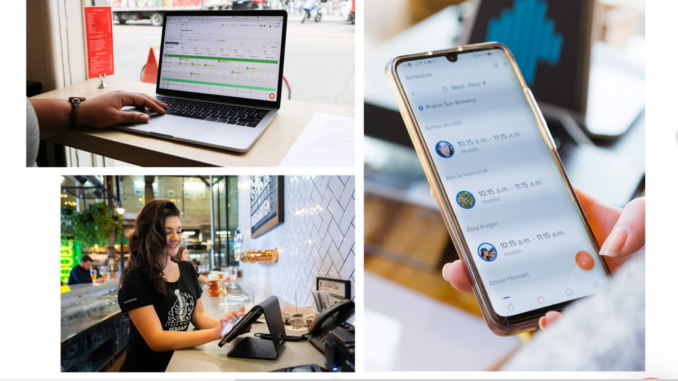 Restaurant labor management platform 7shifts has raised $21.5 million in Series B funding led by Enlightened Hospitality Investments (EHI), the growth equity fund affiliated with Union Square Hospitality Group (USHG). Founded in 1985 by restaurateur Danny Meyer, USHG operates several iconic New York City restaurants, including Gramercy Tavern and Union Square Cafe. EHI was formed in 2016 to make strategic investments in restaurant-related solution providers. The round also includes participation from existing investors Ten Coves Capital, Relay Ventures, and Conexus Venture Capital.
According to a press statement, 7shifts will use this latest round of funding to further fuel its mission to provide restaurant operators with best-in-class workforce management tools, a priority for restaurants now more than ever as they rebuild from the devastating impact of COVID-19. The proceeds will be used to continue scaling its team and expand its product offering, including deepening its capabilities in the core areas of scheduling and employee communication, accelerating technology integrations to provide a more holistic view of one's business, and rolling out the next generation of tools purpose-built for restaurateurs and their teams.
Founded in Saskatoon, Canada, in 2014, with offices in Toronto and New Jersey, 7shifts reports that the company is experiencing record new client onboarding, as restaurateurs seek out tools to simplify team management and increase profitability, all of which has become even more critical during the global pandemic and as their businesses begin to rebound. 7shifts' network now reportedly comprises more than 500,000 restaurant professionals across 18,000 locations across North America, Europe, the Middle East and Australia.
7shifts bring more employee scheduling automation and labor compliance to restaurant chains by empowering restaurant operators and employees with easy-to-use software for managing such tasks as employee scheduling, team communication, and shift feedback. The company plans to use the funds to strengthen 7shifts' its position in scheduling automation and machine-learning technology for restaurants, while adding enterprise functionality and statewide labor compliance features.
The 7shifts platform is comprised of a number of interoperable labor management tools that work together with the goal of help restaurants create and maintain schedules from either a desktop or smartphone. The platform offers powerful tools for independent and multi-unit operators that help restaurant leaders gain better visibility into their businesses and ensure compliance with labor regulations.
The solution's predictive scheduling algorithm leverages machine learning to enable managers and operators to automatically create data-driven and labor-optimized schedules that exceed the accuracy and trustworthiness of manually generated schedules, while also adhering to state-wide labor regulations. By leveraging POS integrations for real-time data, 7shifts can reportedly project future sales with up to 95% accuracy given historical sales, seasonality, weather trends and other external factors, making it possible to accurately predict future labor needs and create optimized schedules.
"As the industry rebuilds, there has never been a more important time for restaurants to get more visibility into labor to improve long-term performance and profitability," said Jordan Boesch, CEO of 7shifts. "Engaging with restaurant staff through data-driven, reliable shift scheduling will be critical to providing meaningful job satisfaction while simultaneously controlling costs, improving performance, and rebuilding the bottom line."
"The restaurant and hospitality industry is about to experience one of the biggest periods of growth and hiring we've ever seen, and having the right technology in place to manage this process will be a crucial component to succeed," said Danny Meyer, founder and CEO of USHG and a co-founder and Managing Partner of EHI.