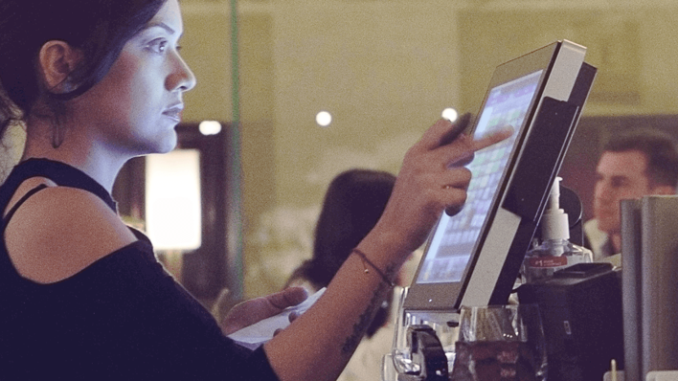 In the mid-1980s, Squirrel Systems was the first restaurant technology solution provider to offer a touchscreen POS system. The company was also the first to build on an open architecture. The company continues to innovate. Today Squirrel Systems announced the launch of  three new hospitality point of sale (POS) terminals that blend style and performance with hospitality grade durability.
The 15″ WS150 and WS150H workstations are powered by Intel processors and run a Windows operating system. They are the dominant solution for complex hospitality environments such as hotels, resorts and casinos while being the preferred platform of IT teams that standardize on Windows environments. These new terminals provide:
A tablet style design that delivers over twice the screen real estate of 10″ tablets
A choice of widescreen format (WS150H) or standard format (WS150) to blend into any environment.
A bezeless, spill and moisture resistant design for harsh hospitality environments.
Adaptable installation options with bases providing adjustable tilt and height and optional wall mounts.
The WS140H widescreen workstation follows the WS10LX as the most popular terminal in the Squirrel line and is the workstation of choice for independent and multi-unit restaurants. It is the new standard for tablet style fixed terminals, allowing restaurants to leave tablets in servers hands, where they belong. The WS140H provides:
A 14-inch design that has a similar footprint to 10″ counter mounted tablets while providing the serving efficiency of nearly 50% more screen real estate and superior reliability.
Adjustable tilt and low overall height for better guest engagement at counters and bars.
A Squirrel Linux based operating system providing a lightweight, secure terminal that is easy to install and manage.
Squirrel customers include independent restaurants, complex multi-unit restaurants and leisure and entertainment properties such as hotels, casinos, resorts and arenas. This new line of workstations supports minimalist restaurant installations all the way up to peripheral intensive installations in resort and casino environments.
Does your company have news it would like to share with our readers? If so, we invite you to review our editorial guidelines and submit your press release for publishing consideration.