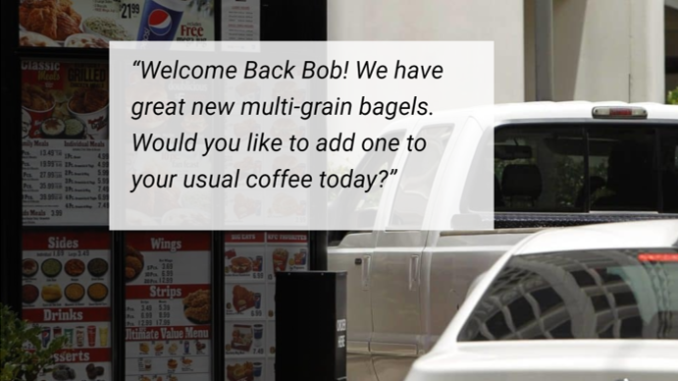 5thru this month announced that its enhanced AI technology now gives quick serve and fast casual restaurant drive-thrus a new way to leverage technology that uniquely profiles customer's buying choices across all locations. Now servers can make recommendations with past order knowledge to personalize the drive-thru experience like never before.
Using the technology, restaurants can leverage AI-driven information to mine for patterns in order histories across all locations and products to suggest better offers and recommendations, create "featured products" for dietary profiles presented as an up-sell recommendation, and design better menus, over time, that meet the needs of a full range of customers.
5thru's offering has three components. First, a camera at the drive-thru scans the driver's license plate to initiate a customer profile. Second, a screen inside the establishment pops up a profile of the customer showing past order history and new product recommendations. Third, payments can be automated (with one-time customer opt-in) to accelerate service.
With an in-vehicle voice ordering and engagement connectivity, orders can be placed via voice control
and viewed on a vehicle's console. Restaurant staff can talk to customers inside vehicles with voice activated systems, generate brand loyalty and integrating with current loyalty programs.
In October of last year, the Atlanta, Georgia-based solution provider first announced the availability of its Drive-Thru Accelerator technology, designed to speed up and personalize the drive-thru experience. By scanning vehicle license plates and pre-authorizing payment while the user waits in line, restaurant customers could pay for their orders without ever needing to take out their wallets. The solution makes it possible to streamline drive-thru process by reducing wait times while improving customer engagement.
Does your company have news it would like to share with our readers? If so, we invite you to review our editorial guidelines and submit your press release for publishing consideration.