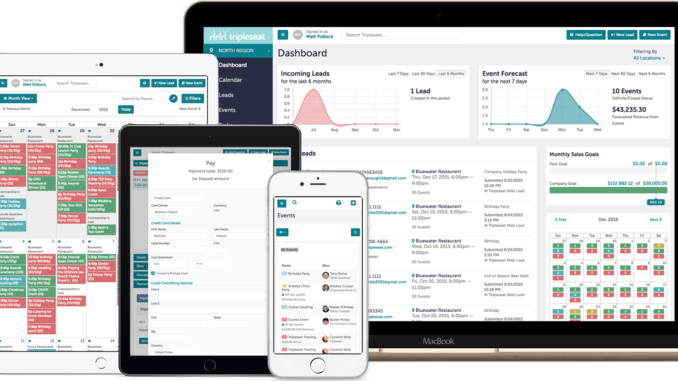 Tripleseat today announced a strategic partnership with Restaurant365. The partnership gives new event solutions to Restaurant365's users, which already have access to technology in accounting, budgeting, financial reporting and employee management.
Tripleseat is a leading sales and event management platform that helps restaurants, hotels, and unique venues streamline the planning process and increase event sales. The integration of Restaurant365's software will provide the additional support that restaurants need to run more efficiently, and enable restaurateurs to focus more time on strategies for revenue growth, customer loyalty, and more.
Founded in 2008, the Tripleseat platform has reportedly helped venues book over 3.5 million events and captured $10 billion in event leads. According to the company, more than 40,000 event managers use Tripleseat every day to book and plan events for their customers.
Tripleseat's  first integration with a comprehensive event management solution is expected to help venues of all types and sizes find success within their event and catering departments. The combined software will simplify complex processes and allow restaurant owners to remain above the fray while maintaining focus on their customers.
Restaurant365, with offices in Irvine, California and Austin, Texas, is leading cloud-based, all-in-one restaurant management solution, with restaurant accounting as its cornerstone. The solution provider closed a $20 million in Series A financing with a minority investment in January 2018 and a second $19.5 million in Series B financing with BVP in February 2019, which is being be used to expand the team and accelerate development.
Does your company have news it would like to share with our readers? If so, we invite you to review our editorial guidelines and submit your press release for publishing consideration.