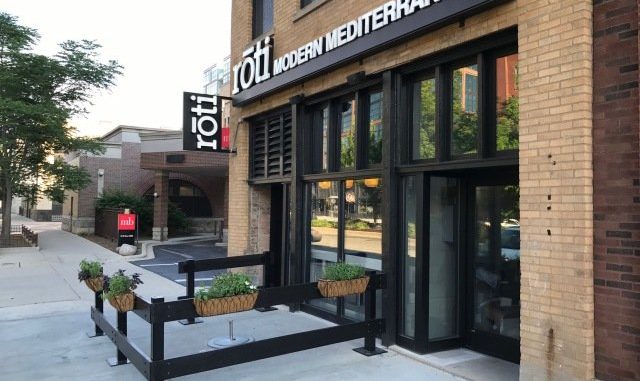 Founded in 2007, Rōti Modern Mediterranean, the Chicago-based fast casual Mediterranean chain which operates 40 locations nationally, including Chicago, Washington D.C., New York City, Dallas and Minneapolis, is embracing next-generation technology innovation.
The company, which last year secured a $23 million equity investment to help drive growth and expansion, is deploying an end-to-end technology suite enabled by solution provider eatsa. The technology integrates everything from kiosks and POS systems to mobile ordering, cubby lockers and delivery.
Incidentally, the Rōti equity investment was led by Valor Equity Partners, a Chicago based growth investment firm which also invested in a number of restaurant technology companies, including eatsa.
As discussed here ("A Modern-day Automat Reinvents Itself, Rolls Out New Solutions for Virtual Restaurants"), eatsa features a product that combines futuristic ordering kiosks with a cubby-based delivery system. By deploying eatsa's technology solution, Rōti is aiming to increase throughput and enhance of the overall customer experience. The goal is to deliver a more convenient guest experience with shorter wait times and more seamless customization.
Eatsa's so-called Omnichannel Intelligent Queue Software integrates multiple order channels, blending and sequencing the orders for back of house teams to provide efficient order management and accurate order availability times to customers. Additionally, eatsa's Spotlight Pickup System creates a dedicated area in the front of house to enable an pickup experience for customers and delivery service providers.


Eatsa's Spotlight Pickup System utilizes the same technology as its cubby system, but without the locked doors. Two restaurants have adopted the Spotlight system since its recent launch: Mac'D, a macaroni and cheese concept eatery in San Francisco, and Evergreens, based in Seattle, which serves salads and wraps.
The first Rōti restaurant to showcase the new digital customer experience will be the Chicago Loop – West Washington location. It will feature eatsa's self-serve kiosk ordering, integrated kitchen management system and Spotlight Pickup System, which alleviates the primary pain points of digital ordering and delivery. This includes increasing off-premise order volume and improving the customer experience while lessening overcrowding and bottlenecks often caused by mobile ordering and third-party delivery – a crucial operational challenge with increasing demand take-out.
Additional Rōti locations in Chicago have also already begun rolling out eatsa's technology, with more locations nationwide to follow in the coming months.
Specific eatsa technology that Rōti will implement at its restaurants over time include:
Self-Serve Ordering: eatsa's digital kiosk ordering system gives Rōti customers a way to skip the traditional assembly-style line and build their meal through an intuitive and personalized self-serve ordering experience. The addition of self-serve kiosks helps operators create shorter lines, increase order throughput and drive higher average tickets compared to a typical cashier experience.
Kitchen Systems: eatsa's integrated and instrumented back of house operation tools can manage orders from a multitude of channels including third-party delivery, mobile, walk-up, web and catering, and then route orders to the appropriate prep station without any human intervention or tedious manual queue handling from multiple tablets.
Pick Up: eatsa's Spotlight Pickup System is an engaging, easy-to-use order pickup solution that simplifies and streamlines the pickup process for customers, restaurant staff and delivery service providers, orchestrating operations with a guided and personalized experience. When a digital order is ready, a customer is guided to their automated pickup "Spot" where their name is clearly highlighted on the front display. Each Spot is connected to eatsa's cloud network and equipped with product sensors, a toplight for status indication and a front display for customized digital messaging.
Data & Analytics: eatsa's integrated systems capture order-level and customer-level data. The data should allow Rōti to better measure and improve operations and also improve menus and recipes, understand their markets and consumers better, and build personalized digital marketing and loyalty programs.
Wow Bao, a fast-casual hot Asian bun concept in Chicago, also backed by Valor Equity Partners, was the first to open a new restaurant using the eatsa platform, in December 2017. Meals are prepared by back-of-the-house staff, who then place the orders in one of 12 LED cubbies. The experiment proved successful, with subsequent rollout across the chain. Now Rōti aims to emulate and expand upon that success through technology integration of the eatsa platform.