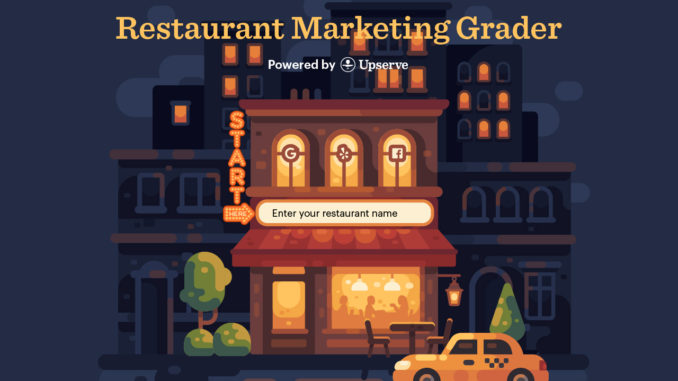 Upserve recently launched its Restaurant Marketing Grader, a free tool that helps restaurants identify gaps in their digital marketing efforts and identifies practical ways for them to boost their online impact.
The Upserve Restaurant Marketing Grader is simple to use. Restaurant owners and managers just need to input the name of their business, and they are automatically given their overall digital marketing score. Users then have the option of inputting their contact information in order to receive their full score, complete with actionable insights.
The grader makes sure that a restaurant's digital marketing is optimized across important sites like Google, Facebook, and Yelp, with the overall score being determined by data consistency, review sites, social media, and online visibility.
In a world where new concepts are popping up on every block and restaurants competition is at an all-time high, restaurateurs need to do everything they can to gain loyal customers. While many restaurant marketing strategies have been around for years, leveraging digital marketing is one of the newer – and more powerful – ways to boost profits in any restaurant.
The root of restaurant digital marketing is ensuring that hungry customers find your establishment online. 90 percent of guests research a restaurant before dining (more than any other business type), which means restaurant owners want to show up on phones and computers while potential guests are looking. The Restaurant Marketing Grader will help them do just that.
About Upserve
Upserve is the magic ingredient that helps restaurateurs become wildly successful, providing everything you need to manage a restaurant in a single hub. Upserve offers the market-leading cloud restaurant POS, actionable insights, transparent processing, automated inventory and ordering, workforce tools, and mobile restaurant management.
Over 10,000 restaurants use Upserve to manage relationships with more than 57 million active diners, process over $9.9 billion in annual sales and serve over 36 million meals per month. Upserve is headquartered in Providence with additional offices in Denver and Tel Aviv.
Related: The Complete Guide to Restaurant Marketing

Does your company have news it would like to share with our readers? If so, we invite you to review our editorial guidelines and submit your press release for publishing consideration.