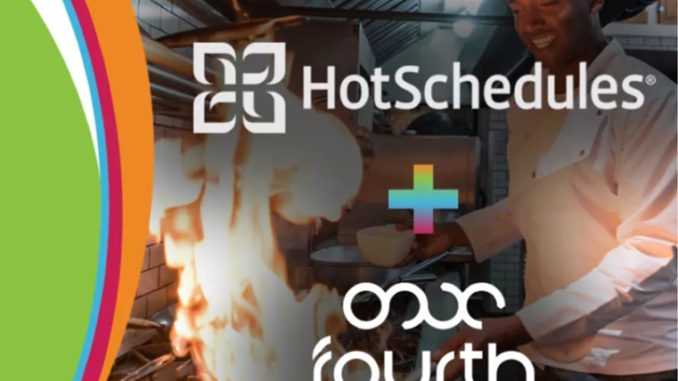 Restaurant workforce and inventory management solutions provider HotSchedules and hospitality workforce management and cost-control operations platform Fourth today announced that the two companies have merged business operations in an agreement backed by Marlin Equity Partners and Insight Partners.
By joining forces, the combined company's software-as-a-service (SaaS) solution suite will now offer end-to-end restaurant and hospitality platform management capabilities, including: scheduling, time & attendance, applicant tracking, training, inventory management/procurement, HR/benefits and payroll services. The combined company will now serve customers in 120,000 locations worldwide and is supported by a dedicated, unified team across offices in the U.S., U.K., Bulgaria, China, Australia and UAE.
The merger would appear to be a natural fit. HotSchedules' core workforce management, employee engagement and back-of-house solutions combined with Fourth's workforce management and cost-control operations platform will now offer customers the industry's only complete back-of-house hospitality management solution.
As a result of the merger, customers now have access to:
An operations platform that seamlessly integrates with nearly every major POS system, finance platform and many industry-specific third-party applications
Single sign-on, integrated workforce management and inventory management/procurement software
Robust compliance functionality to ensure enforcement of directives for labor management, safety, food and cash handling
Full-service, hospitality-specific payroll, benefits and HR services
Real-time operational insights, cost-control management and analytics dashboards
Dynamic, advanced demand forecasting via the company's robust, predictive algorithms
Existing HotSchedules and Fourth customers will benefit from the combined capabilities and experience of the two companies, advancing the delivery of innovative solutions across both customer bases.

Founded in 1999 in the UK, Fourth offers an all-in-one hospitality operations technology platform for purchase-to-pay & inventory and workforce management – underpinned by advanced demand forecasting, predictive analytics and collaboration tools – as well as full-service payroll, benefits and HRO services. Fourth serves more than 1,200 customers in 60 countries. The Fourth platform integrates with every major POS system, finance platform and many industry specific third-party applications. With one user name and password, operators can quickly access a wealth of reports and dashboards.
In 2015, NYC-based Insight Venture Partners acquired a majority shareholding in Fourth.  The company has continued to expand its footprint in the U.S. In March, the company, which serves major hotel and restaurant brands that include Burger King, Mandarin Oriental, Loews Hotels, Bar Louie, Shari's, Soho House and Food First, announced the launch of its full-service HR, benefits and payroll services in the U.S. market. In addition to its end-to-end hospitality operations platform, which includes sales forecasting, scheduling, purchase-to-pay & inventory capabilities, Fourth announced that it now also offers full-service payroll, benefits and HR services, following its recent acquisition of Choice HR.
Last quarter, the company recruited an additional 25 employees to its 70-person team in New York and Florida to help support the expanded platform capabilities and services.
Meanwhile, HotSchedules provides technology, services and user experiences for the restaurant, retail and hospitality verticals. Over 30,000 customers across 170,000+ locations globally – from large international chains to independent and emerging concepts – use HotSchedules' software and solutions to help them control costs, maintain compliance, improve visibility, increase profitability and drive operational consistency.
HotSchedules and Fourth will unite under the leadership of Ben Hood, CEO of Fourth, and an executive team comprised of HotSchedules and Fourth team members. The combined entity will continue to support solutions across their respective platforms. The business will be headquartered in Austin, TX and London, U.K. The financial terms of the merger were not disclosed.