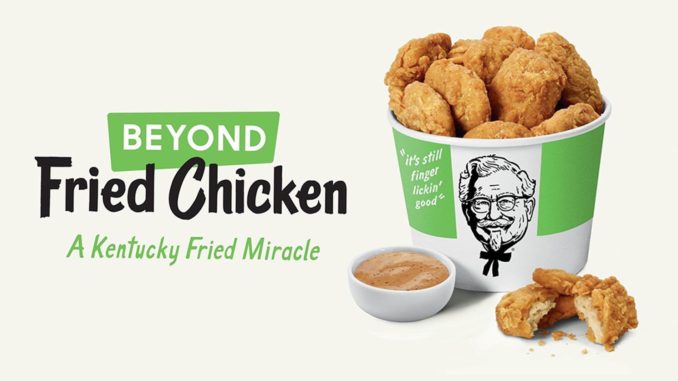 "I did not become a vegetarian for my health," the Nobel prize-winning author Isaac Bashevis Singer once remarked. "I did it for the health of the chickens."
Now chickens and consumers alike have plenty of reason to celebrate. Today Kentucky Fried Chicken became the latest national restaurant chain to embrace plant-based meat, moving beyond the chicken coop (or, rather, the factory farm, where chickens spend their short lives crammed into dark, warehouse-like buildings) with the introduction of vegan chicken nuggets in partnership with Beyond Meat.
This follows the recent introduction of Beyond Meat products at multiple other major restaurant chains, including Dunkin' Donuts, Del Taco, Tim Hortons, Carl's Jr., TGIFridays and A&W.
The first buckets of Beyond Fried Chicken became available for the first time today at a single KFC location in Smyrna, Georgia, outside of Atlanta. Customers reportedly waited in line for upwards of two hours (not exactly "fast food"), with the new product selling out by mid-afternoon. Given the success of this trial run, a national rollout can expected for later this year or early next year.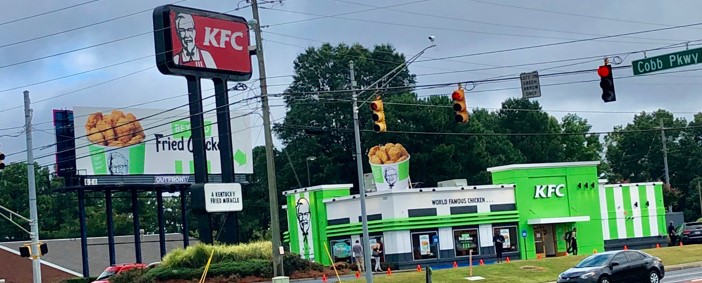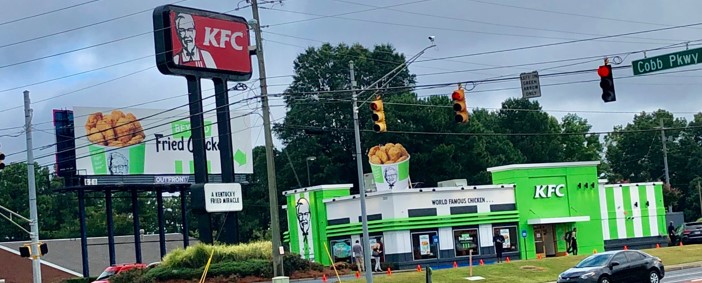 Among the other plant-based alternatives finding their ways onto restaurant menus are burgers from Impossible Foods, which White Castle introduced last year in the form of sliders at 380 of its locations across the United States. The meat alternative mimics the taste, look and texture of traditional sliders to the point of being almost indistinguishable. It is notable that, founded in 1921 in Wichita, Kansas, White Castle is commonly regarded as the world's first fast-food chain and is also known as the inventor of the slider.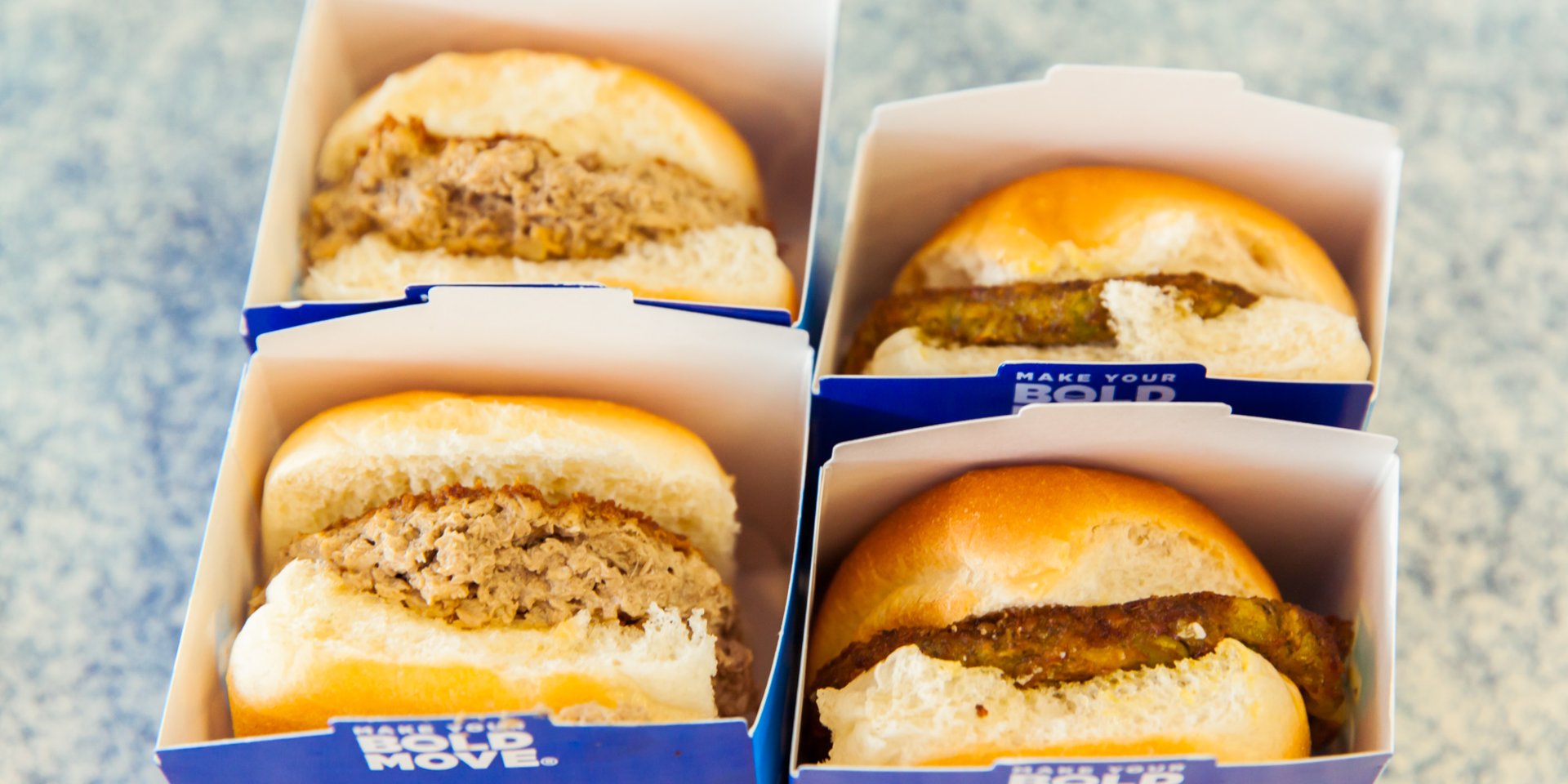 Earlier this summer,
Red Robin
added the Impossible Burger to the menu at all 570 of its locations. And then, just two weeks later, came the biggest news of all related to the foray of plant-based meats into the world of fast food restaurants.
And then, following a successful trial run at 57 Burger King locations in St. Louis, Restaurant Brands International, Burger King's parent company, announced that it will launch the "Impossible Whopper" as a plant-based alternative to its traditional burger at all 7,300 Burger King locations in the United States. The national launch, which took place earlier this month, was a hit by any measure, prompting Impossible to quickly build a second production facility to accommodate the huge spike in demand from the fast food giant.
Restaurants have been responding en masse to the recent innovations in food science that have given birth to today's advances in plant-based meat and the societal shift taking place as more and more people around the world are reducing, and even eliminating, meat consumption. Virtually all of the household name fast food brands have been jumping on the bandwagon, in some cases adding all kinds of plant-based alternatives, to their menus.
Just yesterday, for example, Chicago-based Epic Burger officially added the Beyond Sausage Bratwurst or "Beyond Brat," a plant-based sausage from Beyond Meat, to its menu, and with great fanfare.
In fact, consumer response, coupled with major breakthroughs in plant-based food science, is driving a global market for meat substitutes that Euromonitor International estimates will reach $23 billion by 2023, compared to $18.7 billion last year. Barclays estimates that the sector will reach $140 billion over the next decade, capturing more than 10% of the global meat industry.
The manufacturers of these products are soaring to seemingly impossible heights. In fact, Impossible has raised more than $750 million and is estimated to be valued at $2 billion. Meanwhile Beyond Meat, which went public earlier this summer, now has a market value of roughly $10 billion. The stock price gained as much as 6% in trading yesterday after KFC announced that it is testing its plant-based fried chicken.
Chicken is one of the latest battleground in the introduction of plan-based meats. Incidentally, aome restaurants are looking at plant-based chicken substitutes not only from companies like Impossible and Beyond Meat, but also from companies like Memphis Meats and Just which are developing a market for cellular, lab-grown meat cultivated from animal cells.
Driving the explosion in plant-based restaurant menu items is a growing awareness of the health benefits. Last year, the World Health Organization classified processed meat as a carcinogen and red meat as a probable carcinogen.
There is also a growing awareness, thanks in part to nonprofits like Mercy for Animals and The Humane League, of the true scope of animal suffering taking place on factory farms, in particular.
And then there is the environment impact. According to some estimates, livestock production is responsible for more than 50 percent of global greenhouse gas emissions, not to mention massive water consumption (animal farming is responsible for upwards of 33 percent of all freshwater use in the world) and contamination.
Meanwhile, people are looking to animal farming as the primary culprit of the devastating fires currently raging through the Amazon rainforest. Some reports suggest as much as 80 percent of Amazon forest destruction is directly related to cattle ranching.
According to experts, the most practical solution that consumers can adopt to help slow deforestation is to reduce or, better yet, completely eliminate their meat intake. The availability of foods like the Impossible Whopper and Beyond Fried Chicken at tens of thousands of fast food restaurants may make it easier for consumers to do exactly that.