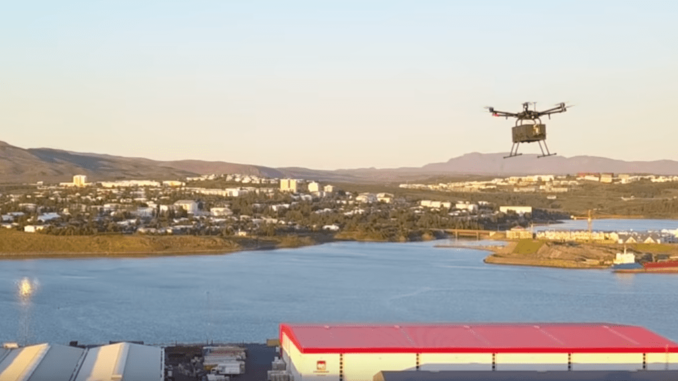 Food delivery by drone may soon start to take off. No doubt, forward-looking restaurants are taking note.
Last week, drone development company Flytrex, a six-year-old Israeli technology startup, and drone services company Causey Aviation Unmanned, Inc. received approval from the Federal Aviation Administration (FAA) to begin food deliveries by drone in Holly Springs, North Carolina.
As part of the FAA's UAS Integration Pilot Program (IPP) and in partnership with the North Carolina Department of Transportation (NCDOT), Causey Aviation, the Town of Holly Springs, and Kite Realty Group Trust, Flytrex will soon begin its on-demand, unmanned food delivery via commercial drones for local residents.
The announcement comes in the wake of the recent validation of Flytrex's self-triggered parachute recovery system by NUAIR (Northeast UAS Airspace Integration Research), according to standards set by the FAA and the American Society for Testing and Materials. Flytrex and Causey join the few select companies to be authorized to operate in a suburban area.
Last year, Flytrex deployed what it claims is the first "golf course delivery system" in the U.S. For now, the company has only received authorization to fly its delivery drones from a distribution center at Holly Springs Towne Center, which has fifteen restaurants, to nearby Ting Park, an outdoor sports and recreation hub. There local residents will be able to receive their food orders via a wire-drop system designed to lower packages to the ground from a height of 80 feet. The drone delivery reduces a 25-minute round-trip car drive to a five-minute drone flight.
Using $7.5 million in funding the company raised in January, which brought the company's total capital raise to $10.5 million, Flytrex plans to scale up existing operations as well as provide seed money for the new route in North Carolina. All goes well with this initial test area, the company hopes to expand operations across other parts of the country.
According to the FlyTrex website, the drones can carry up to 6.6 pounds (6-8 hamburgers) for a distance of 3.5 miles and back. The devices cruise at 32 miles per hour and fly at an altitude of 230 feet. The current drone model does not fly in the rain and at wind gusts stronger than 18 miles per hour.


Drone technology is big business, with a market that is estimated to worth upwards of $30 billion by 2027, according to analysts at Research and Markets. It's no wonder heavy hitters like Google X labs graduate Wing and Amazon are making sizable investments in the technology, which may one day be soaring through the skies with restaurant food deliveries.