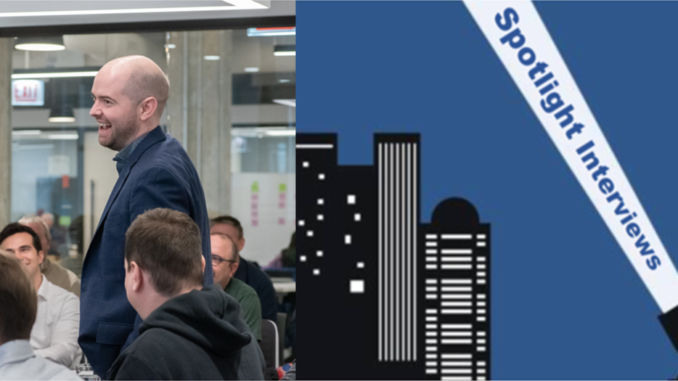 Joe Gallagher is the Co-Founder and COO of 86 Repairs, a subscription service that manages the entire repair process for restaurant groups. A Michigan native and graduate of Kettering University, and with more than ten years of experience in the restaurant equipment space, Joe has spent his career building "what comes next within legacy industries, from technical design engineering, to new product development management, and digital transformation." As Joe shared with us, he is a firm believer that "tech-enabled services can resolve many of the stubbornly unsolved business problems within the restaurant industry." 
Could you talk a bit about the formation of 86 Repairs? 
I co-founded 86 Repairs after spending ten years in food equipment manufacturing and engineering. I worked firsthand with the repair and maintenance process, and while doing so, it became abundantly clear that there was a problem. There was a disconnect when it came to repairs. I could see there was a real shortage of service talent in the market, and a group of restaurant operators who were more focused on front-of-house than back-of-house. 
Yet, restaurant equipment gets used every day, and these businesses couldn't operate without it. The lack of innovation there just didn't make sense.
My co-founder, Daniel Estrada, and I set out to develop a business model around finding solutions to all the problems that we saw restaurant operators facing when they needed to repair their equipment. And 86 Repairs was born. 
Where did the name come from?
Daniel gets the credit for that one. 
When you work in a restaurant, you join a special tribe and community of people who don't work the typical 9-5. We wanted people in the industry, our future customers, to see the name and immediately know it was created by people who understand and speak their language. 
Those that have worked in restaurants know that "86" means to take something off the menu. At 86 Repairs, we take repairs off the menu for restaurant owners and operators.
What are the benefits of a subscription service for repairs and maintenance, as opposed to just calling someone on an ad hoc basis to come in and fix a problem when necessary? 
The last thing you have time to do as a restaurant owner is call multiple service providers to get someone on site when you need them, walk them over to the piece of equipment that needs to get fixed, and talk them through the exact problem… all while something's burning in the oven. There's a dozen other things on your plate that require the same energy and attention to detail as sourcing a vendor to deal with broken equipment. 
For a flat monthly subscription rate with 86 Repairs, our customers can focus on serving their guests, while we manage the repair process for them.
Franchisees and franchisors have a different dilemma. They need to decide whether they're going to delegate this (repairs management) out to their general managers and do it on their own, or if they're going to invest hundreds of thousands of dollars building a traditional on-call facilities department. 
It's impossible to scale the later as these teams would be geographically locked, and if they let everyone fend for themselves, repairs would be a free-for-all. We provide a sensible third option, one that provides our customers with the control and visibility needed for a fraction of the traditional costs.
The 86 Repairs subscription allows our customers to scale whenever it's best for their business, regardless of where their team is or where new locations are opening. 
How, exactly, does your service work from a customer perspective? 
86 Repairs is a comprehensive service offering. From start to finish, we manage the entire equipment repair process to take the pressure of repairs and maintenance off of our customers' shoulders.
When there's an issue in one of our customers' restaurants, any member of the staff can text, call, or email us. We manage everything from there.
We manage every type of equipment repair across six main categories: all food and beverage equipment in a restaurant, hot side and cold side equipment, plumbing, electrical, fire suppressions systems, HVAC systems – anything you need to keep the back-of-house and front-of-house operation running.
The first thing we do is troubleshoot the issue with a staff member to try to avoid a service visit. We walk through the simple things like checking circuit breakers, outlets, filters, defrost cycles, etc. — the easy stuff that staff may not think to check, especially when the restaurant is slammed.
If we're not able to fix the problem directly with the customer, then we dispatch their preferred vendor or someone from our vetted network of 600+ service providers. We manage all the communication with the service provider and make sure the job gets done right. 
What makes the process seamless is our sophisticated software platform behind the scenes. We use this system to keep track of every repair, every serial number, every warranty on every piece of equipment in our customers' restaurants. When a member of the staff contacts us with an issue, we have all that information on hand.
Having this accurate data readily accessible saves our customers a ton of time because their staff doesn't have to manage the whole repair process. It also saves them a lot of money by avoiding unnecessary service visits, comparing vendors, and getting repairs covered under warranty.
To what extent are restaurant owners and operators able to save money, in the long run, using a subscription service for repairs and maintenance? Do you have a sense for the ROI?
From our analysis, our customers have an average ROI of 220% of our monthly subscription fee.
That ROI is based on real customer data, specifically the hard savings our team logs against every single service visit. Whether that's ensuring a piece of equipment was under warranty, avoiding the service call in the first place, or providing standards and expectations for how long a service provider should take to work on a piece of equipment – all of that is logged as savings at the exact rate of what it costs.
To what extent is 86 Repairs driving employee satisfaction, and, ultimately, enabling your customers to deliver a better guest experience?
Our service takes repairs, a responsibility that usually stresses and frustrates staff members, off the table completely. 
People work in restaurants to serve – to cook a great meal, or provide an incredible guest experience – they're not in the business to figure out why an ice machine isn't making ice. If staff anxiety levels  typically run high, we can take it down to a manageable level just by being on the other end of the phone. 
At the ownership level, those that are dealing with labor shortages and turnover issues know that 86 Repairs is not just a repairs asset, it's a retention tool.
One of our customers told us, "If I took 86 Repairs away from my staff, there would be a revolt." That's the kind of impact we have on employee satisfaction. This isn't just a nice to have, or a way to "make peace" with staff. We bring confidence, control, and rigor to a process that has caused a tremendous amount of pain in the past.
What are the biggest and most common problems that restaurants typically face in your experience when it comes to hardware equipment or software failures? 
The first one is labor and retention. I've read studies that have shown 36% of owners and operators say that staff retention is the number one problem that they're focusing on. There are fewer skilled laborers than ever before, and it's more expensive than ever before to hire a qualified employee. Though it's not directly correlated with equipment repairs, we can help boost retention rates by giving restaurant owners tools that positively impact employee's experiences.
The second one is adjusting to the reality of flattening store sales. Everybody is scrutinizing their expense lines and seeing what costs are absolutely necessary. Our hard savings and ROI can make the equipment repairs and maintenance line item a no-brainer for restaurant owners.
The third one is kitchens become more expensive to run as they age. Maintaining equipment is absolutely essential to the long-term viability of a location. We help our customers walk through preventative maintenance checklists, create cleaning schedules, and set up service provider visits to perform routine maintenance. We help our customers understand how to make the repair vs. replace decision, and how to maintain equipment to extend its life for as long as possible.
Who are your typical restaurant customers? Is your service applicable to restaurants of all sizes and categories across the board? What types of restaurant owners are likely to benefit most?
Whether you're a quick service restaurant like a Jimmy John's or McDonald's, or a Michelin-star restaurant, 86 Repairs can add value to your business. We operate across the country – from Los Angeles to Long Island, servicing major markets and rural geographies alike.
We have successful single-unit owner operator relationships, but we find that restaurateurs who have multiple locations benefit the most from our services. As restaurant groups or franchisors scale their businesses, they reach a critical mass where they don't have the bandwidth to manage repairs on their own, but aren't in the position to create a large-scale facilities management department. That's where we come in.
Is there anything about where the restaurant industry is today that surprises you, particularly in terms of technology?
I'm really excited to see social and community engagement becoming democratized and put back into the hands of restaurant operators. It could be something as simple as Squarespace for beautiful website development, or companies like Popmenu that allow restaurant operators to create digital, interactive menus that let customers leave reviews and ratings. 
Another interesting trend is the cloud kitchen world. It's coming in a big way. Whether companies are putting pop-up coffeeshops in a 250 sq. ft. space in Manhattan, or creating brands that live digitally, but are cooked out of a single kitchen and delivered through UberEats or Grubhub, this new world is going to make for an exciting experience for consumers and restaurateurs who jump at the opportunities early on.
What will be the primary focus areas for 86 Repairs over the next year? 
We're focused on getting our service into as many restaurants as we can across the United States. 
Our offering strengthens as more restaurateurs join our platform. With more customers, we're able to collect a large amount of insights and use them to shine a light on the most obscure process in the industry: equipment repairs and maintenance. 
Expect a lot more actionable ways to put your data to work over the next year. The main mission is to help restaurant operators across the United States save money and time on equipment repairs and maintenance. We're ready to make an industry-wide impact.