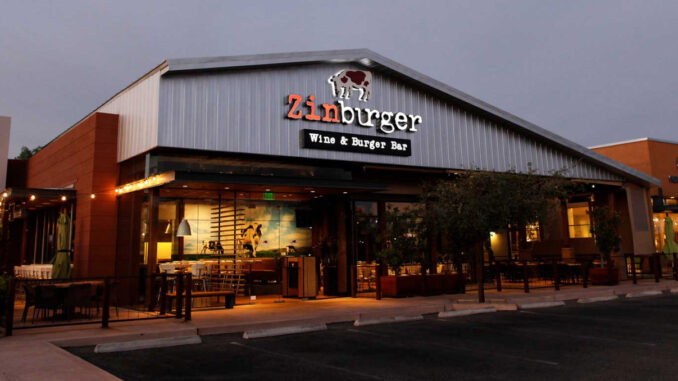 Founded in 1987 in Princeton, N.J., The Briad Group® is a multi-unit, multi-state, owner and operator of quick service and casual dining restaurant concepts, limited service hotels, and a lifestyle shopping center. Quickly becoming one of the fastest growing restaurant and hospitality companies, the Briad Group possesses an impressive portfolio, which includes well known quick-service and casual dining brands, and is the owner of the very popular concept, Zinburger Wine and Burger Bar.
Getting Serious About BOH Management
In 2009, executives at The Briad Group sought a replacement for the Excel spreadsheets they were using to manage numerous restaurant operations. The team wanted more granularity and control over processes at company headquarters and in its different concepts. They selected CrunchTime's food and labor operations platform for its comprehensive functionality. Today the solution is in The Briad Group's 17 Zinburger Wine & Burger Bars, with an 18th location to be added soon.
A Decade of Food Cost Innovation
As the CrunchTime Administrator for The Briad Group, Emily Whitney is responsible for maintaining the system. With a centralized configuration, the system is turn-key for restaurant managers. Emily's job is made easier with a single database to update for all restaurants.
For The Briad Group, reducing food cost variance has been the number one benefit since implementing CrunchTime. The Actual vs. Theoretical food cost variance report allows Whitney and the individual restaurant managers to identify how much inventory they used versus how much they should have used. The ability to look at every product by restaurant brand and location in real-time helps pinpoint the potential cause of any variance so it can be remedied quickly.
"CrunchTime allows us to ask, 'What did we do? How can we correct a variance that's not true?'" says Whitney. "For each food item, the Actual to Theoretical variance should be within one point at Zinburger. Our restaurant managers have a variety of inventory reports they can use to investigate variances. With all this information at their disposal, they can determine the best course of action to resolve the variances. We have the ability to count inventory as frequently as we want to see if the variance is happening all the time, or if it can be narrowed down to specific days or shifts. This is one of the best tools in our arsenal."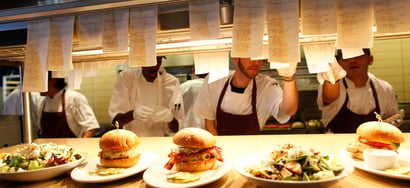 The Briad Group also takes advantage of other CrunchTime inventory management functionality, such as centralized recipe management for multiple concepts, including Zinburger. The Briad Group has also rolled out 'Simple Receipt' functionality at several Zinburger locations to help separate local store purchases from scheduled orders. When a new cocktail recipe calls for a specialized product like Candied Ginger that is not supplied by primary vendors, the system is flexible enough to allow a manager to purchase it from a local store via a Simple Receipt that will track the purchase and put the special item into inventory. This functionality will soon be rolled out company-wide.
Additionally, their Purchasing and Accounting departments use CrunchTime to coordinate all ordering and invoice payments. CrunchTime is integrated with Briad's suppliers and Briad's accounting platform to support the electronic exchange of information and eliminate manual effort in updating vendor products, pricing and moving invoices into the accounts payable system.
"It's not just variance, the CrunchTime reporting is extremely comprehensive," Whitney says.
Streamlined Schedules with CrunchTime! TeamworX
Three years ago, The Briad Group was one of the first CrunchTime customers to adopt the TeamworX scheduling application. Today it is used for everyday staffing in all Zinburger restaurants. CrunchTime's core labor functionality is used to manage the profiles, schedules, and work hours for the 1,500+ individuals Briad employs, including the entire Zinburger team.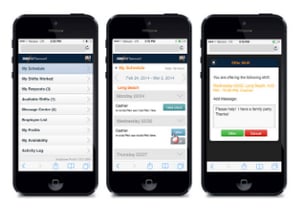 Using their TeamworX app on their personal devices, each team member can engage with their managers and coworkers to update their availability, swap shifts, request time off, and pick up open shifts. When managers review requests, they are seeing real-time alerts on how each request would impact a schedule if approved – they can pick the right person based on skill level, number of hours scheduled, or other criteria. The TeamworX application ensures each shift is covered and that the right people are working at the right times.
"Rolling out TeamworX was a huge, but worthwhile undertaking," says Whitney. "Now managers tell us scheduling takes a fraction of the time it once did. They can clearly see if someone is available or not. I can't say enough of all the good things. We just love TeamworX."
Easy-to-Use Mobile Apps
Another big win for Zinburger has come with the CrunchTime! Counter mobile app.
"The restaurants are big fans," says Whitney. "There's no paper. They can use mobile devices and enter inventory any way they like. Additionally, inventory data can be entered into our system via Counter from multiple users simultaneously without complications. This was the biggest factor for our teams, as we don't have a single restaurant where only one person is counting inventory at a time. This way, they can all take ownership of what they counted."
At Zinburger, Whitney is also planning to test the CrunchTime! Line Check app, which centralizes and sets up clear food safety preparation standards and allows for custom scheduling of food safety audits for staff across all locations. Zinburger operators will be the first to try it, and if it's a good fit for their restaurants it could be rolled out to other Briad Group brands.
Overall Benefits of the CrunchTime Platform
Cost Savings – CrunchTime helps The Briad Group define quantifiable operational goals and metrics for their Zinburger restaurants. It creates better transparency, ensures restaurants stay within certain thresholds, tracks cost variances, and pinpoints opportunities for cost savings to make sure each location is properly managed.
Labor Management – Integrated into TeamworX is the ability for The Briad Group to examine historical trends, which is used in conjunction with sales forecasts to project how many team members will be required for each shift. For instance, it may be standard to bring someone in from 3:00 to 8:00 p.m., but after examining actual traffic, the store manager may see that they only need someone for the three hours between 4:00 and 7:00 pm. TeamworX presents insights not just in numbers and tables, but in visualized, easily consumable graphs and charts, which helps managers make more intelligent labor decisions based on facts and not hunches.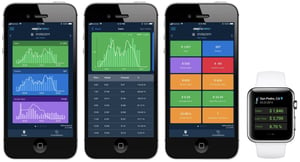 Reporting – The Briad Group executive team can pull reports regarding schedules, inventory, and food costs, among many other areas of the business, to determine if restaurants are operating efficiently. While users do take advantage of CrunchTime's numerous standard built-in reports, their database access allows them to build custom reports on whatever standards or needs they have. Reporting hierarchies give users global views of the business, providing store comparisons and access to drill down into a single region, location, or transaction quickly and easily. Thanks to the CrunchTime! Impact mobile app, users can also see critical data in real-time on their smartphones.
Menu Item Pricing – For a new menu item like a cocktail, Whitney can calculate how much it will cost and use that information to set the price. Recipes are pre-set by the culinary team from each brand and then entered into the CrunchTime system. Adjustments are made as needed per pricing determinations. The system is also used to establish nutrition and allergy information at their locations.
Customized Training – Whenever Whitney rolls out new CrunchTime functionality she offers two or three live training sessions. She uploads session recordings to the cloud for her restaurant managers to watch at their convenience. She also uploads PDFs of walk-throughs for common procedures, many of which are unique to The Briad Group. Storing these recordings and documents in a central location ensures that all managers across their portfolio understand the system's functionality and have access to information that uniquely applies to their role.
CrunchTime! Information Systems, Inc., provides a comprehensive restaurant management platform that simplifies and automates food and labor operations. By driving the flow of information throughout the organization, CrunchTime ensures operators make timely, fact-based decisions that help brands reduce food and beverage costs, drive labor efficiencies, and better manage the quality and consistency of their foodservice operations. For almost 25 years, CrunchTime has enabled restaurant chains of all sizes to scale efficiently and save money.