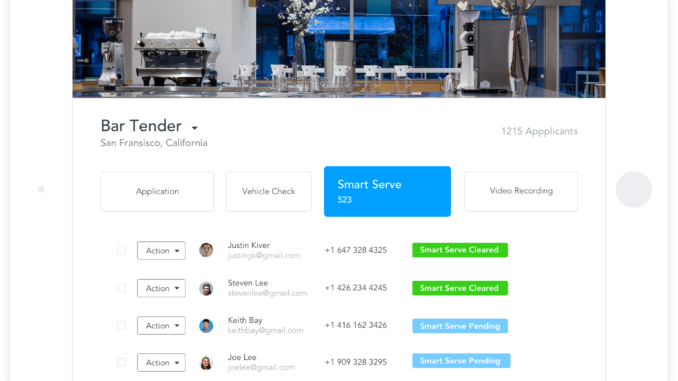 The vast majority of the workforce consists of shift-based or hourly workers. In fact, 85% of the global workforce, or nearly 2.7 billion people, are paid hourly. In the United States alone, there are more than 80 million hourly workers.
The restaurant industry accounts for 10% of the total overall workforce. And most restaurants depend on a workforce that is largely part-time. In fact, only 44% of restaurant employees are full-time and full-year employees. By comparison, 70% of the total US workforce are full-time and full-year employees, according to National Restaurant Association analysis of data from the US Census Bureau's American Community Survey.
At the same time, according to the Bureau of Labor Statistics, the industry is plagued with a turnover rate of 82%. This and the desire on the part of employees for flexible work schedules are driving some restaurant owners and operators to change the way they recruit and hire staff.
In recent years, a growing number of technology solution providers have launched hiring apps designed to make it easier for restaurant operators and workers to fill open shifts. Some of the leading players in this space are now securing large rounds of capital investment. They are also rapidly expanding their market presence into new regions.
Fountain secures $23 million funding round
Currently in the spotlight is Fountain, which last week announced the closing of a $23 million Series B funding round. The round was led by DCM, with participation from 51job and existing investors Origin Ventures, Uncork Capital, and others. This brings the company's total fundraising to $34 million.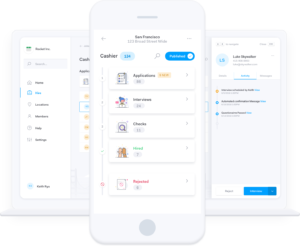 "It's clear the way people work is changing, but the processes companies use to hire hourly workers aren't," said Keith Ryu, CEO and co-founder of Fountain. "Recruiting workers from this group is fundamentally different than recruiting for your corporate roles. 90% of this population aren't on LinkedIn, and 40% are unresponsive after completing an application. Many of these employees are holding down two or three jobs and need an easy, automated and mobile way to apply and interview for a new job."
Founded in 2015 during the initial height of the gig economy, Fountain now reportedly processes more than one million applications to fill 150,000 hourly and gig positions every month for its customers. Since its inception, Fountain is said to have placed more than four million jobs.
Fountain's customers leverage its technology to streamline the entire candidate recruitment process, from sourcing, screening, interview scheduling, processing background checks, SMS communications, to document signing and onboarding. Fountain will reportedly invest this latest round of funding in R&D to accelerate product development for existing customers as well as expand its reach across businesses within the restaurant and hospitality industry.
Instawork expands into east coast cities
Last month, Instawork, another leading app for gig workers and hospitality businesses, announced its expansion into east coast cities, starting with Boston, New York City, and Washington, D.C. Over the past several months, Instawork has announced $30 million in funding from top investors including Spark Capital, Benchmark, and Burst Capital and now operates in nine U.S. markets: the Bay Area, Boston, Chicago, Las Vegas, Greater Los Angeles, New York, Greater Phoenix, San Diego, and Washington, D.C.
"There are about 10.7 million Americans employed in the hospitality industry, and a large portion of these workers are in major East Coast cities," said Sumir Meghani, CEO and Co-Founder of Instawork. "Hospitality businesses struggle with high staff turnover and spend approximately 80% of their time on staffing and logistics. Instawork provides experienced and reliable staff at the click of a button. We give Professionals access to well-paid employment opportunities."

Pared also expands its market presence
Another leading restaurant staffing solution, Pared, this month announced that it is now live in the Philadelphia market. Pared services restaurant and hospitality operators in the country's biggest metropolitan areas — New York City, the San Francisco Bay Area, Washington D.C., and now,
Philadelphia. Pared aims to establish itself in additional major cities nationwide, with plans to continue expansion to other regions across the U.S. in 2020.
"We've seen great success with the Pared app so far, and are excited to bring our services to the iconic Philadelphia food scene," said Will Pacio, co-founder and CEO of Pared. "With our database of over 100,000 highly qualified restaurant professionals available on demand to our customers across the country, we are confident that Philly restaurant operators will see a significant reduction in staffing issues and the resulting overhead costs."
Many of the top restaurants and chefs in the world count on Pared to meet their staffing needs, including more than 30 Michelin-starred restaurants, with marquee names including Thomas Keller Restaurant Group, Jean Georges Restaurants, Altamarea Group and Crafted Hospitality, among others.