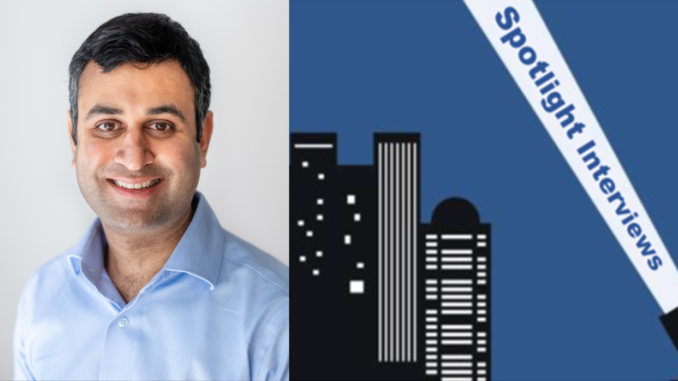 On-demand staffing solution provider
Instawork
has been growing by leaps and bounds, particularly in the restaurant realm, where the app works to the benefit of both restaurant owners/operators and restaurant job seekers/workers. Sumir Meghani is the Co-Founder and CEO at Instawork, where he leads the company in helping create economic opportunity for local businesses and professionals. Previously, he was the Vice President of Email and Relevance at Groupon. He has also worked at Yahoo! in a variety of product, business development, and sales roles. Sumir completed his MBA at Harvard University and holds a BA with honors in Economics and an MS in Computer Science, both from Stanford University.
Could you talk a bit about the company's genesis? What was the original vision? Also, how has that vision changed — or not changed — as the case may be?
When I was a kid, my parents — small business owners themselves — would often call me into the office after I got home from school to help stock shelves when someone didn't show up or called out last minute. And from my time at Groupon, I learned that although there are many businesses that exist to help hospitality businesses get more customers, tools to help them with staffing are few and far between. Seeing an opportunity to help solve this problem is what led me to star Instawork, where we help local businesses quickly fill permanent and temporary openings with the most qualified professionals in their communities.
The hospitality industry has experienced record growth that is poised to continue. However, it's a notoriously difficult industry to keep people around. In 2016, the Bureau of Labor Statistics estimates that the restaurant sector experienced an annual employee turnover of 73 percent, and that over the course of 16 months, a restaurant can expect to lose its entire staff. The scheduling app 7shifts estimates that the average tenure of a restaurant employee is one month and 26 days.
When we first started Instawork, our focus was on making a job board. We also started offering on-demand gigs as an experiment when some of our hospitality clients needed help for staffing a big trade show. We quickly found that our Pros were getting much more excited about gigs — because we were doing the work of finding work for them. In a world where labor needs are greater than ever, we believe curation is key too because screening, vetting, scheduling, and billing are heavy lifts for our Partners. We also see curation builds peace of mind for our Partners because the talent we supply has much better quality. And of course, our Professionals want the same thing when seeking gigs.

Instawork has received $30 million in funding from investors that include a number of heavy hitters. How are the funds being used? For one thing, we know the company is expanding geographically and is currently setting up shop in the East Coast cities.
At Instawork, our vision is to create economic opportunity for local workers and hospitality businesses, globally. Through our recent U.S. expansion into ten U.S. cities, we are now the largest on-demand staffing app for gig workers and hospitality businesses. We have been focused on hiring and expanding into as many U.S. cities as possible. We have also established offices in Scottsdale, Arizona and Bangalore, India.
How big is the need for on-demand staffing apps in the hospitality industry? Can you break down the gig marketplace in terms of types of jobs and also the percentage of opportunities at hotels compared to restaurants?
We see Instawork as a huge opportunity for a skilled workforce to get involved in the gig economy with less barriers than driving as a side hustle. The main positions we fill are bartenders, cooks, servers, line cooks, and dishwashers.  Most of our Partners are restaurants, hotels, caterers, and event planning companies.

It's been reported that many employers in the hospitality industry spend upwards of 80 percent of their time on staffing and logistics due to high employee turnover. How does Instawork help solve that problem?
We envision a future for a hospitality workforce with a good balance of full-time employees and gig professionals. It's very hard for restaurants or hotels to predict how much staff they will need in peak season, like the holidays, and deal with back filling positions when someone quits or calls in sick. Instawork helps hospitality businesses be more flexible and agile with their staffing needs, ultimately improving their bottom line.
As a marketplace, we are also uniquely positioned to help Partners plan by using curation, past performance of staff, fill rates, and average quality rating data.
What larger industry or market trends are you seeing?
The cost of living is going up in big cities, pushing workers further and further away from the city centers. This is especially glaring in San Francisco, where Instawork is based. Recently, the San Francisco Chronicle featured an article about the cost of living being so high that many restaurant workers could not afford to work in the city—-although the majority of the jobs are here. Recent data also shows that San Francisco rent has hit an all-time high with average rents for a one-bedroom apartment rising to $3,690 per month, according to the rental app, Zumper (the same thing is happening in cities like New York and Washington, D.C.).
These rental increases coincide with an increase in consumer demand for higher touch services like food delivery at peak hours. These two trends combine to drive the demand for labor to outpace supply.

Do you have any metrics, such as time and cost reduction, you can share in terms of the extent to which Instawork helps reduce some of the pain points that employers in the hospitality industry face?
Turnover rates are huge in the hospitality industry. In 2016, the Bureau of Labor Statistics estimated that the restaurant sector experiences annual employee turnover of 73 percent, and that over the course of 16 months, a restaurant can expect to lose its entire staff.
We are very proud of the fact that Instawork Partners receive immediate feedback on their gigs with 97 percent matched with qualified Professionals within 24 hours. This means that we are helping our Partners deal with turnover and labor shortage almost immediately.
What new Instawork capabilities, including software features and functionality, are you most excited about and should employers, as well as workers, also be most excited about?
What is so amazing about Instawork is how easy and convenient we make both sides of the marketplace experience for Instawork Professionals and Partners. We make it incredibly clear to Professionals how much money they will earn, what jobs are available and what the job require. This information makes it easy for them to evaluate if a particular opportunity is a good fit.
For Partners, our process is very straightforward in helping them find great Professionals. We automate sending out their gigs to relevant Professionals as well as manage the billing and payment processing.
Professionals and Partners rate each other at the end of each gig — this allows us to help hold both parties accountable for delivering a good experience.
We are also excited to continue finding ways to drive quality, speed, and convenience in our marketplace.
What will be the primary focus areas for Instawork over the next year?
To continue to bring Instawork to as many U.S. cities as possible, build a great team at our headquarters, get connected to as many Partners and Professionals as we can, and build a great service.