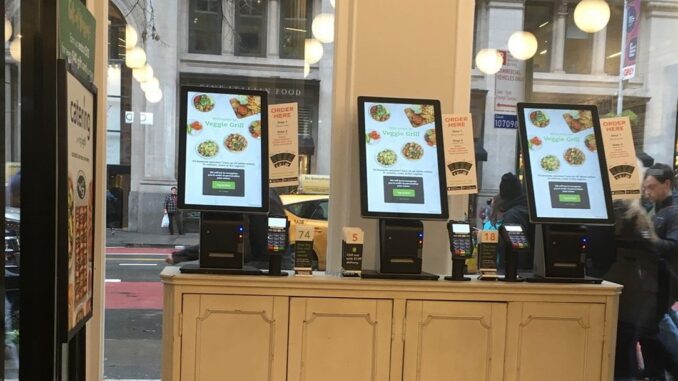 As of November 2019, the United States' unemployment rate was at an all-time low of 3.6%, which is an incredibly positive swing for job-seekers, but a source of frustration for business owners looking to attract and retain employees. Restaurant owners in particular have struggled with labor shortage issues across the industry; a more robust economy means workers have options, many of which are leaving the restaurant industry entirely.
In this tough climate, many restaurant operators have turned to technology to maximize operational efficiencies, create best-in-class training programs and widen the candidate pool for hiring. However, with technological improvements come myriad options, which can create confusion for restaurant owners looking for the best solution for their specific needs. Below are the top five technologies restaurant operators should focus on in 2020.
Mobile Ordering
 It is a must for restaurant owners to meet their customers where they are. As consumers continue to rely on their mobile devices more and more, restaurant owners should offer mobile ordering for greater speed and convenience. This technology enables customers to quickly place an order online for exactly what they want, bypass a line, get their order quickly and, in many cases, earn loyalty or rewards points for each order. Mobile ordering can help restaurant owners reduce or reassign staff members to other areas.
Tablet POS & Tableside Ordering
Decreasing turn time on tables is top of mind for restaurant owners as it plays a major role in improving restaurant revenue. Amid the tough labor market, tableside ordering is a great solution to decrease dining time to get more customers in (and out). Guests don't have to flag the server down to place an order or ask for the bill, plus they are able to customize their orders and play games. Tableside ordering also presents more upsell opportunities with customized promotional offers on the tablet, leading to higher check averages and better tips. As tableside ordering evolves, restaurant owners can also sell ad space on the tablet for another revenue stream.
Digital Kiosks
Similar to tableside ordering, digital kiosks allow customers to take control of their orders, including inputting personal specifications, which improves accuracy and creates a more convenient experience. Plus, restaurant owners can serve up promotions, surveys and loyalty program sign-ups directly to the user during the order in a private way without oversight from an employee.
Kitchen Display Systems
Gone are the days of kitchen staff using printed tickets and manually calculating how long each item in a given order takes to cook and timing accordingly. A kitchen management system is connected to the POS system and automatically calculates the timing of every order on a given ticket. It then prompts the staff on when to start each item to ensure the entire table's order is completed at the same time for optimal food temperature and presentation. The system ensures less waste, higher efficiency and better communication in the kitchen, and allows restaurant owners to hire less skilled employees.
Digital Menu Boards
Because digital menu boards are connected to the POS as well, they can dynamically serve up content based on a variety of factors to improve employee efficiency and utilization of specific menu items. For example, if a restaurant has seasonal items with a varying price point, the digital menu board can dynamically adjust the customer-facing price for optimal profit. Plus, managers can update content on a digital menu board remotely across many locations.
While the labor market in the restaurant industry is unlikely to improve drastically soon, restaurant owners can tap into a variety of technology solutions that can be connected (in a perfect world) or a la carte options that suit their specific needs.
Graham Campbell, COO of Givex, a global cloud-based operations management solution designed to streamline business efficiencies and generate valuable and actionable customer data with offices in Canada, the United States, the United Kingdom, Australia, China, Brazil, Singapore and newly opened in Mexico City. Campbell is an innovative technology executive with over 13 years of experience in the payment, e-commerce and point of sale sectors. He started at Givex in March 2006 and since then has held positions including: VP of Projects & Implementations, VP and General Manager of Givex's point-of-sale (POS), Senior VP of Product Development and now holds the position of the company's Chief Operating Officer.
Are you an industry thought leader with a point of view on restaurant technology that you would like to share with our readers? If so, we invite you to review our editorial guidelines and submit your article for publishing consideration.