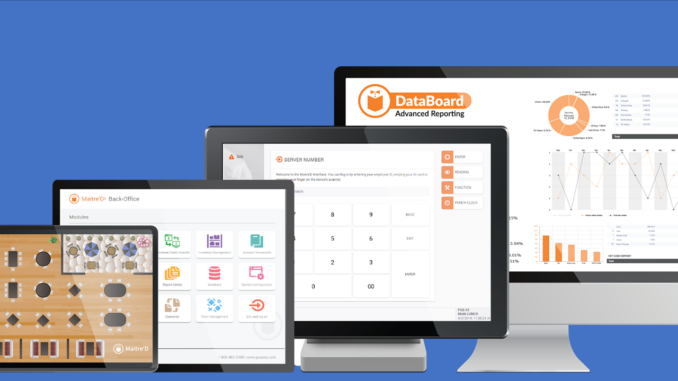 Canadian payment technology solution provider PayFacto Payments has completed the acquisition of Posera, including its suite of software technologies – Maitre'D POS, KDS (kitchen management system), and SecureTablePay, an EMV-compliant pay-at-the-table solution. Posera also offers hardware integration services, merchant staff training, system installation services, post-sale software and hardware customer support.
In November, PayFacto stated its intention to acquire all of Posera's issued and outstanding common shares for $14.5 million CDN on a cash free, debt free basis, in an all cash transaction. The deal closed last week.
Originally launched in 1989, and based in London, Ontario, Posera has rolled out a number of major upgrades to its collection of restaurant technology solutions over the past year.
Last summer, for example, it unveiled a new user interface for Maitre'D, a solution that in addition to standard POS functions allows for creation and editing of menus as well as powering accurate order-taking, handling modifiers, splitting checks and payment processing with multiple PMS and other partner integrations.
The new user interface optimizes screen real estate with an emphasis on sleeker aesthetics and personalized menu images allowing for more efficient user navigation. Posera also unveiled new features that include interactive maps for the delivery module and per-guest detailed table order itemization for faster, error-free payment reconciliations. Other highlights of the new release include mobile POS functionality, extended integrations, and cloud functionality.
In November, the company launched "The Maitre'D TOTAL Experience," a suite of software tools and services developed to support and optimize restaurant operations and management. This latest offering was extended the company's customer base of 20,000-plus restaurants.
Last summer, Posera also released an upgraded version its KDS, a stand-alone kitchen display and monitor that facilitates kitchen management. The system is capable of 3rd-party API integrations with virtually any POS system, rendering it POS-agnostic and even allowing for its use as a white-labeled product. This enables customers to integrate the KDS solution as part of their kitchen technology, regardless of POS, while generating real-time reporting and operational insights.
The KDS touchscreen monitor features 35 different screen display modes, including split, compact, recipe, and summary screens. The latest release offers new functionalities such as station routing, meal coursing and pacing, guest paging, and enhanced real-time activity data and alerts, all features in demand by kitchens across food-service establishments.
Over 8,000 Posera KDS units are currently being used by restaurants to improve communications between front- and back-of-house operations. Restaurants using KDS enjoy paperless ticket processing, greater efficiency, accuracy, and redundancy for uninterrupted service, automatically routing and rerouting orders, leading to simplified kitchen management.
With the acquisition of Posera's restaurant solutions – along with solutions from Resto Finances, including its flagship Veloce POS system – PayFacto bolsters its payments and technology position in the hospitality industry across North America, Europe and the UK as it aims to become one of the world's leading providers of payment and technology solutions to the hospitality industry.
Posera will continue to operate under its own brand name as a subsidiary of PayFacto Payments. Posera Ltd.'s shares are traded on the Toronto Stock Exchange.