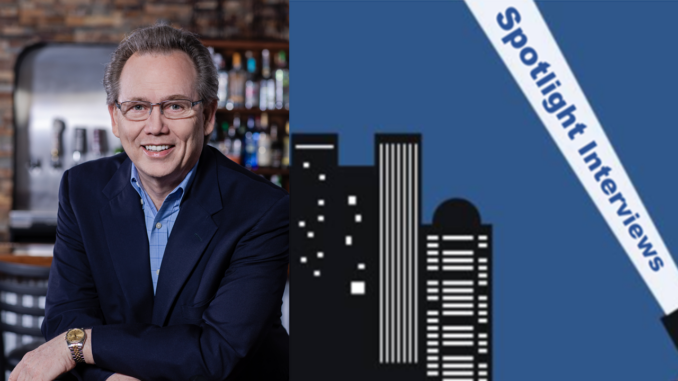 Chris Elliott, CEO of Beef 'O' Brady's, a 35-year-old restaurant franchise with more than 150 locations, has 43 years of broad-based food service experience that includes quick service, full service, delivery, cafeteria, as well as specialty retail in both domestic and international markets.  Chris has successfully handled every level of general management responsibility rising to President and board member of a publicly traded company. Chris has spent the last 24 years at the COO and President/CEO levels where he has managed every functional area, led strategy development in difficult turnaround situations, helped take Morrison's Fresh Cooking public, led the strategic divestiture of Cinnabon, consulted for Private Equity, led the creation of Fiesta Brands, turned around Beef O Brady's, led the acquisition of The Brass Tap and the founding of FSC Franchise Co. a multi-brand franchising platform.
How is Beef 'O' Brady's utilizing tech to adapt to the climate created by the current health crisis?
Having a single, state of the art, cloud based, POS system allowed us to embrace the off-premise and delivery aspect of our business which has become essential due to the COVID-19 global pandemic. Our handheld technology allows for curbside orders and payment by guests. We have online ordering and in-house delivery options so customers can place orders in the comfort of their own homes.
What operational changes has Beef 'O' Brady's made in reaction to the increased focus on digital ordering methods?
Overall, we have adapted our 35-year-old business model to ensure that we're still able to reach our customers, safely and efficiently. We were fortunate to have already implemented online ordering for delivery and pick up as well as rolling out third-party delivery before the crisis, which has allowed us to improve our operations over time.  In addition, we made a shift of staff to assist with takeout/curbside orders and launched a "pop up drive thru" putting a tent outside to facilitate this process easily for the customer.

Why is this important? Why not throw in the towel and cease all operations, at least for the time being?
Being able to safely provide to our customers in the communities that we serve is still a top priority for us. Now more than ever, our customers need our support, which is also why we are implementing the option for our customers to use our locations as grocery stores due to the shortage of products across the markets that our stores are in. We are pushing forward to help as much as possible through our offerings, which in addition to grocery offerings include free delivery, 20% off delivery and to-go meal packs. Close community engagement and a small-market focus has and will continue to remain at the core of our business.
What does the future hold for the industry, and how will tech continue to influence the way owners and operators do business?
The industry is going to continue to adapt in order to serve consumers, while dining rooms are closed. We'll continue to see businesses find creative and innovative ways to serve customers through the most contactless methods as possible. We're nimble and will continue to adapt in order to better serve our customers as we navigate this crisis together.