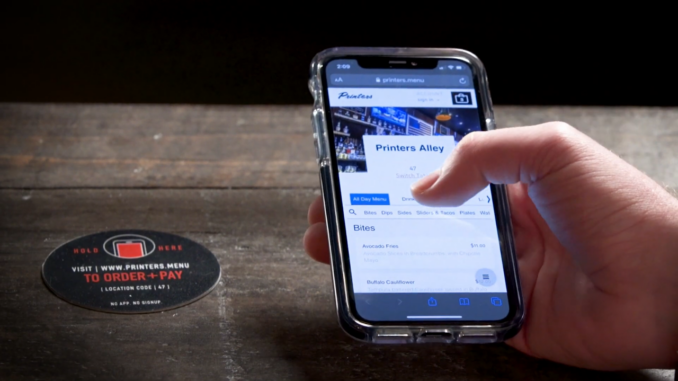 Restaurant technology solution provider Bbot, which is dedicated to simplifying and improving the ordering and payments process, has secured a $3 million funding round led by Craft Ventures, an early-stage venture fund headquartered in San Francisco. The New York-based startup previously raised $300,000 in seed funding.
Founded in 2017, Bbot offers a robust, configurable solution that helps restaurants and other hospitality organizations create digital menus and provide guest-controlled, contactless ordering and payment. Bbot works for in-venue dining, delivery or pickup, giving guests more flexibility to order and pay on their smartphones, without the need to touch a printed menu, closely interact with a server, or use a credit card.
The company reportedly serves more than 500 hospitality customers in categories such as fine dining, fast casual, breweries, food halls and hotels.
"The hospitality industry, now more than ever, needs technology to help bars and restaurants reopen safely, while providing a quality customer service experience. Bbot was created to help clients become more efficient and profitable, with technology that's intuitive for guests and operators alike," said Steven Simoni, CEO and co-founder of Bbot. "We are helping our hospitality customers redesign their businesses in the wake of COVID-19 and provide a solution that they can continue to use beyond the pandemic."
Bbot solutions can integrate directly into a venue's existing ordering and payment system. Patrons can access digital menus and payment options with any smartphone by entering QR or location codes found at tables within the venue. Bbot offers a wide-range of benefits for hospitality organizations and guests alike, including:
Enhanced guest experience: Guests can use their smartphones to review a venue's food or bar digital menu, place orders without waiting and pay at their own pace. No app download or sign up is required.
Safer ordering without contact: Contactless ordering supports social distancing by reducing close human-to-human interactions and replacing printed menus with "a cleaner digital option."
Increased revenue for the restaurant: Guest-controlled ordering increases sales and tips, with high-volume restaurants seeing up to a 15% lift, according to the company.
Increased productivity: By concentrating on delivery and customer satisfaction, servers are said to be able to cover more ground in less time.
Dining data: Venue managers gain business insights and are able to access fully customizable reports on sales and workflow patterns, while guests are able to track and receive alerts on the status of their orders.
Multi-location management: Venues with multi-serving locations such as bars, restaurants and pools may be managed with one system.
Customized digital presence: Every restaurant can select a branded URL and create a designed web presence.
With the round investment, Bbot, which currently has approximately 25 employees, plans to hire additional talent, expand its market presence and accelerate its new product roadmap. Immediate product developments include the launch of new point-of-sale system integrations and support for its European customers.
"Dine-in guests prefer the safety of contactless ordering right from their mobile phones while home delivery customers want to use their phones to order from the restaurant's mobile site"said Jeff Fluhr, partner at Craft Ventures, in a press statement. "By using Bbot, restaurants give both types of diners exactly what they want while improving their own margins and increasing the chance of success."