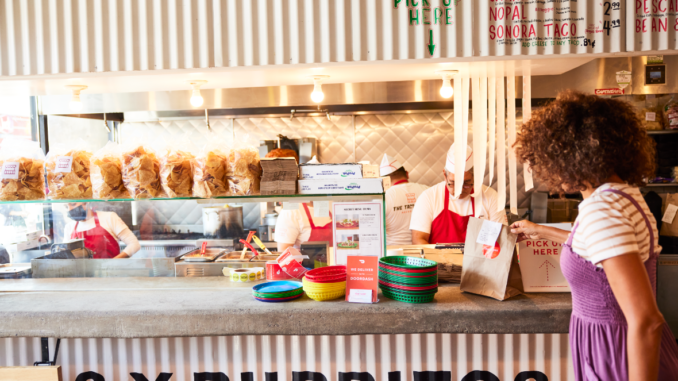 Storefront, the commission-free online ordering system from DoorDash which enables restaurateurs to accept online orders directly from their website, and Bbot, its order and pay at table technology, now integrate with Paytronix. This partnership enables operators to develop loyalty programs and support gift card payment – two key ways to enhance digital guest engagement.
Restaurateurs are continuing to diversify their revenue streams and offering gift cards is one clear option to capture future business and extend their customer base. Over one-third of customers paying with gift cards are also new to Storefront, allowing restaurateurs to serve new customers. Existing customers might wish to purchase gift cards for friends and family to use at a future date, for in-house dining, and now, dining at home via delivery.
With this new Paytronix integration, customers ordering from a restaurant partner using Storefront or Bbot can simply select "gift card" as their preferred payment option during the checkout process. According to aggregate Storefront data, order value is on average 50% higher for orders paid for with gift cards opposed to those paid for with alternative methods. For ease of payment, customers can combine up to five gift cards to cover their subtotal, taxes, and optional Dasher tip for delivery. Any overage can be paid for with alternative payment methods including credit or debit cards.
"Customers are accustomed to having the option to pay with gift cards when dining in-store. It's imperative guests have the same flexibility when ordering online, which is why Storefront's integration with Paytronix is crucial to ensuring customers have a frictionless digital experience," said Patrick Yearout, Director of Innovation at Ivar's Restaurants. "Upon adding gift cards to our operations, we've seen an increase in weekly revenue and we've also noticed customers paying with gift cards are spending more per order compared to customers paying with other payment methods."
Building on the value of offering gift cards, this integration enables operators to further elevate their customer experience by offering loyalty programs which keep guests engaged and returning for the long-term. Orders where customers redeemed loyalty points were on average approximately 30% higher than orders without loyalty redemption and one in four orders placed from restaurants offering a loyalty solution through Storefront helped customers accrue loyalty points for a future purchase*.
After navigating to a restaurant leveraging Storefront or Bbot to accept orders, customers are encouraged to sign in to their existing account or enroll in a restaurant's loyalty program. Customers are presented with the option to redeem available rewards at checkout, and after successfully placing an order, customers will receive an order confirmation outlining how many loyalty points have been earned. Operators will also be able to reconnect with individuals enrolled in their loyalty program by sending personalized offers for future orders.
"Partnering with DoorDash Storefront enables us to offer our Frequent Diner Club Members the chance to earn Frequent Diner Club Points and redeem Reward Dollars on all carryout and delivery orders through our website and app" says R.J. Melman, President of Lettuce Entertain You Restaurants. "Offering the same hospitality across our dining rooms and at home is important to us, and with this partnership, we're not only able to make the online ordering process quick and easy, but we have also been able to acquire new guests."
*Based on Storefront data from January – March 2023
Does your company have news it would like to share with our readers? If so, we invite you to review our editorial guidelines and submit your press release for publishing consideration.