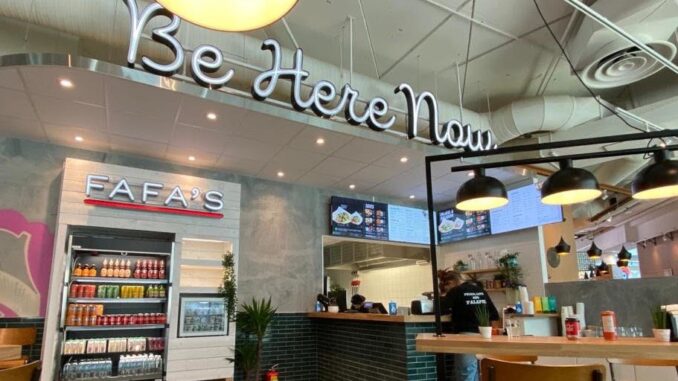 Finnish pita and salad restaurant chain Fafa's is on a mission to serve consumers and the environment. Its menu is made up of over 70% vegetarian and vegan dishes that support the company's goal of being environmentally conscious. Fafa's is the first restaurant chain in Finland to be 100% carbon neutral.
Founded in December 2011, Fafa's is a small company with big ambitions, currently with 45 stores, they have a goal to grow to over a hundred in the next two years. Recent industry conditions have not dampened their outlook, as they have systematically opened new stores across northern Europe.
"We understand our customers extremely well," said Ville Myllyniemi, CEO at Fafa's. "They are young, ambitious and aspire to tread lightly on the planet and value sharing healthy food with friends and family. Our customer is at the center of every business decision we make, from what we serve to how we serve. It's that level of intimacy that gives us the confidence to continue pursuing our growth targets."
Fafa's desire to expand their business, while ensuring the safety of employees and customers is as strong as ever. In 2018, as the company pursued expansion, restaurants were finding wait times were exceeding the desired level. Orders from online channels and delivery partners had to be manually entered into its previous Point-of-Sale (POS) system, and manually delivered to the kitchen. They also had a tremendous amount of data from disparate sources with no way to efficiently aggregate and analyse inventory, customer preferences and more.
Fafa's implemented Oracle MICROS Simphony Point-of-Sale and kitchen display systems throughout its properties in 2019 to achieve several key objectives: improve speed of service and customer experience through integrated sales channels and better leverage restaurant data and analytics across their business.
In collaboration with Oracle Food and Beverage and cloud ecosystem partners, Fafa's has streamlined their order process and kitchen operations to reduce wait times and increase customer satisfaction. From self-service kiosks to online orders from their website, social media, app and in the future, chatbot-ordering, Fafa's can now ensure customer orders are accurate and timely.
"Oracle have helped us turn our vision into reality. Taking the spark of an idea, turning it into strategy, and implementing it. That's why we are passionate about it, and that's why we like Oracle's so much," said Ville Myllyniemi, CEO at Fafa's. "Oracle has the experience, knowledge, and technology to enable us and brings in partners to build the exact system to fit for our business needs, our customers and the environment. I can't wait to see where the future takes us."
Oracle MICROS Simphony POS features robust reporting and analytics right out of the box and allows Fafa's to centralize data from all of their restaurants, creating a single point of truth. Understanding order volume by channel, and channel profitability gives the company confidence in expansion tactics down to the location level. This gives Fafa's the ability to manage a connected enterprise, without losing individuality.
"Now more than ever, it's important to remain agile and make swift decisions on everything from menu, promotions, service channels, inventory, supply chain partners, and labor," said Simon de Montfort Walker, senior vice president and general manager at Oracle Food and Beverage. "Oracle's tightly integrated technology platform that can enable operations with real time data sitting atop Oracle Autonomous Data Warehouse is a real differentiator for customer's like Fafa's. Despite the current climate, they are bullish about the future of our industry and we are excited to be a part of their success."
Does your company have news it would like to share with our readers? If so, we invite you to review our editorial guidelines and submit your press release for publishing consideration.