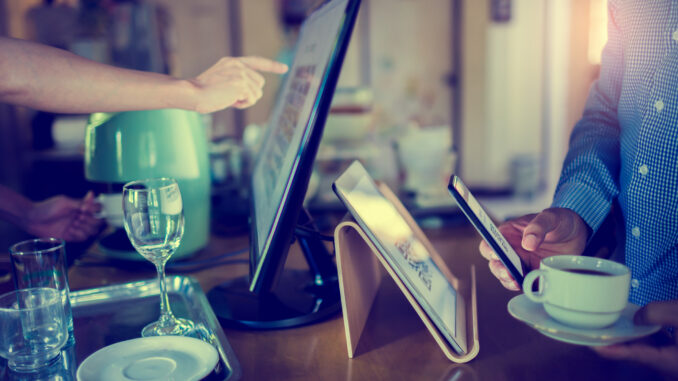 While the coronavirus pandemic is affecting nearly all industries, state-mandated restaurant closures have led to particularly dire effects throughout the food service industry. Many restaurants are being forced to shut down operations, resulting in financial hardship for many managers and staff members. The National Restaurant Association anticipates sales to decline by $225 billion during the next three months, which will prompt the loss of between five and seven million jobs.
Luckily, the restaurant industry, specifically the QSR and fast casual segment, has spent the last few years shifting toward digital offerings, including branded mobile apps, online ordering, third party delivery, pick-up and more. Now, technology will play a massive role in helping the restaurant industry strategize a plan to make it through to the other side of this economic fallout. In addition to popular restaurant tech such as online ordering and third-party delivery, digital gift cards are positioned to be an important part of the puzzle in creating a solution to help drive restaurant sales.
According to a July 2019 Givex analysis, global digital gift card sales are projected to hit $698.2 billion dollars in 2024. Even with the coronavirus complications, digital gift cards are positioned to present a viable opportunity for brands, especially in the restaurant industry as it can offer a tool to bring people together digitally, rally a customer base and boost restaurant sales through a seamless purchase and customer experience.
Spread Positivity and Boost Revenue
During the practice of social distancing and quarantine, digital gift cards are an exceptional tool in bringing people together. Consumers can tell their friends and family they are missed or can show healthcare workers they are appreciated by treating them to delivered meals from their favorite restaurants or to bottles of wine to enjoy during virtual happy hours. There are also several pizza restaurants offering a great gift opportunity for family, friends and co-workers with coupons for delivered, ready-to-make pizzas, which includes dough and toppings that can be cooked and assembled at home. Digital gift cards create a safe way to spread some positivity during these trying times.
Overall, gift cards tend to be extremely profitable for restaurants, as they encourage consumers to spend more money than usual. According to our research, over 70% of gift card recipients spend more than the face value of their cards. This is crucial for a restaurant's bottom line, especially at this time. Plus, the gift card industry promotes brand awareness, with over 40% of consumers trying a business for the first time after receiving a gift card. This can be an important boost to revenue during a time in which customers are primarily researching for new options online.
Streamline the Ordering Process
Now that an easy ordering experience is key in keeping consumers coming back, digital gift cards ensure that the process is as streamlined as possible for both customers and staff. For example, if a restaurant's gift card technology is integrated with its POS, it results in a seamless online purchasing experience for the customer without putting a strain on reduced, overburdened staff members. In addition, gift cards can be loaded onto mobile apps to be used as a contactless payment method, which is even more critical now for safety-minded consumers.
In recent years, gift card technology has turned from an ancillary sales item into a primary payment method, especially as restaurants prioritize mobile ordering, third-party delivery and consumer-facing loyalty programs. As digital gift cards become the principal means of payment for these apps because of automatic reloads and top-ups, "branded currency" is becoming a powerful way for restaurants to boost customer loyalty.
Help Local Restaurant Businesses
Small businesses are the backbone of the world's economy, and digital gift cards create a great opportunity to rally a brand's current customer base together and encourage support. For example, organizations are encouraging consumers to support their local businesses by creating an easy platform to purchase gift cards in order to provide critical cash support during the crisis.
The Dining Bond Initiative is a global initiative set in motion by restaurant industry professionals to get funds into the hands of restaurants now, even if they are temporarily closed. Restaurant owners can join the program and offer digital gift certificates that are sold at a price lower than face value but redeemable at face value upon dining at the restaurant. The goal is to utilize discounted digital gift cards to produce needed income to restaurants in the upcoming months.
While this is a difficult time for restaurant brands across all segments of the food service industry, encouraging digital gift card sales and use can give customers a reason to continue ordering from their favorite places and position restaurants for a steady stream of business once the doors are back open.
Graham Campbell, COO of Givex, a global cloud-based operations management solution designed to streamline business efficiencies and generate valuable and actionable customer data with offices in Canada, the United States, the United Kingdom, Australia, China, Brazil, Singapore and newly opened in Mexico City. Campbell is an innovative technology executive with over 13 years of experience in the payment, e-commerce and point of sale sectors. He started at Givex in March 2006 and since then has held positions including: VP of Projects & Implementations, VP and General Manager of Givex's point-of-sale (POS), Senior VP of Product Development and now holds the position of the company's Chief Operating Officer.
Are you an industry thought leader with a point of view on restaurant technology that you would like to share with our readers? If so, we invite you to review our editorial guidelines and submit your article for publishing consideration.