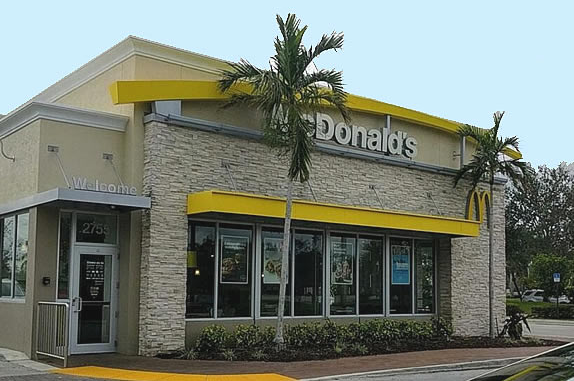 "B"ing the Best, Inc. is owned and operated by Ricky and Lissette Wade. The organization operates 30 McDonald's locations spanning 3 counties from Boca Raton to Ft. Pierce Florida. Customer service, guest and employee satisfaction, along with serving the communities in which they do business are keys to their success.
Antiquated Data Collection
Like most franchise organizations, "B"ing the Best, Inc. was still relying on paper books to complete food safety and checklists. This led to efficiency and compliance pain points. In order to get accurate and up-to-the-minute reports, manual analysis of data was required to get accurate information to monitor trends and set plans.
This time-consuming practice was the only way "B"ing the Best, Inc. could get a full understanding of how stores were performing on food safety. Without a system to quickly consolidate and review historical data, combining reports for trends was a very arduous task. Additionally, because employees are writing down information quickly in fast-paced situations, these paper books were sometimes hard to read.
Although Bing the Best, Inc. requires employees to perform regular travel paths to ensure the restaurant's cleanliness and compliance, managers would often skip travel path tasks altogether or only partially complete them. There was no foolproof solution to know if these travel paths were actually being completed, or if managers were just checking the boxes.
An Easy Transition to Digital Checklists
Bonnie Weiss, EVP of Strategy for "B"ing the Best, Inc., decided to work with Squadle, a technology company that enables multi-unit operators to simplify complex operations and streamline food safety, to meet the needs of their fast-paced McDonald's business. Bonnie evaluated the ways in which Squadle could help "B"ing the Best, Inc. to improve food safety compliance and operational efficiency within the organization.
As a starting point, "B"ing the Best, Inc. wanted to test the effectiveness of Squadle in just a couple of restaurants to evaluate the challenges that might arise. The thought was, "If we can train and master Squadle's digital checklists in these two restaurants, it would be worth the time and investment to transition every restaurant from paper to Squadle's digital system."
After a bit of in-person training, teams from both restaurants picked up the new system very quickly, even noting that using the tablet was fun.
"The transition was smooth and easy," said Bonnie. "Squadle looks and feels like a McDonald's tool."
Improving Compliance & Transparency Across "B"ing the Best, Inc.
After seeing quick employee adoption, improved operations, and compliance in the first two locations, "B"ing the Best decided to move ahead with Squadle at all 30 McDonald's locations. Squadle proved to not only make food safety easier but also improve compliance and transparency at a higher level. "Before, there was no visibility into whether or not employees were completing tasks and travel paths, but with Squadle, it now sticks out like a sore thumb."
Squadle helped "B"ing the Best, Inc. to modernize processes in all of their restaurants while giving teams the food safety and checklist data they needed quickly and effortlessly. "Limiting the time needed to keep and track our data is priceless," Bonnie said.
Squadle Enables "B"ing the Best, Inc. to Focus More Time on Their Customers
Because Bing the Best invests so much in their own restaurant's customer service experience, it was important to choose a tool that shared the same values. Squadle provided the right level of support as employees transitioned from paper and pen. "The level of customer service we have received is second to none. Anytime we've needed help, the Squadle team has been responsive and very helpful.", Bonnie stated. "Owner-operators want communication from a support team. A simple acknowledgement of their issue and an effort to solve it makes all the difference."
Squadle customer support was flexible and responsive in a time of uncertainty, helping the franchise adapt to changing needs during COVID-19, while things were changing rapidly, and daily. "Having COVID-19 precautions documented in our checklists brought confidence in compliance and completion. It was simple and taken care of by the support team vs. us needing to recreate all of our paper sheets."
Saving 3 ½ Hours Per Week with Digital Checklists
During graded visits from the field office, "B"ing the Best, Inc. has been able to produce accurate and reliable data much more easily. Creating custom reports with the Squadle dashboard takes less than half the time usually spent on manually compiling reports from paper books.
Tasks that traditionally required two employees, like food safety, can be done with just one employee while using Squadle, saving time, and allowing employees to focus on customer experience. "The ROI of Squadle compared to the Redbook was a no-brainer."
"B"ing the Best, Inc. has saved an average of 30 minutes per day (or 3 ½ hours per week) on food safety tasks alone. They have also been able to address and resolve issues much more quickly, with a digitally transparent view of what's happening (and not happening) at each store.
"B"ing the Best, Inc. has seen an overall increase in compliance accuracy across all restaurants. They have been able to improve levels of accountability and compliance amongst restaurant teams with the use of Squadle food safety and shift management.
Squadle is a customizable restaurant operations platform that restaurants can use to fully digitize their paper-based manager playbooks, checklists, and compliance forms to ensure higher completion rates, leading to more efficient operations and better customer experiences.
Does your company have news it would like to share with our readers? If so, we invite you to review our editorial guidelines and submit your press release for publishing consideration.