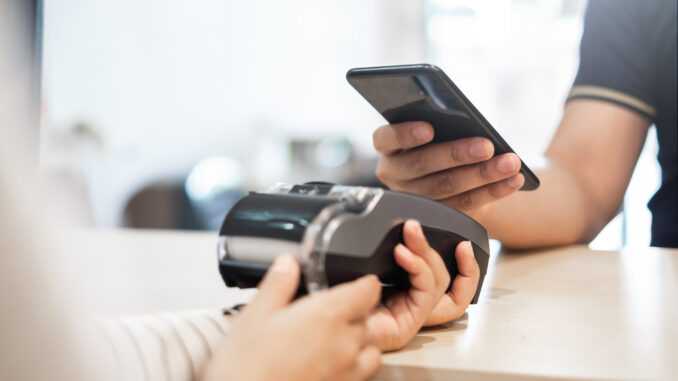 As the pandemic struck the world, many health experts stated that people must wash their hands after handling money throughout the COVID-19 outbreak. Because of this, many businesses across all industries turned to contactless payment to reduce the use of cash or even cut out cash entirely. Although the merits of a cashless society were debated prior to COVID-19, the pandemic has certainly brought a new urgency to the topic.
According to Bloomberg, at the start of the pandemic, 8% of U.S. sellers were effectively cashless, meaning that at least 95% of their sales were made through credit or debit card. That figure jumped to 31% by the end of April and has since leveled off at 20% as cities reopen. That increased use of contactless payment was a result of businesses encouraging the use of contactless payment and customers wanting to get in and out of stores quickly with minimal contact with payment terminals or other customers.
In the restaurant industry, the fear and uncertainty surrounding the pandemic has altered consumer behaviors to favor either paying online or using any off-premises options available. Now, as restaurants slowly start to reopen, businesses need to consider a seamless, contactless payment system to accommodate the way customers purchase goods and services on site.
In addition to mitigating concerns around cash exchanges facilitating the spread of COVID-19, there are many advantages to offering contactless payment. For one, contactless payments are completed almost instantly and result in quicker transaction time. Prior to the pandemic, Sweetgreen reported the ability to process as many as 15 percent more sales an hour thanks to its cashless payment system.
The increase in the transaction speed is an even bigger benefit now for business as the number of customers allowed in a restaurant at a time remains limited. Restaurants need to ensure that they reduce their long lines and have a quick checkout process for a customer to get their food. Also, quicker transaction times mean less likelihood of abandoned sales.
Going cashless also encourages the use of mobile payments and loyalty program apps, which enables increased customer participation and valuable data collection. Plus, gift cards and e-gift cards can be added to a customer's Apple Wallet and Google Pay, which makes redemptions faster and easier. Also, EMV contactless transactions are more reliable and secure than traditional mag-stripe transactions.
While most are familiar with contactless payments such as Apple Pay and Google Pay, these are not the only way businesses can present a touchless payment experience. Restaurants are already enabling customers to scan a QR code to view the menu but this same method can also be used to send customers to a mobile site or app to order and even pay. Moving these functions to the customer's personal device ultimately helps reduce contact between the server and customer during these times of social distancing.
This tech-forward model also gives a modern look to the restaurant, increasing the appeal to specific audiences. Millennial-friendly restaurants already do most of their business through mobile payment, and contactless payment options attract tech-savvy consumers instead of clientele that might be more averse to using credit.
The shift towards a cashless society due to the pandemic can also be seen as a positive for owners operationally, as it would increase the bottom line for businesses. Many managers have to spend precious hours counting to ensure that everything balances, then one must have a deposit bag pick-up service, which can dig into the bottom line. A cashless system would reduce the chances of amounts being incorrectly taken or given to customers. It also promotes operational efficiency and employee safety as well.
On the other hand, some view the cashless trend as discriminatory against patrons who can't afford the costs associated with having credit cards, bank accounts or smartphones. According to the FDIC, 8.4 million U.S. households don't have a bank account, while 22 percent of Americans don't have a credit card. There are also plenty of customers who have access to banks but prefer to use cash for personal reasons such as privacy issues and data security.
Plus, credit card transactions are generally more expensive for smaller businesses or single-location businesses, as companies like Amex have high transaction fees. Some restaurants even offer discounts for cash payment.
Will business go completely cashless? Most likely not. Cash is bound to stick around. Still, the booming popularity of cashless options is undoubtedly going to affect the restaurant industry as it looks for ways to help businesses overcome the consequences of the pandemic.
Graham Campbell, COO of Givex, a global cloud-based operations management solution designed to streamline business efficiencies and generate valuable and actionable customer data with offices in Canada, the United States, the United Kingdom, Australia, China, Brazil, Singapore and newly opened in Mexico City. Campbell is an innovative technology executive with over 13 years of experience in the payment, e-commerce and point of sale sectors. He started at Givex in March 2006 and since then has held positions including: VP of Projects & Implementations, VP and General Manager of Givex's point-of-sale (POS), Senior VP of Product Development and now holds the position of the company's Chief Operating Officer.
Are you an industry thought leader with a point of view on restaurant technology that you would like to share with our readers? If so, we invite you to review our editorial guidelines and submit your article for publishing consideration.