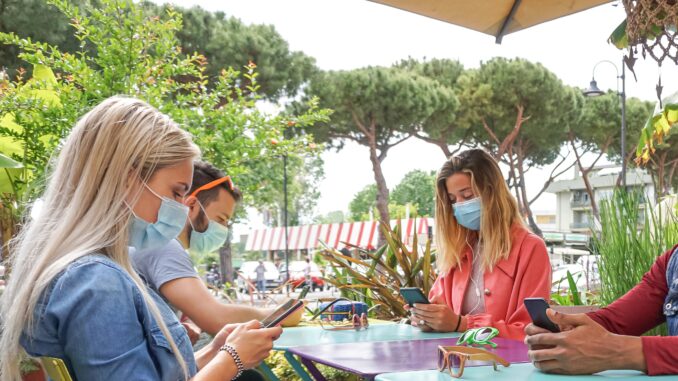 Guest experience platform provider SevenRooms conducted a research study in partnership with YouGov PLC, an international research data and analytics group, involving 1,237 individuals in the United States between July 31 and August 3, 2020. The objective was to help restaurant owners and operators understand what motivates guests to dine out in this new era of hospitality. Many of the research findings are technology-related.
"In today's new era of hospitality, technology can not only enable a more seamless experience but also help restaurants deliver contactless experiences," notes the study. "In fact, nearly 1 in 7 Americans (13%) will only dine out at restaurants with contactless dining solutions."
Features most likely to encourage Americans to visit a restaurant include:
More than 1 in 5 (22%) want virtual waitlists (e.g. join a waitlist before they arrive so they can be seated immediately)
More than 1 in 5 (21%) want restaurant operators to employ contact tracing technology
More than 1 in 6 Americans (17%) want QR codes for ordering and paying
"As operators look to deliver a dining experience that appeals to guests, taking care and attention to their tech preferences and health and safety requirements, one of the best ways to build strong guest relationships is by utilizing data to personalize dining experiences – whether for take-out or dine in."
The research found that diners who are comfortable sharing their data with restaurants are happy to do so for certain things, including:
Data for a Deal

1 in 2 (50%) of these diners would share data to receive discounted offers or promotions
Nearly half of these diners (48%) would share data to receive delivery or pick-up promotions or offers

Data for Health

Nearly 1 in 2 (45%) would share data for contact tracing efforts (e.g. being notified of potential COVID-19 exposure after a visit)
Nearly 1 in 3 (29%) would share data for personalized communication and updates around COVID-19 precautions and processes at the restaurant

Data for Personalized Dining

Nearly 1 in 4 (24%) would share data for a more personalized dining experience (i.e. menu tailored to dietary preferences)
The full report is available here (registration is required).