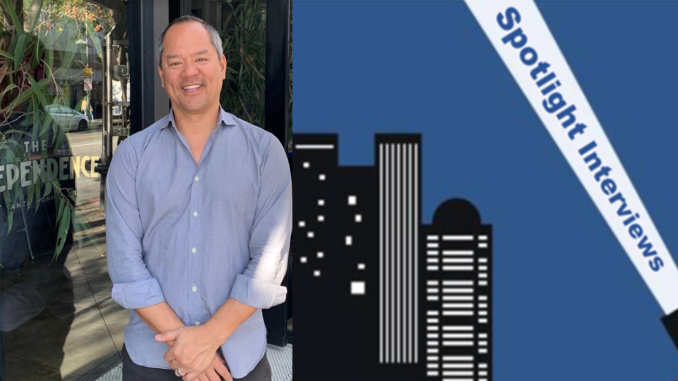 Jonathan Chu is the owner of the popular Santa Monica, California, gastropub The Independence and the Mexican-themed Lanea, which features a hand-selection of over 400 tequilas and mezcals. As if that weren't enough, he also founded and serves as CEO of OhWaiter, a technology solution provider which in August launched a next-generation text messaging platform for restaurant ordering and payment processing. Successfully deployed in dozens of restaurants on the West Coast, the service has now expanded nationwide. Jonathan shared with us some of his experiences in the hospitality industry as well as his perspective as both a restaurant owner and a technology entrepreneur. Clearly, he enjoys both roles. "They say if you love what you do, you don't have to work another day in your life," he said.
Let's start by talking about what is happening at OhWaiter in light of the pandemic. You recently launched a new text messaging-based ordering and payment solution. What are the benefits and how is the solution different from others that are available to restaurants?
OhWaiter provides the easiest and most innovative ordering system available to hospitality operators. The benefits include increased safety, convenience, efficiency and fun by allowing guests to text their requests to get what they want, when they want it.  People are texting 50-100 times per day, so they are already comfortable using the OhWaiter system. There is no app to download or clunky pay as you go system.  Just text and receive!
Can you provide some examples of how restaurants are utilizing your solution? Any success stories you can share?  
Many restaurants in LA are using OhWaiter. Gladstones, Pitfire Pizza, Bossa Nova, Chicas Tacos, The Independence and Tiato (part of the An Family of Restaurants), to name a few. In the case of Lobster and Beer, a casual quick service restaurant in Culver City, many different people were filing into the stores single door to line up at the cash register to either: order for dine in, pick up their take-out order or pick up a 3rd party delivery order.  This created a log jam and by offering the OhWaiter service platform, the owners were able to allow dine-in guests to sit directly, order via OhWaiter and avoid the line. So dine in guests are thrilled, take-out and delivery people have a shorter line and to our surprise, older people love it! They are thankful that they do not have to go inside and can maintain physical distance more easily.
I know the solution was initially available to restaurants on the West Coast and has now expanded nationwide. It works not only for restaurants but also for hotels, stadiums and other venues? What types of eating establishments are most likely to benefit from your solutions?
Anywhere service is provided.  But especially with the importance of outdoor dining spaces. In the case of patios being extended around the corner, into parking lots and further away from server stations, OhWaiter improves service with a service option at every table, at all times and at minimal cost. Some operators with great service just like having an insurance plan for when they get overwhelmed.
In The case of Grand Bohemian Hotel in Asheville, North Carolina, They have a handful of tables on their rooftop which is not a lot of tables to staff a server for. Plus it's a long way in between. So OhWaiter allows guests to more easily communicate their requests and staff downstairs can get a jump on the order and expedite service so that their guests can order more and not have to wait – people hate to wait!  Waiting is one of the top online complaints!

What was the original vision for OhWaiter? How has that vision changed — or not changed — as the company has grown and especially in light of the current challenges facing the industry?
Prior to being an appless app, OhWaiter was an app that had to be downloaded. People don't want to download an app.  So we had to pivot.  We had more bells and whistles to our platform. We have done a good job of pairing down our offerings so that we can be as simple and easy to use as possible.
Since our platform allows guests to use their smartphones, we did not need to alter from say a kiosk model since people will touch their own device all day long, but they do not want to touch operator provided hardware.
Another way we've changed is with QR codes. Users used to have to enter a phone and table number to start using our platform.  Now QR codes are ubiquitous and it's made using technology solutions so much easier for users.
One way our vision has changed is that with the information we have, we can offer knowledge to operators to help them better understand their guests wants and needs. In the future, with AI, we can offer items that will enhance the guest experience and help operators improve their top line.
What inspired the name OhWaiter? It does conjure up the image of a customer motioning or signaling to a server or somehow trying to get their attention, which I assume is the intention. 
Exactly, my wife Lynda came up with the name because that's what guests have to do to get something.  We call it rubber necking or hailing in industry speak. People want what they want, when they want it.  Waiving arms and rubber necking should be a thing of the past. Let's allow our guests to engage each other without the negative draw of trying to hail a server to get something. Text your request and get right back to your conversation. Today more than ever, people are craving social interaction since we are working remotely or not allowed to go places. OhWaiter helps enhance our time together. We're not the main ingredient, but every bit helps!
What new technology capabilities are you most excited about and should restaurant owners and operators also be most excited about once the industry returns to some semblance of normalcy?
Covid19 has taking 5-6 years of technology growth and squashed it into 6 months. I'm excited about AI and how we can innovate around it to enhance the dining experience. I'd like to look back and honor the full service model as well and why I believe OhWaiter is the perfect balance between innovation and full integration.  I still like to be served and enjoy the server/guest interaction. Servers can still elevate my dining experience with their recommendations, knowledge, hospitality, and humor. While we are going to be offering full integration as well, offering a hybrid approach is still a wonderful option.

According to your bio, you've owned and operated restaurants in Santa Monica, California. Does that continue to be the case? What has been your experience in the restaurant business and what attracted you to the industry in the first place? 
Yes, I still own and operate two locations in downtown Santa Monica, California – The Independence and Lanea. They say if you love what you do, you don't have to work another day in your life. So I work 50-60 hours per week. I love the hospitality business – making people happy, positively affecting as many lives as possible, the frenetic energy and endless surprises.


How have you used technology and analytics in your own restaurants to lower costs, increase revenue and improve the quality of the guest experience. Any specifics you can share? 
Since minimum wages have gone up 50% over the past 5 years and payroll taxes and work comp are directly tied to wages, they've gone up to. This has put extreme pressure on full-service operator margins. Deploying OhWaiter has allowed me to operate more leanly and efficiently because I know we have an safety net to capture guest requests and can speed up service. I can be in the office doing payroll and a request comes in. I check out our eye in the sky and if Billy is busy going over specials with a table and Sally is busy making an espresso for another, I can pause my payroll work, satisfy the request and ensure that we are providing convenience and better service.  We've all waited 10-15 minutes to pay our tab and get back to work. With OhWaiter, the wait is over.
Tell us a bit more about your career trajectory. What led you to launching OhWaiter? How did you identify this market need? 
I'm located in Silicon Beach. One day I was complaining about the negative trade winds and downward pressure on our margins. That's when I lightbulb went off that said Be The Change, what can push back and create margin for operators and thus OhWaiter was born.
What do you like most about your work at OhWaiter? What are the biggest challenges, aside from the current situation and all the uncertainties it brings? 
I'm an entrepreneur. I love the hunt. After almost 2 decades in hospitality, I love the new arena I'm playing in and especially the people who are involved with OhWaiter. There is a different skill set and sense of urgency in the tech world.  Some of our advisory partners are high achievers and help us focus our limited resources and time around what we should be doing right now and in preparation for what is to come. While I'm amazed at what we've accomplished on a shoe string budget, our biggest challenge ahead will be people to help us scale and the resources needed to hire them and market our business.
As both a restauranter and solution provider to restaurants, you have a unusual perspective. Do you think that most restaurants are already doing everything possible to weather the storm? Any thoughts or insights about where they should be focusing their resources and efforts? 
I know so many people in our industry and I'm seeing remarkable stories of success and failure.  For those that are thriving, I'm so happy and proud of them and for those that have had to throw in the towel, I'm sad. I personally know the blood, sweat, tears and pain around closing a restaurant.  Right now, so many operators are overwhelmed with the day to day with new guidelines, staffing issues, sales volume issues, reduced cash-flow, as well as landlord negotiations and what they cannot control. I find myself working more, for no return. Thankfully, with the help of the cares act, I believe we have the runway to weather this unprecedented storm and put us in a position to thrive down the line.
What have been OhWaiter's biggest achievements this year aside from launching the new solution? Anything new and noteworthy in terms of strategic partnerships, customer wins, etc., you would like to share? 
Listening to users rave about our solution is very gratifying.  Having paid customers equally so.  It's like hey, I made that and it's gone from idea to real life thing that people value.
One of our advisors was really hard to get.  When I first pitched him, he said no because of x, y and z.  I worked really hard to accomplish some milestones and went back to him and he said interesting but still no because of a, b and c. I continued to develop, build and grow OhWaiter till our third call when he said I'm impressed and proud of what you've achieved.  He finally said "yes." He's been a very valuable partner with keen insight, experience and just the right amount of 'inspiration'.
What will be the primary focus areas for OhWaiter over the next year?
What, in your view, are the biggest obstacles restaurant operators are likely to face over the next few years as they look to rebuild their businesses? How can technology help address those challenges?
Cash-flow, interior dining space as we head into winter, landlords need to be reasonable (they cannot expect operators to pay for space they cannot use by government mandate). Technology is going to help build top line, save margin and change our industry (from ghost kitchens being able to reach more clients via 3rd party delivery apps, fewer people needed to operate, to changing dining options (think Beyond Meat and Impossible Burger).