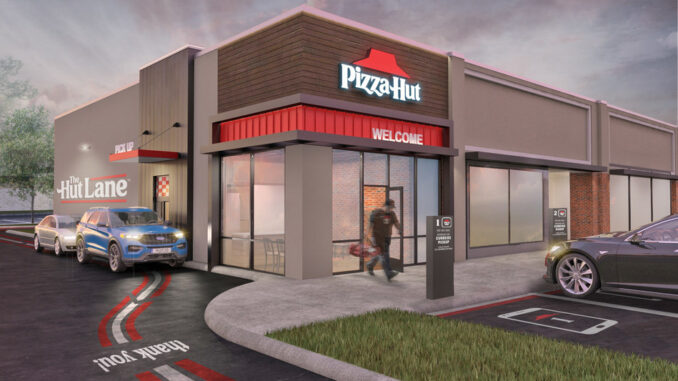 From round pizza boxes to autonomous delivery robots, Pizza Hut has never shied away from technology adoption. Now the behemoth pizza chain, with more than 18,000 restaurants worldwide, is experimenting with a new way for customers to place digital orders without ever having to leave their vehicles.
Almost a year after becoming the first national pizza brand to offer contactless curbside pickup, Pizza Hut is launching what the Yum! Brands company has dubbed The Hut Lane, a dedicated digital order pick-up window available at over 1,500 U.S. locations with, according to a press statement, more to come.
"We are giving our customers a variety of options to optimize their pizza-eating experience as we build on our business momentum," said Nicolas Burquier, Chief Customer and Operations Officer. "Not only do we offer industry-leading, innovative menu items that are only available at Pizza Hut, we also offer several digital-first pick-up options for our customers, and The Hut Lane is a great example of that."
According to the company, The Hut Lane service can be accessed through the Pizza Hut app and pizzahut.com and is also available for those placing orders over the phone. Upon arrival, customers can simply pull up to the dedicated window, grab their order and go. If The Hut Lane is not available at the local Pizza Hut, the app will automatically offer Pizza Hut's Contactless Curbside Pickup so customers can still remain in their car to pick up their order.
The Hut Lane is part of the brand's long-term strategy to modernize through digital ordering and improved customer experiences, and many franchise owners seeking an edge on speed and convenience in their local markets will look to utilize this feature. As Flynn Restaurant Group recently took ownership of over 900 Pizza Hut restaurants, the franchisee plans to prioritize The Hut Lane in many of its stores going forward.
"As we transition into the Pizza Hut system, we are excited about The Hut Lane and the seamless customer experience it offers," said Ron Bellamy, Chief Improvement Officer, Flynn Restaurant Group. "We know from our QSR experience how much value a pick-up window can unlock for the business, and we plan to prioritize The Hut Lane in future builds and relocations of existing stores."
Pizza Hut is continuing to develop plans for additional Hut Lane in-store branding elements and will look to roll them out in the near future.
Earlier this month, Yum! Brands announced that the company, whose digital sales hit a record of $17 billion (a 45% increase over the prior year), has acquired Tictuk Technologies, an omnichannel ordering and marketing platform company. The addition of Tictuk to Yum! Brands' technology portfolio will provide the added ability to offer more ways for consumers globally to access and order its brands, which also include KFC, Taco Bell and The Habit Burger Grill, through many of the leasing social media and conversational platforms.
The acquisition comes only a few weeks after Yum! Brands, which consists of over 50,000 restaurant locations in more than 150 countries, announced its acquisition of Kvantum, an AI-based consumer insights and marketing performance measurement business. Kvantum's technology, combining machine learning and econometric modeling into its Marketing Performance Analytics Platform, can measure the effects of marketing tactics in a designated geography across owned, paid and earned channels. The technology should help Yum! Brands deploy powerful consumer insights and data analytics to optimize calendar and marketing spend.