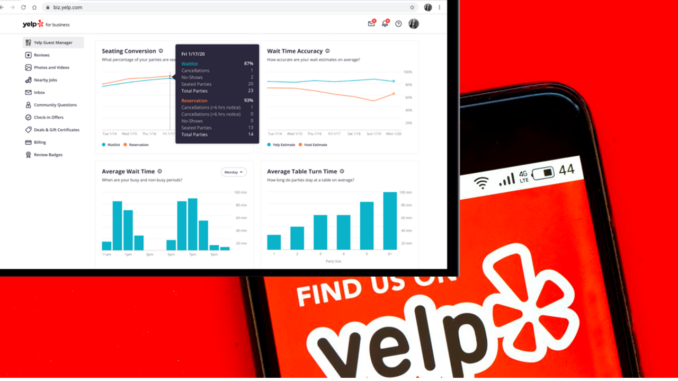 Business review site and technology provider Yelp, which now boasts nearly 200 million reviews of businesses worldwide (with hundreds of new restaurants and food delivery businesses opening each month) has launched a new set of features and functionality for restaurant operators.
First and foremost among these is Yelp Guest Manager, which is being rolled out with "the goal of bringing Yelp for Restaurants front-of-house products and features together into one comprehensive solution," according to a company statement. Yelp Guest Manager includes new digital ordering and guest loyalty integrations, as well as new features designed to help simplify front-of-house operations for both dine-in and to-go ordering.
According to the company, Yelp Guest Manager will help restaurants manage all of their front-of-house operations across the entire dining experience through one fully integrated solution — by bringing together Yelp Waitlist, Reservations, Kiosk, Takeout, Table Management and online brand building into one suite of offerings.
Yelp Guest Manager combines Yelp's high-intent diner network with a suite of solutions designed to simplify and streamline restaurant operations from takeout and delivery orders to dine-in seating.

The new Yelp Guest Manager features the following Yelp for Restaurants software solutions:
Yelp's front-of-house technology is credited with helping many restaurants ease operational burdens
during the pandemic, including supporting restaurants as they adopted new food delivery methods like takeout, delivery and curbside; providing tools for restaurants to communicate directly with diners; and easing the front-of-house workload to automate check-in, manage waitlists and contact diners. The company reported that in August 2021 it saw "a 69% increase in new adoption of [its] front-of-house technology compared to August 2020."
"Yelp Guest Manager helps us reduce friction in the front-of-house," said Adam Porter, Senior Manager of Digital Strategy, Snooze Eatery. "And it provides everyone greater peace of mind during Covid, by ensuring guests show up to dine at our restaurants at the right time, eliminating crowded waiting spaces."
By centralizing management of takeout and delivery orders, guest communications and table flow, Yelp Guest Manager should help restaurants increase functionality and better manage the guest experience. According to the company, current Yelp Waitlist customers will continue to have access to existing features through Yelp Guest Manager. Existing Yelp Reservations customers will be able to upgrade for free to gain access to Yelp Guest Manager. Yelp Guest Manager reportedly starts at $249 with unlimited covers.
To help restaurants encourage repeat diners, Yelp also announced an integration with Punchh, an industry-leading loyalty and engagement platform, enabling restaurants to provide personalized customer loyalty programs through Yelp Guest Manager.
National and regional brands can now combine the power of Yelp Guest Manager with Punchh's marketing services to receive rich diner data – including loyalty tier, seating preferences, lifetime visits, birth date, and anniversary – allowing the front-of-house staff to deliver a more personalized experience for loyal customers, in addition to more relevant and engaging promotions. According to the company,
this diner data from Punchh is only shared with Yelp Guest Manager customers when the diner opts-into sharing their data through the restaurant's loyalty program.
As of September 1, 2021, the number of businesses that have adopted the "offers takeout" attribute on Yelp increased nearly 15% since June 2020, and adoption of the "offers delivery" and "offers curbside" attributes have increased nearly 50% and 550% respectively during the same time period. As this trend continues, and online orders increase, there is a growing need to simplify managing multiple customer experiences. To address this opportunity for national and regional restaurants, Yelp Guest Manager will now integrate with Olo, a leading on-demand commerce platform that powers digital ordering and delivery programs for the restaurant industry.
The integration will automatically input new orders made on a restaurant's website or app, if powered by Olo, directly into the Yelp Guest Manager app. According to the company, this allows restaurants that leverage Olo for their digital ordering experiences to manage all of their front-of-house guests from one iPad, streamlining takeout, delivery and curbside operations, ultimately increasing efficiency.
Additionally, restaurant partners that are also Yelp Ads customers can now place a pixel (provided by Yelp) on their Olo ordering site providing the ability to measure and attribute ad-spend impact on view-through and click-through conversions. This update is designed to allow brands to better quantify the impact of their Yelp investment and even more effectively plan their ad spend.
Yelp is releasing new Yelp Guest Manager features for hosts and managers that support restaurant front-of-house operations including, new languages in Yelp Kiosk, reservation seating conversion analysis, self-serve settings for reservations and curbside pickup SMS.
New Languages: We've added 7 new languages to Yelp Kiosk, allowing for even more customers to seamlessly add themselves to the restaurant's waitlist so front-of-house staff can focus on hospitality. Available languages include: English, Korean, Japanese, Chinese (simplified and traditional), Spanish, Filipino, and Vietnamese.
Reservation Seating Conversion: Yelp Guest Manager will now allow restaurants to see what percentage of their reservation parties were actually seated in the Business Owner App. This insight will allow restaurants to better measure the effectiveness of their reservation cancellation policies.
Self-Serve Reservation Settings: This new feature will allow restaurants to adjust their
reservations capacity directly in the business owner app. Hosts will now be able to modify the minimum or maximum size for reservations, adjust the number of guests or parties that are accepted in 15 minute intervals, and edit the pre-booking notes for guests without contacting the Yelp support team.
Curbside SMS – Yelp Guest Manager will now give the host the option to indicate when an order is curbside and automatically text the consumer with order updates. The confirmation text asks guests to text back when they arrive and provide details, such as their car make and model to help ensure hosts have the information they need to manage and deliver orders efficiently.
Yelp has also introduced a new Virtual Restaurants attribute, designed to make businesses easily distinguishable to customers as delivery and/or takeout-only restaurants.
Finally, Yelp has announced a new, free business attribute that helps users identify virtual or delivery-only restaurants. "Our new Virtual Restaurants attribute allows ghost kitchens, virtual restaurants and virtual food courts to easily identify themselves and their service areas to customers, eliminating customer confusion around their delivery experience," said a company spokesperson. "For customers who are looking to dine-out at a restaurant, this designation also helps clarify that no seating is available, and in some cases that delivery is the only way of ordering food from the virtual kitchen."