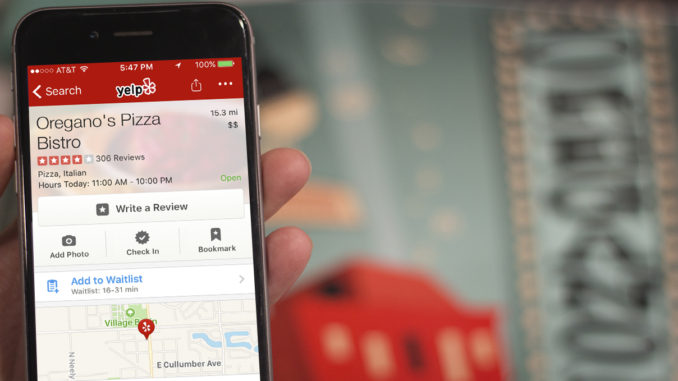 Yelp Inc.  today announced strong growth and momentum in its restaurant services offerings, with a record-setting Valentine's Day week in which Yelp's reservation and waitlist software handled 5.6 million diners. This comes on the heels of the company closing out 2018 by managing 22 million diners in December, driven in part by rapid growth in diners booking directly through the Yelp app, which tripled year over year in the fourth quarter compared to Q4 2017.
With the availability of Yelp Reservations and Waitlist, Yelp has become an integral partner to restaurant owners as it evolves from a highly-influential discovery platform to a place where consumers also communicate and transact directly with businesses. The company is providing restaurants with the tools and technology to meet the evolving demands of diners who expect convenience and options when eating out — be that reservation capabilities, walk-in seating, or food delivery.
"Product innovation in 2018 has paved the way for us to build even stronger relationships with current restaurant partners and to attract thousands of new ones," said Devon Wright, General Manager of Yelp Restaurants Marketplaces. "This momentum is the early result of Yelp's long-term strategy to acquire and integrate leading restaurant technologies into Yelp and offer a seamless dining experience for both restaurants and consumers."
As an industry with narrow margins, restaurants must optimize every aspect of operations and Yelp is giving them the technology to do so. According to restaurant client surveys and feedback, Yelp is increasing foot traffic to restaurants, providing more accurate wait times, and driving return customers.
"Yelp Waitlist has been a helpful tool to optimize our overall dining experience. It improves our Front of House operation by helping our hosts quote more accurately and understand table optimization. The software allows guests to get in line from their mobile phone and gives the customers the option of getting in line while they're still en route to the restaurant," said Becky Maree, Digital Marketing Manager of First Watch. "The analytics tool gives us insights into our restaurants that we wouldn't otherwise have. Using the Analytics Portal we can identify top performers and easily address areas of opportunity in our restaurants."
In 2018, Yelp not only added restaurant inventory to Yelp Reservations and Yelp Waitlist but introduced new products, like Yelp Kiosks, to streamline both digital and physical restaurant management processes. According to Yelp data, diners seated through the Yelp app return to the same restaurant twice as often as other diners, Yelp's wait time algorithm is approximately twice as accurate as host estimates, and its new On My Way feature helps restaurants seat 10% more diners during non-busy hours. Tony's Pizza Napoletana in San Francisco, a wildly popular restaurant known for its long wait times, for example, increased sales by 25-30 percent with the help of Yelp's more accurate wait time estimates.
"We used to be reliant on an emotional analysis of our hostess or managers to provide wait times but, with the help of Yelp, our wait time has reduced by almost an hour and a half. Maximizing seating was the key to maximizing revenue," said Diego Perez, former General Manager of Tony's Pizza Napoletana in San Francisco's North Beach. "After working with Yelp, I now understand that the company is trying to be transparent and do the right thing and we have created a true partnership."
Yelp's restaurant partners have also reported that other product innovation is having an impact. Beyond dine-in experiences, restaurants are also seeing continued growth in delivery through Yelp. Through the company's partnership with Grubhub, food orders and takeout on Yelp hit a new record high and grew by 27% in Q4 2018 from the previous year.
Does your company have news it would like to share with our readers? If so, we invite you to review our editorial guidelines and submit your press release for publishing consideration.