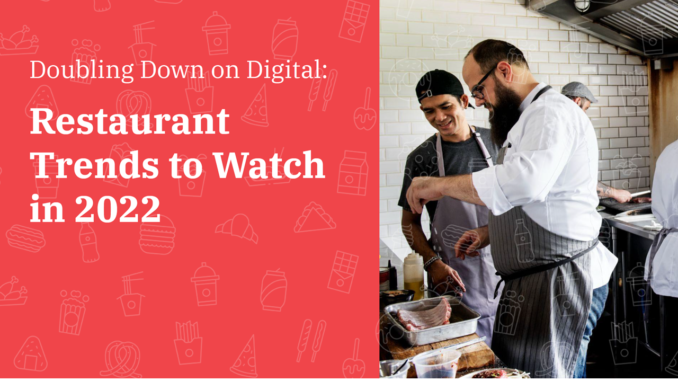 To provide deeper insight into the current and future restaurant landscape, restaurant solution provider Popmenu conducted a nationwide survey of 415 U.S. restaurant owners/operators in October 2021. Despite continued curveballs, most restaurant owners/operators are feeling either very optimistic (30%) or cautiously optimistic (60%) about their outlook for 2022 as they implement strategies that will change experiences for both diners and staff.
Among the key findings related to technology:
Restaurants will step up their digital game to attract and serve guests – After experiencing increased sales and efficiency through tech usage this year, 51% plan to automate more online operations over the next 12 months while 41% plan to automate more on-premise operations.

Restaurants will get more personalized in guest outreach – Leveraging digital data on guests' preferences and behaviors, nearly 40% will boost investments in marketing and loyalty programs and offer more customized ordering experiences.
Other technology highlights:
How restaurants muscled through the pandemic:

56% implemented online ordering
42% automated more functions online and offline
33% implemented contactless dining

How automation of online and on-premise operations impacted business:

59% said it increased efficiency
48% increased sales
44% improved the customer experience/relationships
41% increased brand visibility
28% received better data for more informed decision-making

Technology plans for 2022:

51% will automate more online operations
41% will automate more on-premise operations
30% will consolidate tech vendors
39% will boost investments in marketing and loyalty programs
37% will offer more customized online ordering
"Technology became an even more powerful ally to restaurants when COVID hit and seemingly temporary solutions quickly became core to operations," said Brendan Sweeney, CEO and co-founder of Popmenu. "Our study shows that adoption of automation will accelerate in 2022 as restaurants respond to rising market demand and a taxing labor shortage and position themselves for future growth. Diners can expect more tailored, digitally-enabled experiences built for convenience while restaurant owners and operators can expect competitors to turn up the volume on search engine optimization, data-driven marketing and on-premise tech."
Click here to download the report (registration is required).