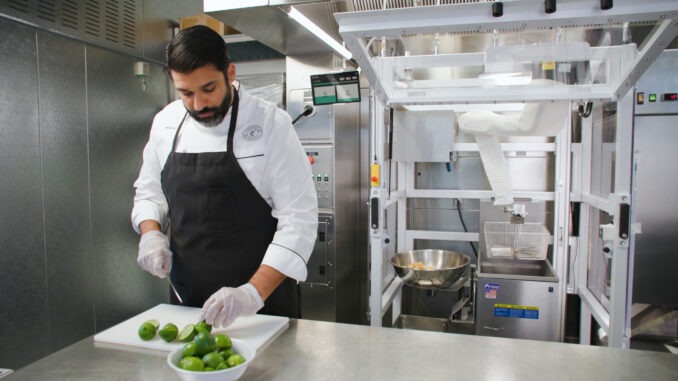 An long-time innovator in restaurant technology, Chipotle has recently invested in a number of emerging solutions to support its growing digital business and reduce friction in its restaurants. The company's latest digital innovation, dubbed Chippy, is an autonomous kitchen assistant that integrates culinary traditions with artificial intelligence to make tortilla chips. The robotic solution was designed by Miso Robotics, best known as maker of the first autonomous grilling and frying kitchen robot.
According to a press statement, Chipotle's culinary team reportedly guided the development team at Miso in tailoring its technology "to maintain the culinary integrity of the brand." Leveraging artificial intelligence, Chippy is trained to replicate Chipotle's exact recipe – using corn masa flour, water and sunflower oil – to "cook chips to perfection, season with a dusting of salt, and finish with a hint of fresh lime juice."
"Everyone loves finding a chip with a little more salt or an extra hint of lime," said Nevielle Panthaky, Vice President of Culinary, Chipotle. "To ensure we didn't lose the humanity behind our culinary experience, we trained Chippy extensively to ensure the output mirrored our current product, delivering some subtle variations in flavor that our guests expect."
Chippy is currently being tested at the Chipotle Cultivate Center, Chipotle's innovation hub in Irvine, Calif., and will be integrated into a Chipotle restaurant in Southern California later this year. The company is leveraging its stage-gate process to listen, test and learn from crew and guest feedback before deciding on a national implementation strategy.
Chipotle already leverages artificial intelligence with its concierge chat bot, Pepper. Pepper is designed to ensure guests have an exceptional experience on the Chipotle app and Chipotle.com. Chipotle customers can select from frequently asked questions or ask their own questions to get a response quickly.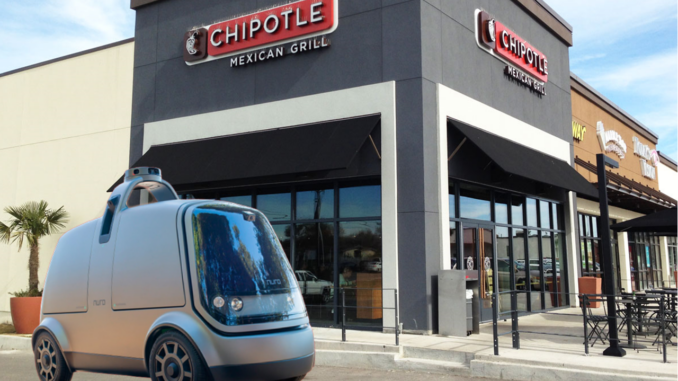 Chipotle, which pioneered the mobile ordering back in 2008, has rapidly grown its digital ordering capabilities in recent years to include AI-enabled phone ordering, drive-thru pickup lanes and an Amazon's Alexa-based reordering function. The company, with nearly 2,950 restaurants as of December 2021, in the United States, Canada, the United Kingdom, France and Germany, has never shied away from investing in technology-enabled business initiatives.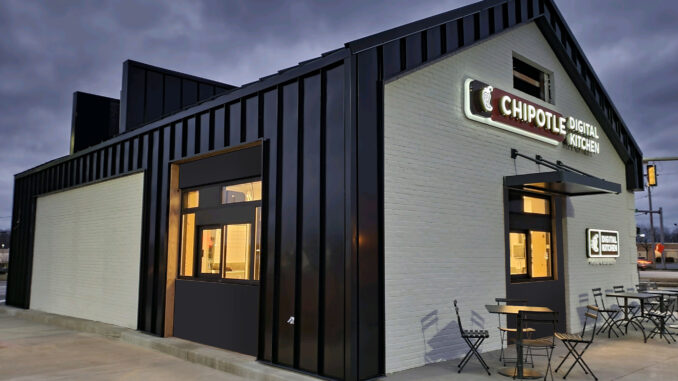 Last year, for example, the company invested in Nuro, an autonomous delivery vehicles company, as part of their Series C funding round. Founded in 2016, and based in Mountain View, California, Nuro uses robotics in their fleet of on-road, occupantless and autonomous vehicles to deliver consumer goods, including groceries and restaurant orders. The company has ramped up testing of consumer deliveries over the past year using its second-generation vehicle, dubbed R2. The specialized robotic vehicle is still in its early stages of design and engineering. According to company reports, it may be several years before the the R2 will be pulling up to an address with a burrito delivery.
In January, Chipotle opened its first so-called Chipotlane Digital Kitchen restaurant.  The new prototype, located in Cuyahoga Falls, Ohio, offers a Chipotlane and walk-up window for efficient digital order pickup. The Chipotlane Digital Kitchen footprint is smaller than a traditional Chipotlane, with no dining room access for guests or a front line. The kitchen is equipped with a make line dedicated to digital orders placed through the Chipotle app and Chipotle.com, as well as marketplace partners.
"We are always exploring opportunities to enhance our employee and guest experience. Our goal is to drive efficiencies through collaborative robotics that will enable Chipotle's crew members to focus on other tasks in the restaurant," said Curt Garner, Chief Technology Officer, Chipotle.