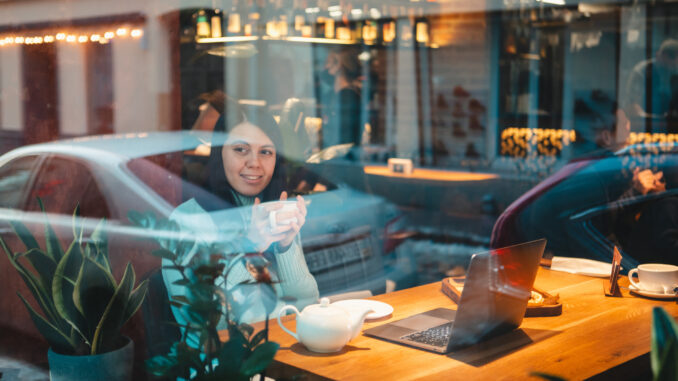 As the pandemic wanes throughout the spring of 2022, we will likely experience a pattern similar to the one we've seen for the last two summers when lockdowns were lifted. At even the whiff of restriction removals, travelers start booking hotel stays and everyone swarms back to restaurants with a vengeance. If the current trends hold true, this will be a great time to be a hotelier or restaurateur. So, let's drill into a subset within this "Revenge Travel 2.0" to see where you can optimize revenues at your dining outlets.
Lots of trends born during the pandemic will eventually fall by the wayside, but many are here with us permanently. Specific to this conversation, the benefits to the individual of remote work will ensure that it becomes a lasting fixture of our society. Enabled by the ubiquity of video calls, a digital nomad's hours are flexible, allowing for such conveniences as being able to look after the kids or dog, and you no longer have the burden of the daily commute or unproductive watercooler talk in the office. Provided their output doesn't suffer, they can fit in a leisurely, morning yoga class or spend an hour's break reading outside in the sun – most of said interruptions already proving to be strong wellness positives.
Above all for you, remote workers can clock in from anywhere, so they may as well clock in while eating and drinking at your restaurant. That said, this burgeoning cohort has some specific behaviors that will require you to adjust your operations, of which a lot falls under the domain of "soft tech" or minor upgrades and adjustments to existing systems in order to better appease this group.
The key in writing this is speed and cost – fast and inexpensive modifications that you can make in anticipation of the impending surge. Below are some considerations, keeping in mind that these will also halo onto other diner mindsets in terms of helping drum up more sales amongst those looking for midrange meals, small group gatherings and high-end experiences.
Unthrottled WiFi. This one is a no brainer but many outlets don't advertise it, leaving potential customers questioning whether that's the case. Don't leave any doubts in their minds. If you have a spotty connection, then get it fixed or watch as remote workers come once and never return. Related to this is ease of access to WiFi, where having to ask the server can subtly hinder said team member's time. Have cards or other signage at the ready.
It's an SEO game. There are quite a few keywords that are specific to the digital nomad based on their exceptional demands. They're looking for cafés with suitable work setups, or they're searching for places open now with takeout available. You'd be surprised how often the hours of operation on "Google My Business" are out of date. Revising the words that you use to get better search prominence should be a recurrent task, and it's not just for paid search but also your website, social media, reservation platforms, and food delivery apps.
Flexible hours of operation. Building on the last point, with lockdowns and hospitality labor shortages causing so many disruptions, people will be checking to make sure you're open at the time they want to eat. Remote workers like off-peak hours like brunch, mid-afternoon or late night when it isn't so busy and they can spread out. Although this is more operations than tech, you can use data to determine which off-peak periods will be more likely to be profitable based on the added labor costs and scheduling challenges.
Deeper analytics. Again, to segue from the last point, remote workers differ in the times of day they prefer as well as what they want to order. With richer analytical platforms and more data feeding into them, you can get a better sense at what the top sellers are at any given moment. These inferences can then be used to better inform labor requirements and to further refine SEO as well as to develop promotions and upsell tactics.
Faster customer communications. Like numerous other customer service-related businesses, hotel and restaurant guests now want immediate answers, often without ever talking to a team member prior to arrival – and this is doubly true for digital nomads. Critical here is to prevent 'inquiry abandonment' where a customer moves on because you didn't respond fast enough. For this, wholly integrated guest communication apps are essential so that you can efficiently chat with any patron on any platform. Chatbots are also incredible to instantaneously handle all the basic questions that would otherwise bog down a team member. And also consider outsourcing your reservation line so that customers aren't left waiting for a hurried server to pick up the phone or – gasp! – forced to leave a voicemail.
Summer means outdoor dining and pet friendly. Less so tech than what your physical space will allow, if you got it then you better flaunt it. This means more attention to SEO, homing in on terms like patios, rooftop terraces, poolside lounges, beach access and sidewalk seating. Remote workers are always keen on inspirational spaces to spend several hours so be sure to highlight any rental fees, day passes and F&B packages as well as great photography to tell the story. On a related note, the amount of dog owners bloomed during the pandemic and they're often looking for pet friendly restaurants to park themselves with their furry friend. This depends on what's allowed in your municipality and your business's specific policy, but if you have the greenlight then be sure you're promoting it.
Platform and app promotions. Limited marketing budgets mean your reach is only ever so big. Plus, tech savvy patrons will be browsing through these offers, so check to see what's available to breach new audiences. Such promotional vehicles are also great testbeds for whatever inferences your analytics can dig up as well as those generated through the best source available: directly asking your customers.
Larry and Adam Mogelonsky represent one of the world's most published writing teams in hospitality, with over a decade's worth of material online. As the partners of Hotel Mogel Consulting Limited, a Toronto-based consulting practice, Larry focuses on asset management, sales and operations while Adam specializes in hotel technology and marketing. Their experience encompasses properties around the world, both branded and independent, and ranging from luxury and boutique to select-service. Their work includes six books "Are You an Ostrich or a Llama?" (2012), "Llamas Rule" (2013), "Hotel Llama" (2015), "The Llama is Inn" (2017), "The Hotel Mogel" (2018) and "More Hotel Mogel" (2020). You can reach Larry at [email protected] or Adam at [email protected] to discuss hotel business challenges or to book speaking engagements.
This article may not be reproduced without the expressed permission of the authors.