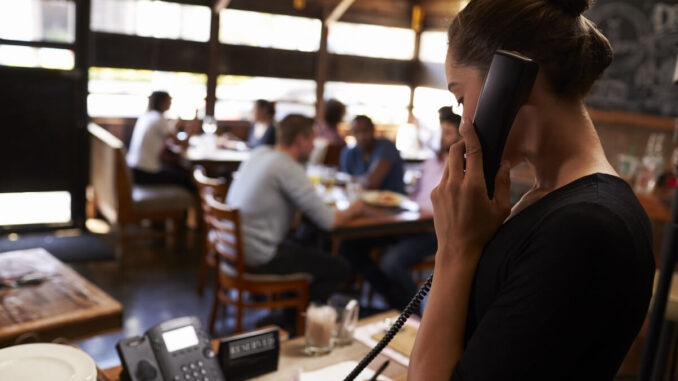 Leading voice AI restaurant technology provider ConverseNow is partnering with OrderSolutions, the leading restaurant call center in the United States, to help restaurant owners of all sizes maximize the ever-expanding voice ordering channel with a solution that allows them to deploy staff more effectively.
The partnership allows restaurant owners to navigate the perfect storm of business challenges brought on by the global pandemic. The increase in inbound calls to restaurants resulting from the consumer shift from dining-in to takeout has coincided with chronic staff shortages in the hospitality industry.  As a result, restaurants are missing 30-50% of inbound phone calls as they struggle to cope with increased call volumes, while consumers are faced with long hold times or difficulty reaching their favorite eateries.
Both OrderSolutions and ConverseNow have been helping to solve staffing pressures for some of the worlds' largest restaurants with centralized voice ordering systems. Coming together, this partnership provides an AI/Live Agent ordering solution that is fully flexible to meet the needs of both restaurants and their guests.  Whether speaking with an AI-powered virtual voice assistant or a live agent, guests are efficiently guided through the order process. At the same time, restaurants receive the information needed to successfully complete each order without their teams spending critical time on the phone or tending to drive-thru kiosks.
Equipped with conversational and emotional intelligence, ConverseNow AI agents replicate natural human dialog to gauge customer sentiment and guide conversations. They can detect nuances and predict ordering behaviors, as well as maximize revenues by upselling items based on contextual data and information available to them in real-time.  When a guest prefers human interaction or when complicated situations arise, the well-trained agents at OrderSolutions are able to seamlessly take on each conversation without guests having to start their order over again.
The symbiotic relationship between voice AI assistants and call center solutions means a greater number of calls can be handled and the value of orders increased thanks to sophisticated technology and talented trained professionals.  The partnership allows OrderSolutions to handle greater call numbers, adding value for their customers while giving ConverseNow greater access to some of the world's largest restaurant brands. Whether speaking to a virtual or live agent, now OrderSolutions and ConverseNow are able to handle 100% of voice orders for their restaurant customers, allowing those restaurants to deploy staff more effectively and boost productivity.
"OrderSolutions has built a phenomenal business and infrastructure serving some of the most recognized brands in the restaurant industry who have benefited from outsourcing their voice call business functionality," says Vinay Shukla, co-founder, and CEO of ConverseNow. "Adding an AI assistant component to this offering allows service to become even more efficient. Working with OrderSolutions expands our offering to restaurant chains by a factor of tenfold.  By allowing our teams to handle voice orders, we allow our customers' teams to focus on fulfillment and in-person customer service."
"We are extremely excited to partner with ConverseNow. By combining our respective expertise, we will make a significant impact on the restaurant industry as it adapts to the new business environment over the coming years," comments Nick Tubis, CEO & Founder of OrderSolutions. "Our strategic focus is driving revenue by increasing average checks and ensuring we capture all orders by eliminating missed calls. We spent a lot of time looking at the best-in-class technology to help achieve these goals and ConverseNow stood head and shoulders above competing solutions."