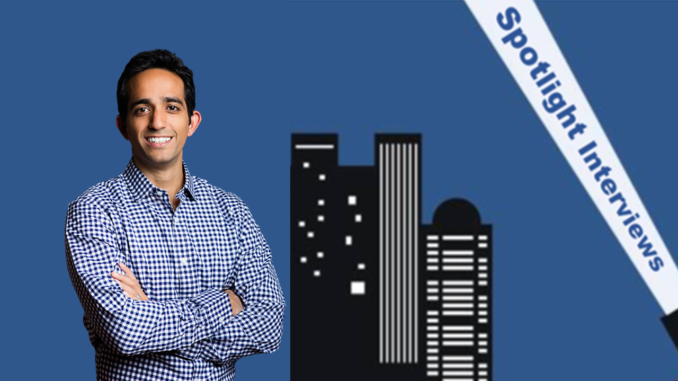 Manik Suri is the Founder and CEO of Therma°, a restaurant technology solution provider dedicated to combating climate change by building what it calls "the smart cold chain." The company's IoT-powered temperature monitoring and analytics are designed to help restaurants prevent food and energy waste – leading drivers of climate change. Before founding Therma°, Manik co-founded the Governance Lab (GovLab), an innovation center at NYU that developed technology solutions to improve government. He is a former Affiliate of Harvard's Berkman Center for Internet & Society and has held positions at global investment firm D.E. Shaw & Company and the White House National Economic Council. Manik holds an A.B. in Government summa cum laude from Harvard College, an M.Phil in International Relations (Highest Honors) from Cambridge University, where he studied as Harvard University's annual Paul Williams Scholar, and a J.D. from Harvard Law School, where he earned numerous Dean's Scholar commendations. He is admitted to the California Bar, has published in leading academic journals, edited volumes, and national media outlets.
As Manik shared in a recent Viewpoints article for Restaurant Technology News, food sustainability is more important than ever for consumers, a reality underscored by the rise of zero-waste restaurants, sustainability-focused marketing campaigns and other industry trends. Here he shares and his views on how Therma° is helping restaurants address those concerns while also helping them improve food safety and reduce inventory, energy and other operating costs.
Let's talk about the genesis of the company. What led you to launching Therma°? How did you identify an unmet market need and how did you get the company off the ground?
Therma was inspired by a realization that I had when we were watching users in restaurants using our mobile app to check various parts of the back of house operations for safety. We realized that a lot of their work had to do with refrigeration and temperature controls. At that point, one of my colleagues, our CTO, Andrew, looked at me and said, "maybe we should use a sensor instead of a mobile app to automate that."  This insight in the summer of 2019 led us to start building an automated sensor-based solution to reduce the chance of safety and spoilage issues around a perishable product. That is how Therma° was born.

How has the original vision for Therma° changed — or not changed — as the company has grown and evolved over the past seven years, especially in light of the unprecedented challenges that have faced the industry the past two years?
We've been very fortunate to continue growing despite the industry having its hardest years. The COVID pandemic affected restaurant owner-operators and hospitality brands, harder than most industries. Despite that challenge, many business owners realized that they needed technologies like Therma°, to monitor and manage their operations more effectively and more efficiently. In particular, a lot of locations were less staffed and had fewer people inside on a given week because of the need to work from home and the limited budget that people had available and later hours as a result. 
The chance of spoilage and waste, and loss was higher. Business owners realized that remote monitoring to ensure inventory stayed protected and was more valuable. Reducing the amount of time that people on the team need to spend on these tasks when they had fewer people working was even more important. Therma° had exceptional growth in 2020 and 2021. People have realized there is a need to improve sustainability and reduce the chances of spoilage and waste. 
From a business standpoint, awareness of the climate crisis has grown over the last couple of years. The sustainability winds around smart refrigeration monitoring have led more people to say, "Hey, this is a product that we should put into place today." This is all of the reasons why Therma° has done very well, despite so many of the challenges, industries that we sell to have been facing.

Tell us a bit more about your career trajectory. Before co-founding Therma, you co-founded the Governance Lab, an innovation center at NYU that develops technology solutions technology. How did that experience help you prepare for your current role? Did you have any prior experience in the restaurant business?
Well, I've never worked in the restaurant business before. I was fortunate to work closely with my colleague, Andrew Hager, our CTO, who had trained as a chef. He has worked in the restaurant, and back of the house in kitchens before and had seen the workflow up close and personal. I came into the space around food safety and sustainability from my background, having gone to law school, and worked on regulation and compliance workflows trying to bring tech into law and government. I was interested in finding ways to use modern technologies to improve how compliance gets done in the world and improve health and safety for consumers. That is how we came together, and it is what led us to start working on Therma°. 
According to the company website, Therma° is "building the smart cold chain." What, exactly, is the smart cold chain and how does IoT-powered temperature monitoring and analytics prevent food, product and energy waste?
A smart cold chain takes advantage of technologies like the Internet of Things, and the ability to monitor assets in the built environment continues to reduce waste and loss. It is a concept that includes the idea that refrigeration assets can be optimized intelligently using data. For example, refrigeration can learn and change setpoints based on historical performance and user behavior. There's not a lot of precedent for this because most refrigeration has been run in a "dumb" an antiquated way for many past decades. We are starting to see more and more assets that are being intelligent or optimized by technology in other areas, whether that's smart homes or smart commercial buildings. 
Many of us are familiar with the concept that when a thermostat, for example, learns from our behavior to change the temperature every day when we leave the house; or when a set of building sensors can tell when a person walks in and turns lights on and off automatically to avoid wasting unnecessary electricity. Those are examples of smart assets. And we're trying to do that with refrigeration in ways that can reduce the waste of product and energy. 

Can you provide some examples of how restaurants are utilizing your solutions? What performance metrics are being used to track and measure success? To what extent has Therma° helped restaurant operators reduce food waste and energy costs?
Therma° is catching spoilage and loss events every single week. We're seeing customers that have had a combination of equipment failure, electrical grid failures like brownouts or blackouts, and sometimes a human error. Doors are being left open, and equipment being unplugged for cleaning and unplugged back in is a result of all three of those proven failures, electrical ferret failures, and human errors. Businesses lose a lot of inventory. We're able to catch all kinds of spoilage events from a couple hundred dollars worth of perishables in a fridge or freezer that was left on blood to tens of thousands of dollars of inventory in a hotel tray before a wedding banquet being saved because we alerted someone about a power issue over the weekend. On average, we're catching several thousand dollars worth of inventory per location per year in terms of waste and loss prevented.
What potential impact do you believe Therma° could have in the long run, given wider-spread (or even universal) adoption, in terms of restaurant inventory loss reduction — and, ultimately, food waste reduction. Any projections you could share?  
Examples of restaurants utilizing our solutions, we have several customers across the restaurant industry. We have over a thousand customers using our product, and some of the leading brands in the restaurant market are amongst them. Those include operators of McDonald's, Taco Bell, Burger King, Pizza Hut, and others. We also work with a lot of small and midsize businesses: we have independence, the local pizzeria, a food truck, independent ice cream shops are also customers of Therma°. 
Most of our customers are seeing value in the form of inventory loss prevention and savings around product spoilage and shrink. They're able to catch loss events that would have otherwise led to throw-out and food waste by catching those loss events and preventing those spoilers. They're saving on inventory and food costs, which is a big part of their business model. These dollars are measurable and very actionable is one of the reasons why our restaurant customers love us. 
Our customers are looking for ways to save on any type of cost in this current challenging operating environment that we are currently living in. Restaurants across the country have seen loss events from a couple hundred dollars to thousands of dollars. That's because of a fridge or freezer being unplugged for cleaning and not plugged back in, or because of a power outage that happened on a weekend. These outages would have led to spoilage and a throw-out event. Therma° has helped restaurant owner-operators save money in all kinds of ways around their perishable products. Also, we are starting to measure ways that we can reduce their energy savings so their energy bill with energy savings. That's a new area of ROI that we're starting to build.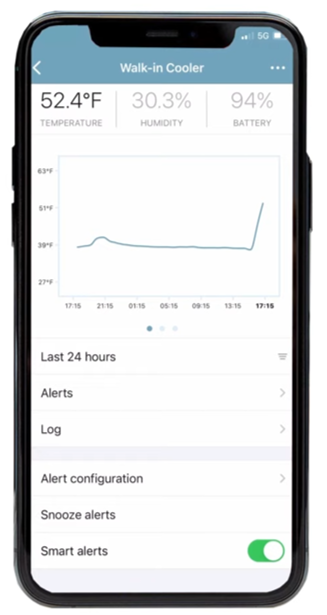 Who are your ideal restaurant customers? What categories of restaurants and/or other food service operators are likely to benefit the most from Therma° solutions?
Our ideal customer is anyone that has a perishable inventory product that will benefit from using continuous monitoring service. If you're a small business, you have a food truck, a corner store, or a local pizzeria. We have lots of customers that have a small footprint of that. If you are a larger owner-operator or an operations leader in a brand that has multiple locations, we can work with you. We help monitor your locations from a smartphone device and ensure that all your locations are running like your best location. If you're a larger corporation, there are opportunities to help you improve food safety, sustainability, and margin. 
What's involved in implementing Therma° solutions? How difficult and time-consuming is the process of installing, for example, your refrigeration monitoring platform?
Therma°'s monitors are designed to be very simple. The process is a self-install. An associate working in a quick-serve restaurant can install the system in a matter of minutes. There's no technician required, and the sensors get shipped to you directly by FedEx or UPS. Once you open the box, drop the sensors into your refrigeration equipment, then plug in the hub, which is automatically connected to 4G. That's all there is to it.
What costs are the costs of implementing your solutions and how does your revenue model work? Restaurants pay a monthly subscription fee based on size? Is it fair to assume that the amount of savings in food waste are sufficient to offset at least part of the cost?
Our pricing model is designed to be very lightweight and easy for small businesses and larger companies. There's no upfront fee, and there are no hardware costs. It's an entirely subscription-based approach. You don't have to pay anything upfront, and it is a monitoring fee every month of $10 per sensor per month. You can start with as little as two pieces of equipment up to as many as you want to monitor.

What do you like most about your work at Therma°? What are the biggest challenges? 
I love working and meeting passionate, mission-driven individuals every day. Our team is growing from when we started as a couple of people. Now we're coming up on 70 employees. We started with a couple of customers, and now we have over a thousand customers. I love meeting people who care about improving the world and that care about building the future. They're passionate about technology, sustainability, the food industry, human health, and the planet. One of the biggest challenges is there's more work to do than any one person could accomplish. As a Founder and CEO of an early-stage business, there's always more work and more opportunity for growth, such as figuring out how to work with the best people and find the right partners and scale efficiently and effectively, which is always hard. It's especially hard to build a culture and build a sense of a team in a remote environment. Since COVID-19, we have not worked around each other in person for nearly as long. This makes team bonds and creates a sense of team unity challenging. We're doing our best and very excited about what we're doing. 
Any thoughts or insights about where restaurant owners and operators should be focusing their resources and efforts, especially as they continue to grapple with labor shortage issues?
It's a significant problem. I think that owner-operators are going to continue to have to try and do more with less. We're in a very tight budgetary environment, and inflation is creating more pressure on businesses, individuals, and families. I think that any tools that can help improve efficiency and any tools that can help prevent avoidable expenses are great ones to consider, not just solutions like Therma°, but definitely, Therma° is one of those. It's the kind of product that pays for itself within a matter of months and is easy to implement and can save real dollars right away. I think operators today need more savings than ever before. It's a very tight market.
What have been Therma°'s biggest achievements over the past year or so? Anything else new and noteworthy in terms of technology advancements, strategic partnerships, customer wins, etc., you would like to share?
I'm thrilled to say that Therma° has gone from an idea to over a thousand customers and nearly 10,000 sensors in the world in two years. That's amazing to witness. We're just getting started. We're growing, we're hiring, and we're raising capital. We're very excited about the possibilities to make the cold chain cooler and smarter. I'm most proud of the fact that we've been able to build the product and bring it into the world very quickly and effectively. 
What will be the primary focus areas for Therma° this year? Any big plans on the horizon?
We are currently focused on improving the user experience and improving what Therma° can do. Additionally, adding energy on top of food waste and spoilage prevention is a big part of our current vision for this year and building our team.