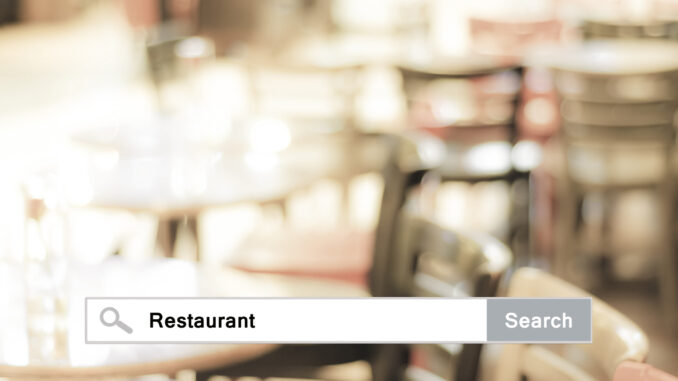 For many years, restaurant owners and operators did not have to worry too much about SEO. But that all changed during the pandemic when on-premise sales ceased, foot traffic dwindled to almost nothing, and the vast majority of marketing activities moved online.
What's SEO? It stands for Search Engine Optimization. It's the art and science of ranking higher on Google, Bing, and other search engines (but mainly Google). The majority of clicks go to the top-two highest spots, which makes them incredibly valuable real estate. That inevitably leads to stiff competition for Google's good graces.
Restaurants consistently rank as some of the most-searched for local businesses, so having good SEO can be the difference between a thriving restaurant and one that closes its doors.
This article will focus primarily on Google since they host about 75% of all searches on the internet. Google prioritizes providing its users with information relevant to their searches. The tech giant constantly redefines its algorithm to improve the user experience and ensure that only the most relevant information shows up high in search engine result pages (SERPs). 90% of SEO work is making sure that your information can be easily found by Google's bots that scour every corner of the internet.
Below, we'll teach you 3 easy tricks to make your online menu and your website more Google-friendly.
A Pittsburgh website design company can help optimize your online menu and website by maximizing the 3 easy tricks discussed below.
1. Conduct keyword research
You need to figure out what specific terms people search for when looking menus similar to yours. Nailing down exact terminology can make a world of difference, not only to show Google that you fit the best result but to capitalize on terms that receive higher search volume.
For example: people search "BBQ Menus" eight thousand times a month on Google. Other spellings, like "Barbeque Menus" or "Barbecue Menus," generate less than 400 searches in that same time frame.
Keywords can be used for your menu title, item names and descriptions, title tags, and more to ensure that you're aligning yourself with your customer's needs. There are lots of tools out there to help you with this process. Use these tools to start a list of your top 50 search targets, then refine it as you go. Some of my personal favorites:
Google Ad Words (now just Google Ads) — Start with the source itself. Google Ads will help you discover what search terms customers use to locate related businesses, both locally and nationally. The results may surprise you. It'll also help you uncover what search terms are realistic goals to potentially rank for. The most popular searches for your sector may be unrealistic targets for top-two rankings, so Google Ad words can clue you into what keywords you should target instead.
Google Search Bar — Plug a keyword into the Google search bar, and see what pops up in the suggested searches dropdown. Again, the results are often surprising, but they are rooted in analytics derived from what actual people are actually searching. This is a great way to discover longtail searches that won't be as competitive on account of their specificity.
Keyword Volume — When you have a list of potential keywords, it's important to determine which ones receive higher search volumes. There are lots of tools to help with this, but I prefer https://searchvolume.io/. It's easy-to-use, and, more importantly, it's free!
2. Create a separate URL for your menu
When it comes to posting your menu online, there exists a right way, and a wrong way. The wrong involves uploading a PDF of your menu to your website. Not only can Google scroll bots not read PDFS, but they remain clunky to navigate on a phone and thus difficult for customer use.
So what's the right way to upload your menu? In a separate, mobile-optimized digital form with its own URL.
Giving your menu its own page with its own URL immediately lets Google know the general contents of the page. Google then knows that when someone searches for your menu, they can direct them right to the most relevant information. Displaying your menu alongside your other restaurant information can hurt your search results because Google doesn't want to give its users any non-relevant information. Yes, the menu may be there, but so might your personal musings and amateur poetry.
So if you house your menu on your homepage, your first step should be creating a unique webpage for it. This same logic applies if you have multiple menus for mains, desserts, specials, etc.
This will also allow you to fill up the page title tags and meta descriptions with keywords specific to your menu, rather than generic ones for your whole website (more on this in Part Deux!)
Note: Menu template services like MustHaveMenus allow you to create and publish online menus for free. They make it easy to design a new menu and get it in front of your customers.
3. Include a link to your menu on your homepage
"Link juice" is a popular term among SEO enthusiasts. It describes the amount of importance Google ascribes to any one link. More powerful links carry more "link juice" and thus are more valuable to boosting your SEO. Links included on your homepage carry more value because Google assumes that anything on your homepage must be important to your customers.
Including a link to your menu from your homepage is the quick and easiest way to signal to Google that your menu's webpage contains useful or relevant information. Burying your link in deeper, harder-to-find pages will signal the opposite.
Note: Placing your menu's link in the footer does not transfer the same "link juice" because Google knows that people fill their footers up with links, the majority of which don't receive high amounts of traffic. Since Google thinks you do not weigh the link heavily, neither will they.
Mark Plumlee is the Sr. Editor at MustHaveMenus, a menu template and marketing service for restaurants. Since 2007, MustHaveMenus has worked to provide small businesses with one-stop online and offline menu management. The company's mission is to help small businesses grow using menus as a powerful sales and marketing tool. It has provided menu design tools, branding services, printing, and online publishing services to tens of thousands of restaurants, bars, cafes, hotels, and hospitality businesses around the world.