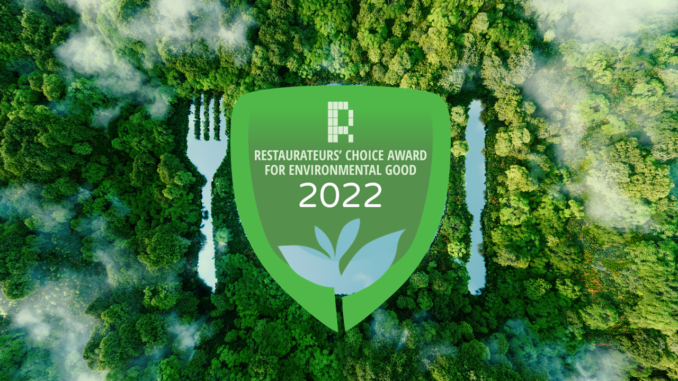 The theme for Earth Day this year is: Invest In Our Planet. Now is the time for the restaurant industry, which on the whole rates as one of the worst contributors to water and air pollution, to be part of the solution rather than part of the problem. This means investing in next-generation technologies to enhance sustainability at this critical time.
The restaurant industry's impact on climate pollution largely stems from its supply chain, especially with respect to the procurement of carbon-intensive animal farming. Animal agriculture is known to be responsible for more than half of all emissions from global food production. To meaningfully reduce their climate and environmental footprints, restaurants need to transition from meat to plant-based proteins. With the proliferation of alternative meat products from companies like Beyond Meat, Impossible Foods and Eat Just, all of which are making significant inroads into the restaurant sector, and the advent of cultured meat technology (with some startups, such as Future Meat Technologies, which recently raised $347 million, already selling to restaurants), it has never been easier to do so.
Restaurants can address their contribution to greenhouse gas emissions and other types of environmental destruction in other ways, too, to make a meaningful impact (as opposed to engaging is "greenwashing" as we've seen with many fast food chains). These other ways include the implementation of various waste reduction solutions. According to the United Nations' Food and Agriculture Organization, approximately one third of food produced globally each year goes to waste. In the United States, food waste is estimated to be between 30 to 40 percent of the total food produced annually.
The good news is that food sustainability is more important than ever for consumers, a reality underscored by the rise of zero-waste restaurants, sustainability-focused marketing campaigns and other industry trends.
To recognize just some of the restaurant technology companies that are pioneering solutions aimed at reducing restaurant food, energy, water and materials waste, Restaurant Technology News, the hospitality industry's premier source of information and insights related to technology innovation at the world's leading quick service, fast casual and full service restaurants, is pleased to  announce the winners of its "Restaurateurs' Choice Award for Environmental Good" achievement awards competition for 2022.
Following are this year's winners:
Compology. This San Francisco–based waste metering company uses artificial intelligence to quantify a restaurant's waste production to cut overall efficiency costs, improve recycling rates and reduce its carbon footprint. Compology's platform provides daily alerts and on-trend reporting directly from dumpsters to a mobile device. Smart dumpster cameras powered by AI allow quick-service restaurants to assess and track their waste management goals.
Dishcraft. This San Carlos, California-based startup robotics company is focused on solving labor and sustainability challenges facing foodservice operators. Dishcraft launched last year with the intention of improving efficiency in the dishwashing process, a task that kitchens across the country struggle to achieve. With plans to expand to several new cities this year, expanding its environmental impact beyond the local San Francisco area, the company is continuing to refine its technology to help restaurants decrease their energy use and overall waste creation in the realm of dishwashing.
Good Start Packaging. This Bedford, New Hampshire-based company utilizes clean manufacturing technology to make renewable restaurant packaging supplies using plant-based materials like corn, wheat, fiber, and sugarcane, using fewer resources and producing less pollution in the process. The company's restaurant packaging supplies are reportedly used by thousand of eco-conscious food service restaurants. Custom printing and individual samples are available for most products.
JYBE. This Menlo Park, California, startup is working to help solve the single-use plastic crisis by encouraging consumers to direct their meal delivery orders to restaurants that are using eco-friendly packaging. JYBE was launched as the first web and mobile app that aggregates restaurant reviews based on their use of sustainable takeaway and delivery packaging. While it works in a similar way to other review-based platforms, such as Zomato or TripAdvisor, the focus is on whether restaurants are offering eco-friendly packaging materials like biodegradable or recyclable containers.
Recycle Track Systems (RTS). This technology-driven waste and recycling management company is challenging the waste industry to be better stewards of the environment. Based in New York, RTS partners with local, independent haulers and outfits vehicles with proprietary routing technology that streamlines collection routes and keeps in constant communication with individual pickup sites. Its waste management solutions provide restaurants with options for recurring and on-demand collections as well as food recovery programs. According to the company, RTS customers have diverted 3 million tons of waste from landfills.
Squadle. A workflow automation solution provider based in Cambridge, Massachusetts, Squadle offers restaurants a hands-free tracking system to monitor freezer and refrigerator interiors. Using wireless temperature sensors, its latest offering, Squadle Sense, leverages LoRaWAN technology to track the ambient temperature and then calibrates the temperatures of individual products without the need to touch them or open their packaging. The smart sensors eliminate the need for employees to physically check temperatures,  preventing major inventory loss from food waste by flagging any temperature issues early.
Therma°. This San Fancisco-based solution provider is combating climate change by building a "smart cold chain," which takes advantage of technologies like the Internet of Things (IoT), and the ability to monitor assets in the built environment continues to reduce waste and loss. It is a concept that includes the idea that refrigeration assets can be optimized intelligently using data. IoT-powered temperature monitoring and analytics prevent food, product, and energy waste – leading drivers of climate change. Therma° has partnered with national restaurant brands to increase profits while protecting our planet. The company reports that, on average, it is catching several thousand dollars worth of inventory per location per year in terms of waste and loss prevented.
Too Good To Go. This Copenhagen-based social impact company provides a mobile application that connects customers to restaurants that have unsold food surplus. The application covers major European cities, and in October 2020, started operations in North America. U.S. operations reportedly contributed to Americans saving over 1.2 million meals by the end of 2021.
Congratulations to the winners, each of which are provided with a licensed image of the "Restaurateurs' Choice Award for Environmental Good" badge and granted the right to display it on their own websites.
Restaurant Technology News is the hospitality industry's premier source of information and insights related to technology innovation at the world's leading quick service, fast casual and full service restaurants. Our reporting, research and opinion pieces reveal how forward-thinking restaurant operators are upgrading their technology capabilities to improve operational performance and the quality of the guest experience, as well as to reduce waste and improve environmental sustainability, and how top solution providers are advancing the frontier on next-generation restaurant technologies.