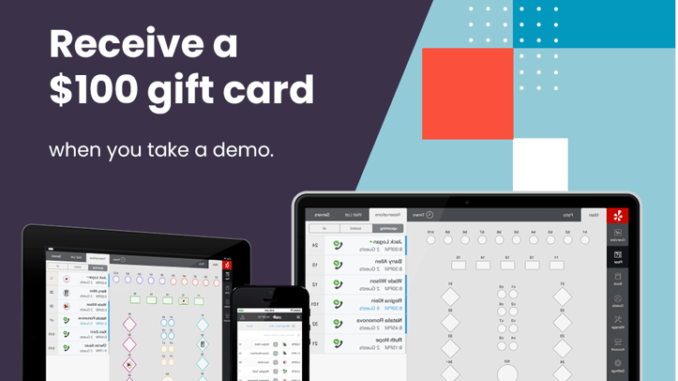 PLEASE NOTE: THIS AFFILIATE MARKETING CAMPAIGN IS NO LONGER ACTIVE
Happy Diners and Efficient Teams Start with Yelp Guest Manager
Yelp Guest Manager connects restaurants to millions of high-intent diners with reservations, waitlist, and guest management software built for modern restaurateurs and their customers.
Take a demo and receive a $100 gift card for your time, courtesy of Restaurant Technology News.
Features built for safety and reduced staffing
Work and dine with peace of mind with hostless Kiosks, capacity monitors, manual wait controls, and contact tracing. Use one system that's updated and improving every month.
Intuitive tools to manage flow
Hosts and servers have what they need for smooth FOH operations including custom floor maps and sections, takeout features, and integrations with POS and other systems.
Robust analytics to track performance
Get daily insights and track key metrics from any device, wherever you are. Measure performance, uncover opportunities, and see the impact of recent campaigns or training.
Personalized onboarding & support
Your dedicated success manager will help you tailor the Yelp for Restaurant experience to meet your needs — and support you every step of the way.
95 million people visit Yelp every month. Greet them with Yelp Guest Manager.
Click here to get started.
Disclosure: This post contains an affiliate link, which means we receive a commission if you utilize this partner solution. Thank you for your support of our publication.