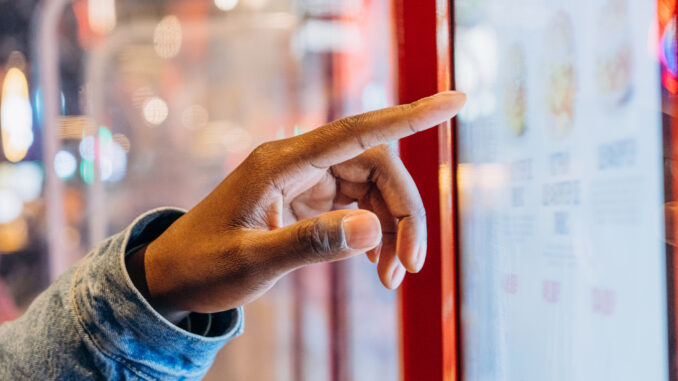 The last few years have presented challenge after challenge for the restaurant industry, and by all accounts, a new one is looming: a recession, which threatens to drive down discretionary consumer spending and keep diners at their kitchen tables rather than in full-service dining rooms.
If history is any indicator, though, a recession needn't be a death knell for QSRs. Rather, a recession offers a unique opportunity for operators in this segment to capture long-term brand loyalty by delighting customers with speedier, better service while contending with some of the major challenges facing the industry today.
How can restaurants do this? By adopting technology—and fast. In the coming months and years, QSRs that embrace technology will have the tools they need to serve a growing volume of customers while combating macroeconomic headwinds.
The restaurant industry faces multiple challenges
Since the start of the COVID-19 pandemic, the restaurant industry has battled a hydra-headed spate of challenges. A pervasive labor shortage has forced companies, including restaurants, to raise wages.
The labor shortage has led to issues on a broader scale. As Restaurant Business reported in a May article, "The labor market has been the primary culprit of much of the inflationary concerns because companies have had to raise wages aggressively to attract workers." These fears have prompted the Fed to raise interest rates in the hopes of slowing inflation. "For restaurants, [raising interest rates] means higher debt costs, which may lead some operators to slow down expansions or cut back on expectations for growth."
Sustained inflation has produced a domino effect of challenges for restaurants. Food prices are up more than 10% year-over-year, according to the U.S. Bureau of Labor Statistics, and in June QSR Magazine reported that all six major grocery store food group indexes have increased over the past year—and five of those groups have risen more than 10%.
Restaurants thus face a recession with fewer servers, less available cash, lower margins, and the threat of reduced demand—particularly for full-service restaurants.
In a recessionary environment, QSRs can actually see an increase in demand
During times of recession, consumers tighten their proverbial purse strings. That means fast casual and full-service restaurants can expect a decrease in customer volume.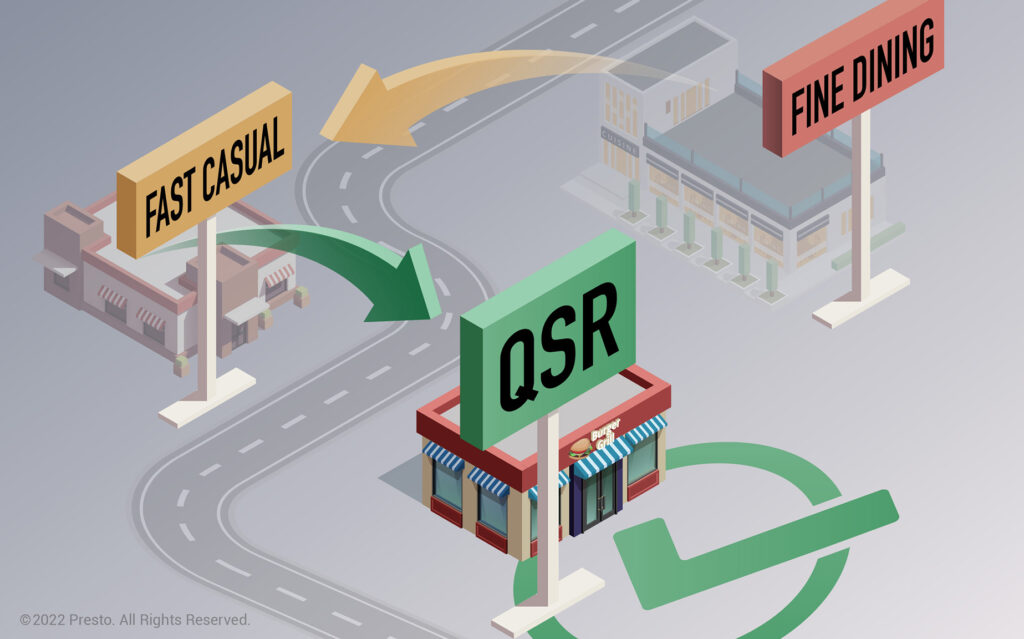 QSRs, though, continue to attract customers with their budget-friendly prices. According to QSR, "During the week of December 13, 2021…visits to full-service restaurants were up 53 percent, year-over-year, and 43.4 percent at quick-service locations. But as of the week of June 6 [2022], visits to full-service restaurants were down 4 percent but still up 7.3 percent in counter service." In its 2022 State of the Industry Report, the National Restaurant Association found that 63% of adults (and a full 75% of millennials and 70% of Gen Z) believe restaurants are "essential" to their lifestyles. Even during a recession, diners won't avoid restaurants completely; instead, they are more likely to trade down and patronize cheaper options, like QSRs.
This is what happened during the Great Recession of 2008. As Oracle noted in a July blog post, "[A] trend the industry has seen in recent recessions is when customers trade down. Perhaps a weekly fine-dining outing is replaced by casual dining, casual dining becomes fast-casual, and so on." In 2013, the Journal of Hospitality Financial Management examined how different restaurant segments performed during the Great Recession and found that "the stock performance of the limited-service restaurant segment was immune to the recession. No significant decrease was identified after the recession started." Indeed, in 2008, fast casual restaurants represented 7% of restaurant sales. By 2020, that number had nearly doubled.
Recession presents an opportunity
A trade-down market and its associated surge in demand presents an opportunity for QSRs. These restaurant operators need to prepare to serve a growing number of customers efficiently and effectively in order to capitalize upon this opportunity. While short on cash and short on staff, though, delivering quick, high-quality service becomes nearly impossible to do without the aid of technology.
Technology can help restaurants reduce operating expenses while enhancing the customer experience. This, in turn, can allow restaurants to meet growing demand from customers while positioning themselves to capture long-term loyalty and sustained business.
Restaurants have historically been slow to adopt technology—perhaps partially out of concern that an increasingly digitized experience would detract from the personalized service diners have come to expect.
They needn't fear. Presto's recent Pulse of the Industry survey revealed that a significant majority of consumers are receptive to technology in their drive-thrus and at their fast food counters. Specifically, respondents are receptive or very receptive to:
Computerized voice assistance in the drive-thru line (61%)
Personalized menus based on order history and dietary preferences (69%)
Customized food and drink suggestions based on preferences (69%)
Ordering and paying by phone (69%)
In general, respondents reported being receptive to technologies that could promise faster, better service. Half said that a restaurant's use of technology could make the dining experience more efficient, and nearly a third (29%) reported that it makes the dining experience more enjoyable.
What tech can do
When leveraged strategically, technology is a game-changer for restaurants facing macro pressures. This has always been the case, beginning with the use of the first electronic point-of-sales system in the 1970s. After the Great Recession, restaurant companies that had embraced technology benefited, and the subsequent decade bore witness to the development of game-changing technologies like mobile apps, self-service kiosks, and digital payment options. As Restaurant Business reported in 2018, "Consumer-facing technology has become a must as the industry has grown more competitive."
Today, technology can help QSRs reduce their reliance on staff, reduce wait times that frustrate customers, and deliver a faster, more personalized experience that delights diners and retains their business. Now is the time to invest in technology and level up the customer experience while combating ongoing headwinds. QSRs can't afford to wait.
Rajat Suri is CEO and Founder of Presto. The company's enterprise-grade touch, vision, and voice technologies help hospitality businesses thrive while delighting guests. With over 100 million guests using Presto each month and 300,000 systems shipped, Presto is one of the largest technology providers in the industry. Rajat founded Presto in 2008 while pursuing his doctorate at MIT. He has also cofounded Zimride (now Lyft), the popular ride-sharing company. He holds a bachelors from the University of Waterloo and also attended a Ph.D. / MBA program at MIT.
Are you an industry thought leader with a point of view on restaurant technology that you would like to share with our readers? If so, we invite you to review our editorial guidelines and submit your article for publishing consideration.