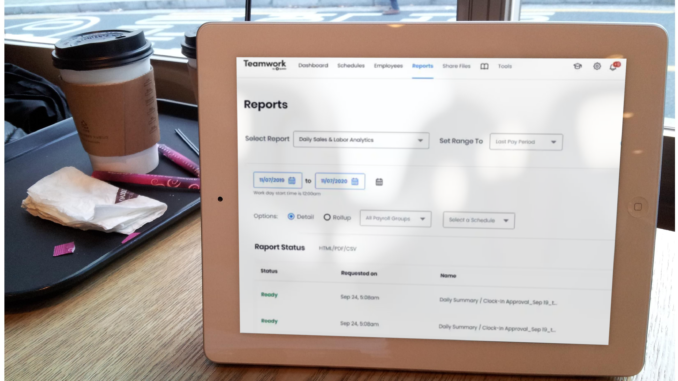 SpotOn, the top-rated software and payments partner for restaurants, has launched SpotOn Teamwork, the industry's most comprehensive labor management solution designed to save operators hours of administrative work each day. Teamwork integrates and streamlines the industry's most comprehensive suite of tip distribution models, extensive employee scheduling capabilities, streamlined payroll options, and employee app access, all with a two-way sync to the point-of-sale.
Restaurant operators rank labor management as their second most pressing challenge, reporting more than 16 hours per week (or two full days) spent on related tasks, according to SpotOn's recent State of Restaurant Technology Report. To simplify labor management and give operators time back in their schedules, SpotOn Teamwork combines time-intensive, back-office work into one easy-to-use platform, ensuring efficiency and accuracy. The unique, two-way sync between SpotOn Teamwork and the POS provides checks and balances, eliminating the risk of human error and ensuring compliance based on each restaurant's unique labor model and rules.
"Navigating rising operational costs while trying to manage employees and stay compliant is no easy task," explained Peter Lambros, Director of Product, Teamwork, and Restaurateur. "SpotOn Teamwork brings together all the necessary components of labor management so operators can save time and offer a more positive employee experience that is efficient, compliant, and transparent."
SpotOn Teamwork incorporates Dolce by SpotOn, trusted by thousands of the nation's top restaurants, along with a new payroll offering, upgraded employee app, and extensive UI improvements to create the industry's most comprehensive and user-friendly management solution.
Comprehensive Manager & Employee Scheduling
Accessible by both managers and employees, SpotOn Teamwork offers smart, guided employee scheduling to keep labor costs under control. From one dashboard, restaurant operators can manage scheduling, verify time punches, and set clock-in rules to ensure compliance across single or multi-unit restaurants. Managers can see real-time POS sales and, compare projected versus actual labor analytics, track holidays, events, and weather to make data-driven scheduling decisions. The software automatically identifies under and overstaffed dayparts, helping reduce unnecessary costs and chaos. SpotOn Teamwork also helps enforce labor laws with clock-in restrictions and ensures accurate hours, wage rates, and employee information, protecting both employees and the business.
"SpotOn Teamwork provides me with essential metrics, like forecasted labor percentage," said Lino Suazo, General Manager at Bungalow Kitchen Tiburon. "In the past, I would take a paper and pencil to figure it out. Now all I have to do is make a schedule, and metrics populate on a day-by-day basis. It saves nearly two and a half hours most work days."
Most Comprehensive & Flexible Tip Distribution Program
SpotOn Teamwork's tip distribution program can be customized to each restaurant's rules – no matter how complex – to ensure employee tips are paid out fairly and accurately. Tip distribution rules can be defined by any increment, with point weighting or percentage payout by position options. Employee tips can be automatically pulled from the POS and pooled or distributed by the restaurant's defined rules. Managers can choose to payout at the end of the shift or easily export the tip distribution data directly to their payroll provider to include in their team's next paycheck.
Most Streamlined Payroll Process 
SpotOn's recent survey found that more than half of restaurant operators experience payroll issues on a weekly basis. In quick service and fast casual restaurants, that increases to 61% and 63%, respectively. SpotOn Teamwork's payroll enables operators to manage payroll across one or 1,000 locations from an integrated system without the risk of manual discrepancies. The software prepares a complete payroll based on a restaurant's scheduling, wage/overtime rules, tips, breaks, and local/state rules. All that's left for the manager to do is to review, approve, and process at whatever frequency works for their restaurant. The software's automatic payroll tax calculations and easy filing make tax season a breeze. SpotOn Teamwork's payroll processing will be available in early 2023. For clients that prefer to use another service, SpotOn Teamwork offers deep integrations with more than 20 payroll providers.
"With SpotOn Teamwork, my store managers get two to three hours back that they can spend on themselves or with their family, rather than having to dive into something else at the store," stated Michael Lotz, Director of Operations, Callie's Hot Little Biscuit. "When the work is done, I want them to spend time with their families, doing whatever makes them happy, because that makes them better employees in the end."
Teamwork App to Boost Employee Satisfaction 
Lack of schedule empowerment and poor communication with their employer are among the top reasons hourly employees quit. SpotOn Teamwork empowers employees to view and manage their schedules, trade shifts, submit availability, and request PTO shifts straight from their phones.
Labor Compliance
Without the assistance of technology, a restaurant's compliance is at the mercy of a time-consuming and potentially inaccurate manual process. Labor regulations are incredibly nuanced; for instance, most operators must track hours to distinguish between tipped and non-tipped wages so that employees receive a makeup payment if their wages are insufficient. Various regulations require validation or an attestation, including Fair Work Week Regulations and California Meal Break & Rest Break Laws. Manually reconciling this information takes hours and risks human error. SpotOn Teamwork takes on the burden of this complex and manual work by allowing managers to create clock-in rules according to local regulations that force mandatory time breaks and clock-ins. With these rules in place, managers can eliminate human error in end-of-day reporting and save employees the hassle of having to clock in from more than one location.
SpotOn Teamwork, now available in beta, is the latest software introduction in SpotOn's fully-integrated restaurant management platform. Pricing is customized based on each restaurant's needs and offered on a per-employee basis that is significantly below the market rate for comparable features.