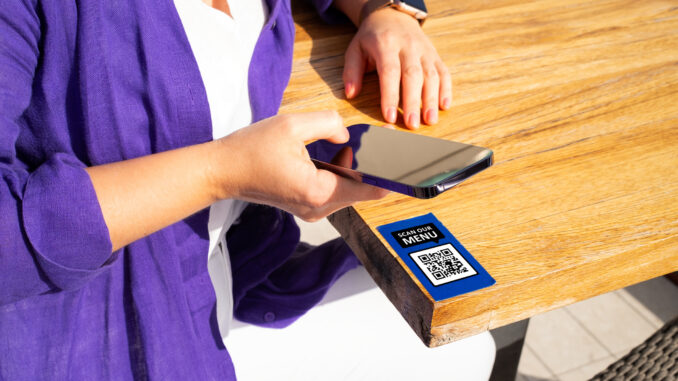 Over the past few years, the restaurant experience has changed in many ways, galvanized by the pandemic. With the rise in on-demand delivery, consumers have gotten used to quick service and easy-to-use technology, available right on their mobile devices, even in fine-dining restaurants. A prominent example of this trend in the U.S. – where handheld mobile point of sale (POS) adoption has tended to lag Canada and Europe – has been the heightened use of QR codes. By scanning QR codes on their smart phones, Americans can not only seamlessly access menus to order but also pay their bill in seconds
As QR codes have become more popular, it's left some restaurants that don't offer this technology behind, especially as diners have gotten used to the ease of ordering with a code and their phone. Therefore, to meet steadily rising consumer demand for a streamlined dining experience, it's important for restaurants, bars, and other food service locations, to consider integrating QR code payments and technology into their businesses, with the goal of increasing both customer and employee satisfaction.
Deliver Faster & Better Customer Experiences
Consumers are constantly on the lookout for ways in which they can minimize the time they spend doing anything they consider burdensome, whether it's grocery shopping or running errands. And the same psychological motivation also drives consumers when they dine in a restaurant. Through quick service, customers can get their food, enjoy their meal, and move on satisfied to the next thing they have to do that day.
One of the simplest ways to expedite the restaurant experience, without sacrificing the quality of service, is through order and pay-at-table options like QR codes. With QR codes on the table, customers are able to access the establishment's menu, order, and then pay for food and drinks as they want. Depending on the payment technology the restaurant uses, they can also start an online tab and pay the bill at the end.
Through this technology, customers can complete their transaction without having to wait for a server to collect the check and sign a bill. Mobile payment options accessed by scanning a QR code also provide different pre-set tip amounts, along with an option to specify the tip amount yourself. This sort of tipping functionality reduces the hassle and wasted time associated with calculating the right tip amount. If the restaurant is part of a chain, or has a large enough following, QR codes can also be used as an effective channel for customers to build loyalty points, strengthening the establishment's customer retention.
Cut Costs & Improve Employee Gratification
While there are several reasons to employ QR codes at a restaurant for customers' benefit, they can also help to cut overall costs and improve the morale of employees such as waiting staff. With QR codes for menus and payments, there is a need for restaurants to maintain physical menus and the extensive receipt paper associated with traditional point of sale (POS) terminals. This helps reduce expenses and the restaurant's bottom line overall.
Another important consideration for a restaurant looking to implement QR codes and mobile technologies is the positive impact on employees. It's no secret that many restaurants and food service establishments have struggled with staff shortages over the past few years. From ordering to settling bills, QR codes and mobile payments allow restaurant owners to streamline the workloads of their waiting staff. By having other methods and tools that make their job functions simpler and easier, servers and other staff might be more satisfied and could be more likely to stay on-staff for longer.
The streamlined customer experience associated with mobile POS systems ensures that diners are also more likely to leave larger tips. After all, there is far less friction around paying and tipping itself, when a customer only needs to click a button as opposed to doing the math to leave an appropriate amount of tip.
Broader Mobile Payments Adoption
At a time when small businesses like restaurants face significant pressure to acquire and retain customers, it's important that restaurants can create better overall dining experiences, alleviate difficulties for their staff, cut costs, and set themselves with loyal customers for life. Mobile payments and QR codes help enable this opportunity.
More broadly, the growth of QR code payments in U.S. restaurants could serve to stimulate handheld mobile POS adoption by establishments eager to meet their clientele's changing expectations. Could pay-at-table soon become the norm for American diners, as it already is in Canada and Europe?
Afshin Yazdian is President of Merchant Solutions at Paysafe, a NYSE-listed specialized payments platform that offers robust, affordable and scalable restaurant payment solutions for quick- or full-service restaurants. Before joining Paysafe, he held the role of President and CEO of New York-based Cynergy Data until its merger with Priority Technology Holdings in 2014, where he continued as President of the combined companies. During his tenure at PRTH, Afshin grew the organization into a top 10 US Processor and helped lead the company's listing on the NASDAQ exchange. Earlier in his career, Afshin was a co-founder and Executive Vice President and General Counsel of iPayment, Inc., also leading the growth of that company into one of the top payment processors in the United States.