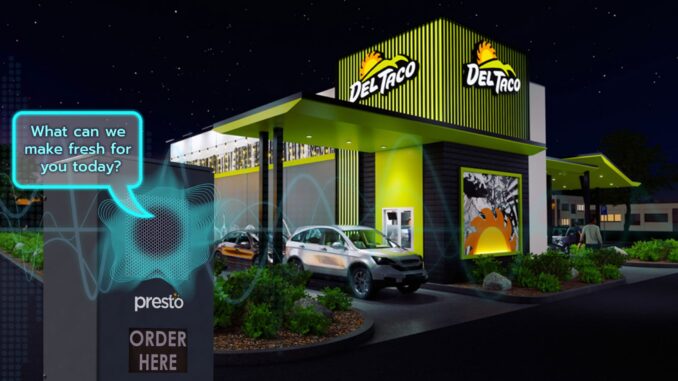 Del Taco Restaurants, the nation's second largest Mexican quick service restaurant chain, announced this week that it is now providing automated voice ordering at several drive-thru locations across the country. The company's artificial intelligence (AI) powered solution has been operating at select Del Taco locations for some time and has reportedly been instrumental in boosting labor productivity, suggestive selling, and guest and staff experience.
Last year, Del Taco conducted a comprehensive test of solution, Presto Voice, from California-based technology solution provider Presto Automation, during which the AI voice assistant greeted guests, reliably accepted their orders, and offered upsell suggestions. An impressive 95% of drive-thru orders placed using Presto Voice were completed with no staff intervention, and seamlessly sent to the Point of Sale (POS) and Kitchen Display Systems (KDS). Impressed by the results, Del Taco has decided to deploy Presto Voice at additional locations nationwide.
"We are excited to be partnering with Del Taco as their drive-thru A.I. voice automation partner," said Dan Mosher, Chief Revenue Officer of Presto, in a press statement. "Del Taco's vision of the future of the drive-thru is inspiring, and Presto is the best-positioned automation technology provider to support it."
As the demand for convenience grows across the restaurant category and staffing challenges persist, automation is becoming an increasingly efficient and effective solution. A.I. voice automation offers a significant advantage to restaurants by minimizing human error, reducing wait times, and freeing up staff to focus on improving customer experience.
Presto Voice has proven to be the best-positioned automation technology partner for the drive-thru restaurant industry, with its superior reliability and ability to quickly scale across thousands of restaurants. When augmented with Presto Vision, another AI-powered product that provides 16 unique operational metrics on drive-thru performance, the technology is even more powerful. These real-time metrics can help reduce wait times and increase order accuracy.
Del Taco also highlights the growing trend of AI integration in the restaurant industry. As consumers become increasingly accustomed to using voice assistants in their daily lives, they are also beginning to expect similar technology in their dining experiences. Automated voice ordering not only improves the guest experience but also helps to streamline the ordering process and increase efficiency.
Presto Voice is designed to provide a seamless, personalized experience for guests. The AI-powered assistant is trained to understand natural language and respond to customer requests in a conversational manner. It is also capable of providing suggested upsells, which can help increase revenue for the restaurant.
The integration of the solution at Del Taco locations has already resulted in significant improvements in labor productivity and guest satisfaction. Staff is freed up to focus on providing excellent customer service, while guests enjoy a more efficient ordering process.
In September, Presto Automation, which bills itself as "the leading provider of enterprise-grade touch, vision and voice restaurant technologies and currently ranks as one of the largest labor automation technology providers in the hospitality industry, completed its previously announced business combination with Ventoux CCM Acquisition Corp., a publicly traded special purpose acquisition company. As discussed here, the combination has been in the works for nearly a year.
Founded at M.I.T. in 2008, Presto is headquartered in Silicon Valley, California with customers including many of the top 20 restaurant chains in the United States. The company offers a platform consisting of voice, vision, and touch solutions designed to increase staff productivity and improve the guest experience.
Of course, Del Taco and Presto are not the only innovators in AI voice technology. Last year, for example, Checkers Drive-In Restaurants, Inc., the operator of Checkers & Rally's iconic drive-thru restaurants, partnered with Valyant AI, a Colorado-based artificial intelligence company focused on customer service in the quick-service restaurant industry, to scale its conversational AI platform in drive-thrus at franchisee locations across the nation.
Valyant's conversational AI platform, aka "Holly," streamlines the customer experience and improves employee efficiency. The platform helps reduce customer wait times, increases upsell opportunities and ultimately leads to happier employees. One of the first drive-thru AI products deployed in the restaurant industry, Holly can be integrated into existing drive-thru ordering platforms and point-of-sale systems, helping franchisees to transform the customer experience in physical locations and simultaneously increase average ticket sizes.
Valyant's conversational AI platform uses deep neural networks to deliver industry-leading natural language understanding and speech-to-text capabilities that carry on unstructured conversations to take live customer orders without relying on basic ask-and-answer intents. The platform's operating system was built and trained using actual customer recordings and is constantly refined by taking live customer orders.
Both Del Taco and Checkers & Rally's offer a prime example of how AI technology can drive innovation in the restaurant industry. As the industry continues to evolve, it's likely that we will see more and more restaurants implementing similar technology to improve the guest experience and increase efficiency.