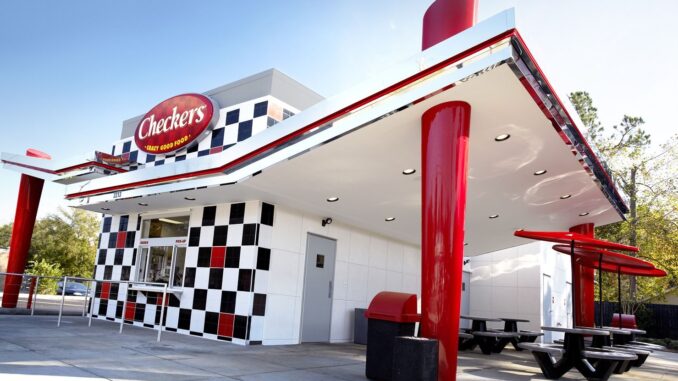 Checkers Drive-In Restaurants, Inc., the operator of Checkers & Rally's iconic drive-thru restaurants, has partnered with Valyant AI, a Colorado-based artificial intelligence company focused on customer service in the quick-service restaurant industry, to scale its conversational AI platform in drive-thrus at franchisee locations across the nation.
Currently implemented at 12 different Checkers and Rally's franchise-owned locations, Valyant's conversational AI platform, aka "Holly," streamlines the customer experience and improves employee efficiency. The platform helps reduce customer wait times, increases upsell opportunities and ultimately leads to happier employees.
One of the first drive-thru AI products deployed in the restaurant industry, Holly can be integrated into existing drive-thru ordering platforms and point-of-sale systems, helping franchisees to transform the customer experience in physical locations and simultaneously increase average ticket sizes.
"In the face of a plethora of new customer expectations, restaurant owners and franchisees need a new way to boost sales and delight customers while providing a safe, contactless customer experience that frees employees to spend more time focused on customers," said Rob Carpenter, CEO and founder of Valyant AI. "That's where our customer-facing conversational AI platform comes in. We are tremendously proud that Checkers and Rally's recognize the value our innovative solution brings and look forward to continuing to work with their franchisees throughout the U.S. to scale our unique platform and harness the power of AI to transform how restaurants operate."
Valyant's conversational AI platform uses deep neural networks to deliver industry-leading natural language understanding and speech-to-text capabilities that carry on unstructured conversations to take live customer orders without relying on basic ask-and-answer intents. The platform's operating system was built and trained using actual customer recordings and is constantly refined by taking live customer orders.
Checkers & Rally's is the pioneer of the double drive-thru restaurant model and continues to focus on nationwide growth and further strengthening its multiunit franchise system. Its small real estate footprint, double drive-thru and advanced delivery focused concept has done particularly well as consumer preference continues to shift towards off-premise options, fueling growth for both new and existing franchisees.
"As a company that embraces technology, we felt it was important to provide franchisees with options to determine the best fit for their own AI needs while also providing the tools necessary to deliver a better experience for both team members and guests," said Minh Le, chief information officer at Checkers & Rally's. "We're excited to partner with Valyant AI, a pioneer in the industry, and are confident that franchisees will leverage the company's innovative solutions as they look to further invest and grow with our company."