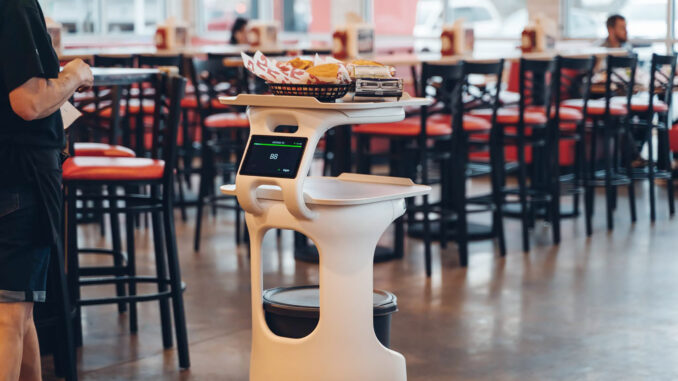 US Foods Holding Corp., one of America's largest foodservice distributors, has added two transformative technology offerings to its CHECK® Business Tools program: Bear Robotics and 7shifts. US Foods CHECK Business Tools program provides foodservice operators with a growing suite of technology solutions designed to help drive traffic, simplify staffing and reduce waste. Bear Robotics and 7shifts were ultimately selected to join the US Foods CHECK Business Tools line-up after participating in the company's Innovative Partnerships incubator program with more than 20 restaurant technology companies vying for the opportunity.
"Bear Robotics and 7shifts offer highly advanced and meaningful technology solutions that directly address many of the labor challenges our restaurant operators face today," said David Eschler, vice president of culinary and restaurant operations at US Foods. "We know that as the technology space continues to expand in the restaurant industry, operators' technology needs also have rapidly advanced. Providing our customers with access to the latest technologies as part of our CHECK Business Tools program is core to helping our customers 'Make It.' We are energized by the opportunity to share these innovative solutions with operators across the country."
Aligned with the growing trend of automated solutions for addressing labor challenges, Bear Robotics offers "Servi," a hospitality robot that helps operators and staff increase efficiency, reduce labor burdens and empower guest interactions. Servi can run food, deliver drinks and bus dishes back to the kitchen, eliminating repetitive service needs so restaurant staff can focus on delivering superior service. Each robot is self-driving and equipped with multiple cameras and LiDar sensors for nimble navigation across any restaurant space.
"The US Foods CHECK Business Tools program allows technology companies like Bear Robotics to be warmly introduced by a trusted US Foods CHECK Business Tools representative who both understands the needs of their customer as well as the benefits of Bear's technology, to create a trusted solution available to all of their customers," said Jim Livingston, vice president of sales for Bear Robotics.
7shifts is an all-in-one team management platform that can be used across mobile and desktop, designed specifically for restaurants. The platform provides restaurants with the team management tools they need to succeed, including scheduling, communication, tip management, tasks and more. Since its inception, 7shifts has helped more than 40,000 restaurants of all sizes improve profitability, operational efficiency and team retention.
"We set out to build a team management platform that truly simplifies the lives of restaurant operators, covering all stages of the employee lifecycle – from hiring, training, scheduling, paying and retention," said Jordan Boesch, CEO, 7shifts. "Our vision and the US Foods CHECK Business Tools program's vision are very much aligned in that we want to help restaurants win with tools that drive more operational efficiencies with less effort. Becoming part of CHECK Business Tools means arming restaurants with the best restaurant-focused technology that integrates directly into other great products in the US Foods tech stack. The suite of offerings gives operators a more unified solution, leading to a more operationally efficient and successful restaurant."