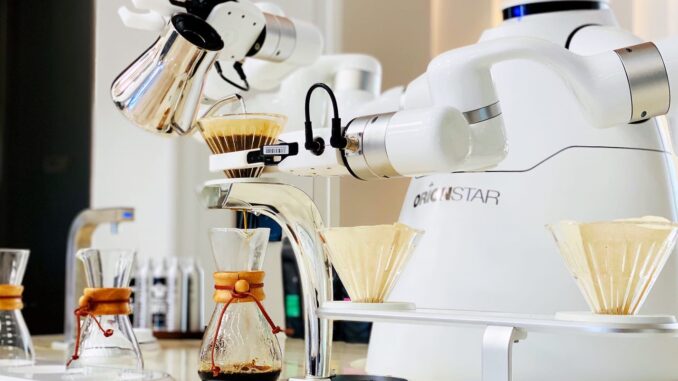 Is the world ready for a robotic barista? One company is placing big bets that indeed it is.
Chinese-based OrionStar has introduced the Robotic Coffee Master, which it describes as "a humanoid robot barista that simulates master-level brewing techniques and guarantees a refined taste in every cup." The robot, which can also prepare and serve tea, reportedly combines dual 6-axis robotic arms and 3,000 hours of AI learning.
The robotics company is part of Cheetah Mobile, global technology company dedicated to internet and AI innovation. Founded in 2010, Cheetah Mobile was among the first Chinese technology companies to enter the overseas markets and has since acquired a global user base for its utility products and mobile games. In 2016, the company launched an "All in AI" initiative and established OrionStar.
As of July 2020, Cheetah Mobile has reportedly deployed more than 11,000 AI-driven service robots, which have served over 200 million people and completed more than 6 million voice interactions daily. Cheetah Mobile's robots have been adopted by more than 1,800 organizations and used in over 20 scenarios, including epidemic prevention and control, smart retail and smart public transportation.
Incorporating 30,000 hours of robotic arm testing and machine vision training, the Robotic Coffee Master can perform complex brewing techniques, such as curves and spirals, with millimeter-level stability and accuracy (reset error ≤ 0.1mm).
The key technical and design features include an RGB depth camera, which provides real-time monitoring of the robotic arms as well as beverage status, and always-on light indicator that displays the robot's working status. A self-adjusting mechanical clamp comes with grasping claw to move objects. Because spilling a hot cup of coffee is only one hazardous risk, the robot also has a host of safety features, including an emergency shut-off, anti-collision detection and electronic safety borders, prevent operational hazard.
The Robotic Coffee Master is designed to complete all steps autonomously, including grabbing the cup and the pot, grinding beans, transferring the grind, pouring and serving. The company is operating under the premise that this contactless transaction fits into new social norms, accelerated by the global pandemic, and provides the flexibility to adapt with the ever-evolving food and beverage industry.
"The Robotic Coffee Master can churn out a fresh brew of pour-over coffee every 3 minutes and can work at full capacity 24/7," said OrionStar Vice President Liang Su. "It is a perfect contactless solution for high-traffic areas."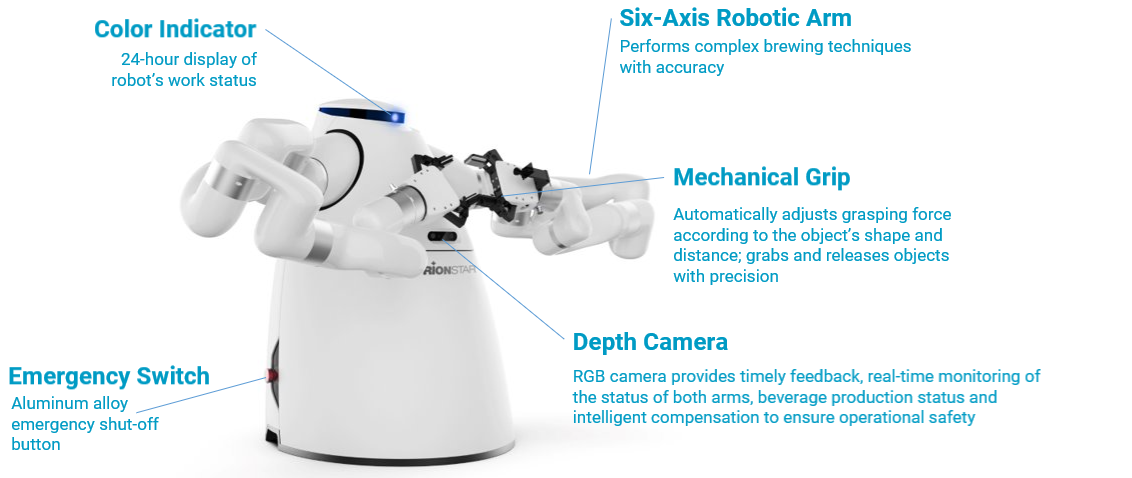 There's no doubt that robotic technology has recently been gathering steam in the restaurant industry. In July, for example, White Castle, which owns and operates more than 365 restaurants in the United States, announced that it is partnering with Miso Robotics – maker of the first autonomous grilling and frying kitchen robot. As part of the deployment, White Castle will bring the new version of its Flippy robot solution, dubbed Robot-on-a-Rail (ROAR), into kitchens for testing and future integration. The deployment will put autonomous frying to work for enhanced production speeds, improved labor allocation and an added layer of health and safety in the cooking process.
The initiative creates an avenue for reduced human contact with food during the cooking process – reducing potential for transmission of food pathogens. It also brings intelligence to cooking, tapping into sensors, intelligent monitoring and anticipated kitchen needs to keep food temperatures consistent, that ensure optimal quality and a perfect bite for customers. By automating repetitive, time consuming and dangerous tasks like frying, it should be possible to redeploy cooks and other food preparation employees to more customer-experience driven tasks.
Just this week, Bear Robotics, a robotics and artificial intelligence company, and SoftBank Robotics Group, a robotics manufacturer and solutions provider, announced that they are collaborating to bring a new robot named Servi to the restaurant industry. Servi has been developed to be "a new member of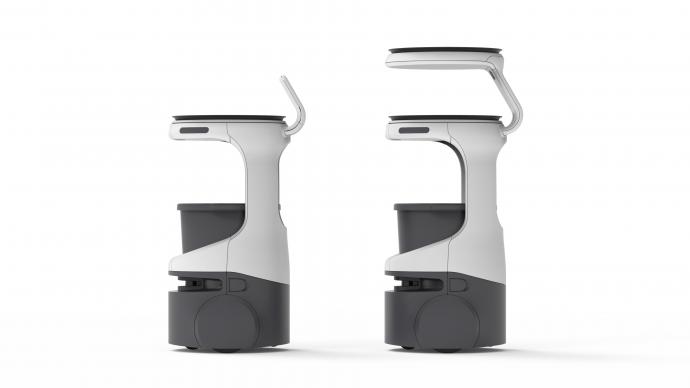 the food service workforce to assist staff and elevate the overall customer experience," according to a company statement. "Servi's agility and object detection put its safety in a class of its own. This has resulted in significant interest in from the hospitality market in Japan, Korea, and the United States." Servi reportedly comes with additional features like bussing, drink delivery, and patrol mode.
In a new study, "How to Build a Better Robot for Quick Service Restaurants," published this month in the Journal of Hospitality and Tourism Research, Dina Marie Zemke, an associate professor of residential property management in the Miller College of Business at Ball State University, found that the overwhelming majority of respondents to a recent survey believe that there is no stopping the robotic transformation of the food service industry, including quick service restaurants (QSRs).
"There was a high level of resignation about the inevitability of QSRs incorporating robots during our group interviews," said Zemke, who collaborated on the study with several faculty from the University of Nevada, Las Vegas. "This finding is similar to the acceptability of routine societal change. Participants felt that the incorporation of robotic technology is a question of when, rather than a question of if."
Zemke points out that robotic technology designed to perform specific physical tasks, such as coffee and tea preparation, has recently emerged as an increasingly attractive option for restaurants due to decreasing robotic equipment costs and improving labor costs. It may well be that for The Robotic Coffee Master, which comes in two models, the timing couldn't be better.