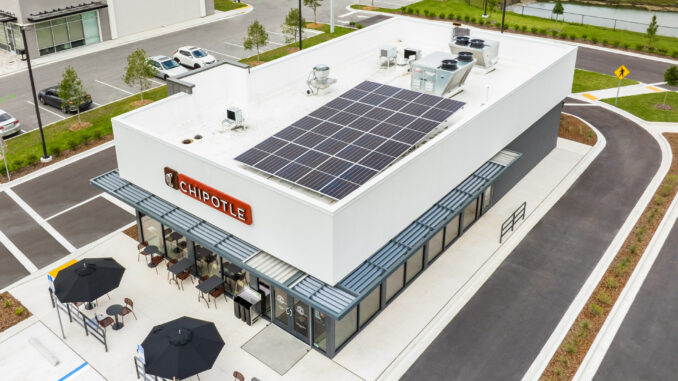 Chipotle Mexican Grill has announced that it has developed a new technology-enabled restaurant design that maximizes energy efficiency in its equipment and systems. The new restaurants will reportedly use 100% renewable energy from wind power and solar energy through the purchase of certified renewable energy credits.
The company has already opened restaurants with the new features in Gloucester, Virginia, and Jacksonville, Florida. The company aims to reduce direct and indirect greenhouse gas emissions by 50% by 2030 compared to a 2019 baseline, in alignment with the Science Based Targets initiative (SBTi).
Chipotle has an aggressive development goal of growing to 7,000 locations in North America. The company aims to leverage its new restaurant openings to scale the company's overall impact. Chipotle plans to have more than 100 of its new locations in 2024 utilize all-electric equipment and at least some additional elements from its new design. The company reports that it will continue to innovate and iterate on the new design as it gains operational feedback and insights.
The company has instituted various additional technology-related initiatives to help meet its goal of reducing direct and indirect greenhouse gas emissions company-wide 50% by 2030 compared to a 2019 baseline. These initiatives include standardizing the installation of energy management systems at every restaurant, exploring greater use of low carbon fuels and adoption of renewable resources in logistics, exploring and developing strategies to support greater adoption of regenerative agriculture practices among supply chain partners, and increasing the amount of local produce purchased in 2023 to a planned total of at least 36.4 million pounds.
Chipotle's restaurant design concept features rooftop solar panels, where feasible, all-electric equipment and systems to replace gas power, heat pump water heaters, smaller electric cookline and improved exhaust hoods compared to other Chipotle kitchens, energy management systems, biodegradable service ware such as cutlery, straws, bowls, cups, and lids, cactus leather chairs, artwork made from recycled rice husks, and electric vehicle charging stations at select locations.
"With our aggressive development goal in North America, we hold ourselves accountable to reduce the environmental impact of our restaurants," said Laurie Schalow, Chief Corporate Affairs Officer at Chipotle. "We are aiming to incorporate some elements of our responsible restaurant design into many of our new restaurant openings going forward."
Chipotle has also launched a new short film called "HUMAN NATURE" that will air as a national TV ad. The piece, created by Anomaly, features side-by-side shots of humans and nature, emphasizing their aesthetic similarities while conveying the importance of individuals reconnecting physically and emotionally with the environment.
"Since its founding in 1993, Chipotle's mindset and approach to food has always been about working with—not against—nature and using real ingredients free of any artificial flavors, colors, or preservatives," said Chris Brandt, Chief Marketing Officer. "'Human Nature celebrates how Chipotle serves food that is both good for you and better for the planet. Strengthening our connection with nature is key to producing responsibly raised food for generations to come."
Together with the launch of its new restaurant design and the "Human Nature" film, Chipotle published its 2022 Sustainability Report, which showcases its efforts in three categories: People, Food and Animals, and the Environment. The report covers Chipotle's impact, progress, and goals in areas that play a critical role in its mission to Cultivate a Better World.
Some of the highlights from Chipotle's 2022 Sustainability Report in terms of environmental impact include:
Reduced greenhouse gas emissions by 30% since 2018
Purchased 100% renewable energy for all company-owned restaurants and facilities
Reduced water usage by 18% since 2015
Reduced waste to landfill by 25% since 2015
Increased the use of compostable and recyclable packaging materials
Chipotle's new all-electric restaurant design and additional sustainability initiatives are an important step forward for the company in its ongoing efforts to reduce its environmental impact and promote sustainability. As the company continues to expand and open new locations, it will be interesting to see how many of these locations will feature the new restaurant design and what other sustainability initiatives the company will undertake. Will the company, which professes to care about animal welfare, embrace lab-grown meat once it becomes commercially available, even at a cost that is considerably higher than existing options? The company does deserve credit for increasing the number of vegetarian and vegan menu items, with plans to expand these offerings in the future.
One thing that is clear is that Chipotle's commitment to sustainability is more important than ever before. Consumers are increasingly conscious of the impact their choices have on the environment, and they are looking for companies that share their values. By prioritizing sustainability and making it a core part of its mission, Chipotle is positioning itself as a leader in the industry and setting an example for other companies to follow.