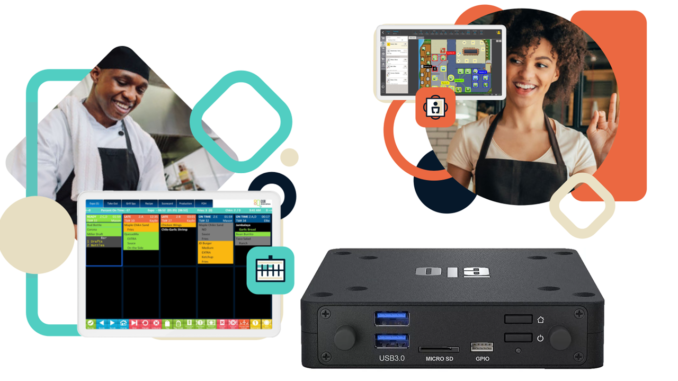 When it comes to technology, there's one universal truth almost everyone can agree on: It has to work. Not only the software but the hardware as well. That's why QSR Automations has certified ConnectSmart® to run on the Elo Backpack 4, an Android-powered compute engine. The Elo Backpack 4 is a sleek add-on to existing monitors that turn each station into a powerful all-in-one platform. When paired with QSR Automations' signature ConnectSmart technology, the system simplifies the delivery of content, websites, and Android-based apps—directly to the screen.
Though ConnectSmart can also run on Windows or iOS platforms, many customers see the value in Android applications due to its user-friendliness and lower incidences of malware and system failure.
"It's been clear to us for some time that the future of the food-service industry lies in Android technologies, so it is important to us to create products and applications that will take our customers into the next era," said Jennifer Karpinsky, VP of Business Development at QSR Automations. "But that's only half the battle. The next step is making sure the hardware can keep up."
That's where Elo steps in. The Elo Backpack 4 combines a powerful commercial-grade compute engine with the Android 10 operating system. It features a Rockchip processor which provides the speed, stability, and critical components needed in a restaurant environment.
"Partnering with Elo to enable the Elo Backpack to seamlessly support our ConnectSmart platform has been a dream come true. Elo shares QSR's rock-solid foundation of understanding exactly what our customers need, and boy, did they deliver," said Angela Leet, CEO of QSR Automations. "We are extremely proud to say that no other company has this custom solution."
QSR Automations, headquartered in Louisville, KY with offices in the United Kingdom, is a global industry leader in kitchen automation and guest management services. Since 1996, restaurant operators have turned to the brand's signature platform, ConnectSmart, for customized solutions to improve the guest experience and drive operational excellence. Used in 21 of the nation's top 25 casual dining chains, ConnectSmart leverages data to create customized solutions that make calmer kitchens, simpler workflows, and happier guests.
Customers who purchase the Elo Backpack to use in conjunction with ConnectSmart technology also benefit from QSR's award-winning customer support team, which aids in ease of deployment. Future phases of this technology will include upgrades that allow for additional security patches that will make it easier for users to remain compliant.
Does your company have news it would like to share with our readers? If so, we invite you to review our editorial guidelines and submit your press release for publishing consideration.