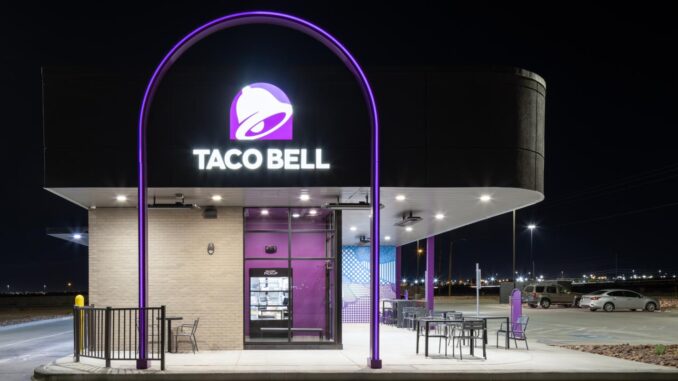 Taco Bell, the Mexican-inspired American fast-food chain, has set its sights on an ambitious growth trajectory. Last week, the company, which currently operates approximately 7,500 restaurants in the U.S., declared in a press statement last week that it aims to operate 10,000 U.S.-based restaurants "in the coming years." To help facilitate the brand's rapid expansion, the company is utilizing an array of technology innovations and next-generation concepts designed to enhance customer experiences and streamline operations.
Taco Bell's strategic utilization of technology has contributed in a big way to its recognition and marketing impact in recent years. Its digital channel witnessed a growth rate of nearly 35 percent year-over-year, attributed in part to the deployment of in-store kiosks. These digital touchpoints have streamlined the ordering process. Thousands of its restaurants have also employed "recommended ordering," an advanced system that predicts and suggests optimal quantities for each product, enabling restaurant general managers to make informed inventory decisions.
The brand has also spearheaded the rollout of Yum!'s Next-Generation Cloud First POS System—a technological innovation that enhances operational efficiency and empowers employees. This system was introduced in 1,000 locations during the second quarter and is expected to be implemented in around 5,000 units by the end of 2023.
Also enhancing operational efficiency is Taco Bell's Touch Kitchen Display System (Touch KDS), a technology that streamlines order prioritization and enhances accuracy. The technology has been rolled out to most of the company's restaurant locations.
Taco Bell's innovation is also evident in its new technology-enabled concepts. The Go Mobile restaurant model, for example, first introduced in 2021, eliminates indoor dining space to address drive-through bottlenecks. This concept features a dedicated parking area for mobile and delivery orders, an outdoor pick-up window, and grab-and-go shelves.
According to the company, there are "five main updates targeted for digital adoption" to improve the customer experience, as follows:
Minimization: Taco Bell Go Mobile locations house several new digital advancements, all within 1,325 square feet — a much smaller footprint compared to the average 2,500 square foot Taco Bell restaurant.
Dual Drive-Thru: The new concepts will have two drive-thru lanes including a new priority pick-up lane with rapid service for customers who order via the Taco Bell app. This new lane will supplement the existing, traditional lane.
Synchronized Digital Experience: Powered by smart kitchen technology that's integrated with the Taco Bell app.
Curbside Pick-Up: Taco Bell Go Mobile customers also have the option to receive their order via contactless curbside pick-up, another convenient alternative that modern consumers are looking for.
Bellhops: To streamline guests' experiences even further, Taco Bell Go Mobile will also include tablet ordering in drive-thrus and curbside pickup, both of which will be operated by a concierge service of team members, known as "bellhops."
Increasing digital sales stands as a main reason why executives of Yum! Brands Inc. will keep expanding the company's technology capabilities."My aspiration, and it's shared by our brand CEOs and presidents and our technology leaders around the globe, is that someday, 100% of our sales should be powered by digital," said Christopher L. Turner, chief financial officer, in a year-end investors day meeting. Digital sales currently make up 40% of sales at Louisville-based Yum!, the parent company of Taco Bell as well as Pizza Hut, KFC, and The Habit Burger Grill.
Flash forward and Taco Bell is on track for a record-breaking year, with the opening of 63 new stores globally in the second quarter. This includes both domestic and international locations, showcasing the brand's global appeal. Taco Bell's financial performance in the second quarter of 2023 underscores the success of its strategies. The chain witnessed a 4 percent rise in same-store sales.
Taco Bell's technology-enabled endeavors have propelled the brand's growth trajectory and customer engagement. Through digital touchpoints, advanced ordering systems, and strategic operational enhancements, the chain has solidified its position as a leading force in the fast-food industry. As the brand looks ahead to operating 10,000 restaurants in the U.S., its commitment to technology-enabled innovation remains at the forefront of its growth strategy.